In this episode of Mothertongues we meet Felix (9), his big sister, Flavia and his mum and dad are Sanziana and Marius. They live in County Offaly.
At home, they speak Romanian - both kids understand it perfectly and speak it very well, albeit with a bit of an Irish accent.
Felix also goes to a Gaelscoil since he was in Junior Infants (he's now in 4th class), so he speaks Irish at school, English with his friends and Romanian at home.
The family mixes both cultures, both inside and outside of home. They cook traditional Romanian foods and both kids are aware of Romanian traditions and fairytales.
They feel equally proud of their native country and of their welcoming "adoptive country".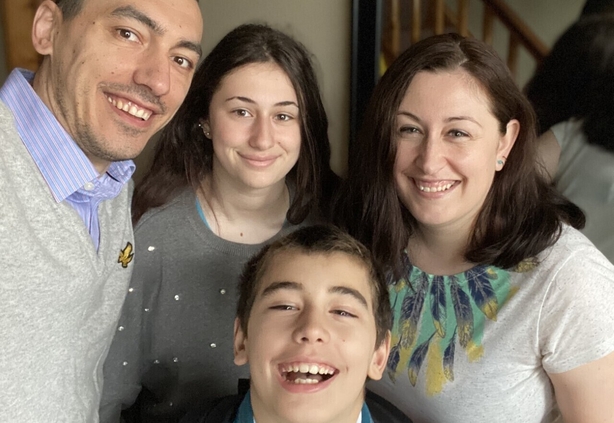 Romania was also responsible for the world's longest sausage. How long? You wouldn't believe us if we said 39 miles – but it's true. It will take a determined butcher to break that record. 
Guinness World Records also recognises the Chestnut Festival in Baia Mare, Romania, for creating the largest bowl of goulash (7,200 litres), and Romanian firm ING Asigurari de Viata for printing the world's largest legal document (nine metres x six metres).
Here are some handy phrases in Romanian

HELLO = Salut

THANK YOU = Mulțumesc

GOODBYE = La revedere
To listen and subscribe to ALL the podcasts follow the link below:
This is only the beginning for Mother Tongues and the crew are really keen to learn about more cultures and languages.If you would like to get involved and share your Mother Tongue contact us here: junior@rte.ie
Thanks so much to all the families who have taken part so far and to everyone at www.mothertongues.ie for helping connect the dots. They do amazing work and this is only a small addition to the help they give multilingual families across the country.