We promised no homework on After School Hub, so there's no need to panic when you hear the word vacuum in Phil of Science's experiment - we are not talking about chores!
In this video we are learning about...
1. Air pressure and vaccums
2. Atmospheric pressure and sleight of hand
By forcing the air out of the bottle a balloon will stay inflated. This can be used to teach aspects of air pressure and vacuums.
There is low pressure in the bottle, lower than the air pressure in the balloon which is equal to the pressure of the atmosphere.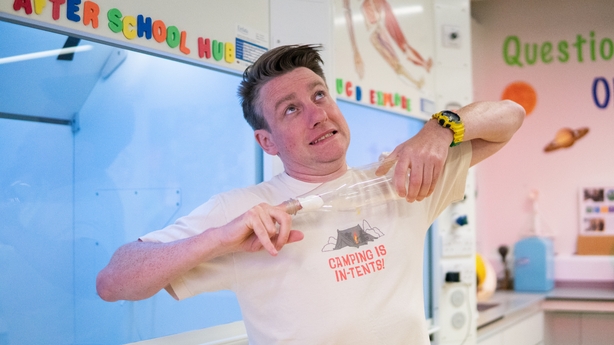 The experiment
Have the children gather around and settle. 
Setup: Five minutes 
Place the balloon inside the bottle; spread its neck over the top of the bottle. Place a small hole near the bottom of the bottle. Conceal this hole with your thumb for the moment. Blow up the balloon, air will exit via the hole. Quickly seal the hole with your thumb and the balloon will stay inflated.
At this stage you can put a pencil or even water into the balloon. By slowing allowing air to enter the bottle, the balloon will deflate under your command. Oooooh Magic!
Performance and Discussion: 20 minutes
Get the children to try it out for themselves and discuss why it is not possible to blow up the balloon without the hole in the bottle. Ask would putting tape over the hole can leave the balloon inflated  and then have several people in the class test it out. Finally trying reversing the process by sucking air out through the hole. Test to find out if you will be able to inflate the balloon.

Download the full guide to this experiment here!



Have fun and catch up on today's show on the RTÉ Player
AND we really want to see your own experiments at home so make sure to upload them HERE