Venus is sometimes called Earth's evil twin, as it is around the same size and has the same gravitational forces, but as Dr Niamh Shaw explains, it is not a place you would like to visit.
The atmosphere is nearly all carbon dioxide and so totally unsuitable for human habitation. That's before we mention the heat - over 460 degrees!
We are hoping to learn more about the planet this week when the BepiColombo mission to Mercury performs it's first fly-by.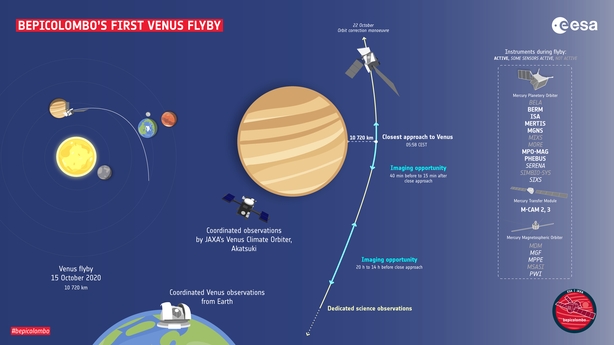 BepiColombo is Europe's first mission to Mercury. Launched on 20 October 2018, it is on a seven year journey to the smallest and least explored terrestrial planet in our Solar System.
When it arrives at Mercury in late 2025, it will endure temperatures in excess of 350 °C and gather data during its one-year nominal mission, with a possible one-year extension. The mission comprises two spacecraft: the Mercury Planetary Orbiter (MPO) and the Mercury Magnetospheric Orbiter (Mio). BepiColombo is a joint mission between ESA and the Japan Aerospace Exploration Agency (JAXA), executed under ESA leadership.
The Bepicolombo mission
Launch: 20 October 2018
Components: Mercury Planetary Orbiter, Mercury Magnetospheric Orbiter, Mercury Transfer Module
Status: In operations; en route to Mercury
Arrival at Mercury: 5 December 2025
Next milestones: Venus flybys in October 2020 and August 2021
Beginning of routine science operations at Mercury: Expected in February 2026
There was big news and huge excitement last month when there were reports of life on Venus.
You can listen to Dr Niamh Shaw tell us more about this on RTÉ Radio here:
We need your consent to load this rte-player contentWe use rte-player to manage extra content that can set cookies on your device and collect data about your activity. Please review their details and accept them to load the content.Manage Preferences
Just because the planet may not be a nice place to visit, it doesn't mean it can't look nice.
Why not try looking online for images and downloading this colouring sheet from NASA below.

Don't forget you can catch the whole show on RTÉ Player