After School Hub looked at stained glass windows today, so it is a great chance to look at the work of one Ireland's greatest ever artists - Harry Clarke.
Harry Clarke is Ireland's best known stained glass artist. He was born on the 17th March 1889 in Dublin. His father Joshua was a Church Decorator and owned a stained glass studio on North Frederick St, just a short walk from the Hugh Lane Gallery.
One of his most famous stained glass windows is 'The Eve of St Agnes' which is now located at the Hugh Lane Gallery. This window tells the story of 'The Eve of St Agnes' from a poem by John Keats. There was an ancient belief that if a young woman fasted and went to bed early on The Eve of St Agnes (20th January) she would dream of her future husband.
RESEARCH
Harry Clarke created many stained glass windows for churches all over Ireland. Do you know if there is one near you?
Here are some facts on the artist:
Harry Clarke was also a book illustrator
He was born on St Patrick's Day – do you know any other famous people on this date?
'The Eve of St Agnes' window was originally made for the home of Harold Jacob who was the owner of the Jacob's Biscuits factory in Dublin.
Download the activity sheet below to make you own Harry Clarke window and comic book.



The video at the top of the article by Artist Megan Scott will show how to make your own stained glass inspired artwork using coloured sweet wrappers for Cruinniú na nÓg.
The original work is from Kerry artist James Scanlon's stained glass artwork Study No. 2 for Miró in the Hugh Lane Gallery's collection which is pictured below.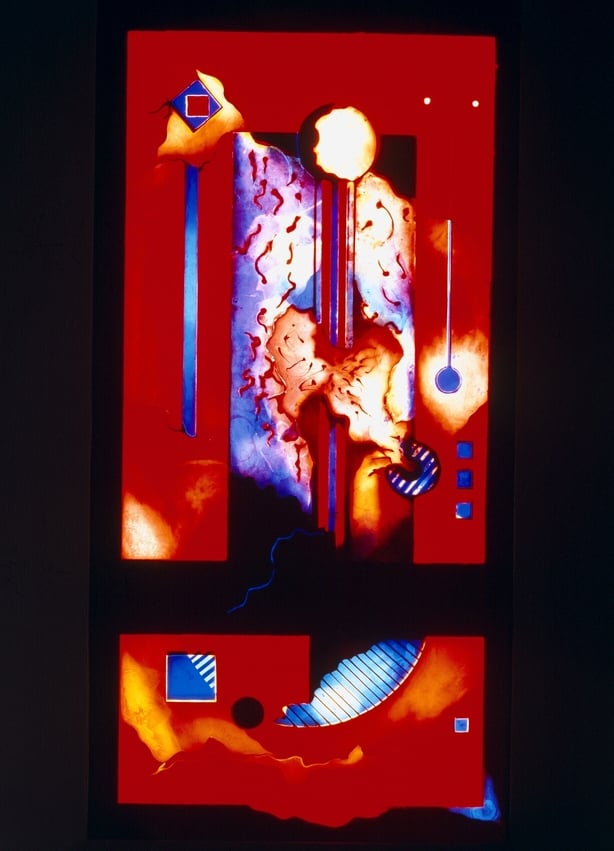 Thanks to the Hugh Lane Gallery for the video and images. You can visit their website and even go on a virtual tour to see what is on display there: https://www.hughlane.ie/
Don't forget you can catch up with After School Hub on the RTÉ Player.