Have a look at this video by textile artist Michelle Fallon and follow the instructions below to make your own fabric face mask.
There are lots of different materials and old bits of fabric you can use to make your own.
Remember when using any sharp objects or sewing material make sure there is an adult present.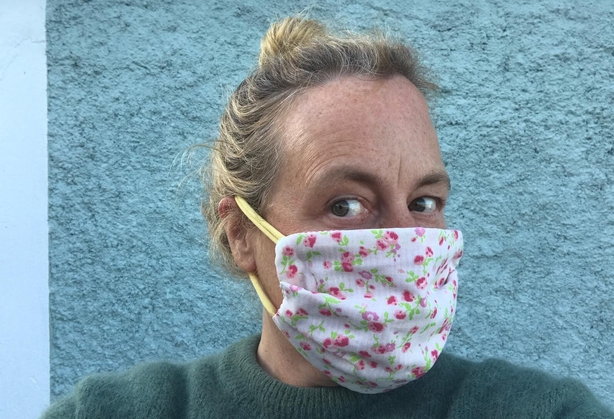 Step one
Make elastic ties from old T-shirts. Most of us have an old t-shirt in the back of the drawer that's seen better days. Did you know if you cut it up you can make elastic type straps for your mask (it can also be used as t-shirt yarn) Just cut into one inch wide strips, gently pull it and cut into lengths of approx 26 cm.

Step two
Cut two squares of fabric 23cm x 17 cm. Preferably use two different fabrics so you know which fabric was touching your mouth. Cotton is the best fabric to use, think old cotton shirts or dresses. Avoid t-shirt/stretchy or heavy fabric such as denim as it's harder to sew.
Step three
Place one piece of fabric on the table with the right side facing upwards. (The right side is the patterned side that will be visible)Now position the elastic ties in two C shapes, as seen in the video.Place the second piece of fabric, right side facing downwards, on top.If you have pins (or safety pins) you can place them in each corner so the ties don't move.Using a back stitch sew all around the square, leaving a 1.5 cm seam allowance, and an opening appox six cm wide.

Step four
Turn the mask out through the gap you left. Ideally iron it flat and push out the corners using the end of a pencil or a skewer. Stitch up the gap.

Step five
Now you create the pleats on either side. Find the centre of the mask and fold from the bottom and top inwards, as demonstrated in the video and top stitch to hold in place. Repeat on the other side and your mask is complete.
Please remember that these masks are not medical standard so they cannot guarantee anyone from infection.
When you are wearing any mask, it's always good to remember the right and wrong ways to wear it and the correct way to take it off.
Thanks to The Design and Crafts Council of Ireland for the video.
They have lots more videos and activities to try out on the their website.
If you missed Múinteoir Clíona testing out the different fabrics used in masks you can catch up on RTÉ Player.