The first episode of Microsoft DreamSpace TV for Primary Schools is here! Join the Microsoft DreamSpace crew and RTÉjr on a journey of STEAM discovery for the next ten weeks.
When you think of a windmill, what do you think of? Is it really tall with big rotating blades or small and house-like with short box-shaped blades? 
Either way, you are right. Windmills have been around for a very long time and can be found all over the world. Historically in some parts of the world, like in the USA, there were water pumping windmills which helped farmers keep lands irrigated (well watered).
However, since then windmills and wind as a source of energy has evolved. In Ireland, wind energy is the most popularly utilised renewable energy and we have wind turbines located in different counties across Ireland.
Research:
Can you find the locations of wind turbines or wind farms in Ireland?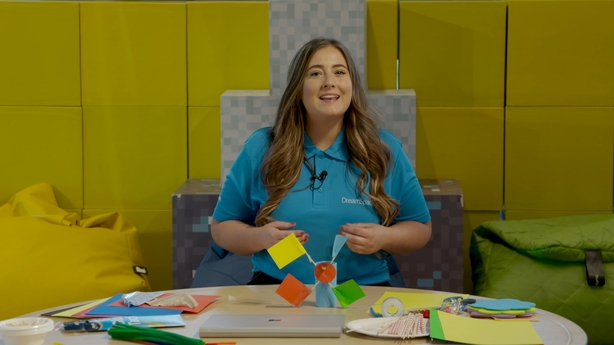 For these structures to work as effectively as possible, we need to keep thinking about what can be done with their engineering and can we start adding technology to potentially improve their work. Questions like these are what we need to ask ourselves and are why we are so passionate about STEAM and the skills that STEAM challenges encourage us to use.
So, whether in school or at home, join the DreamSpace team in Episode One of DreamSpace TV in the video at the top of the article and download the worksheet below to take on your very first challenge - The Windmill Challenge.

Teacher/Parent Notes:
The maker challenges will require a variety of recyclable arts and crafts materials with preferably a scissors and an adhesive material for students to use also. The materials are not specific so as to offer flexibility with the challenges but also to encourage students to think creatively and produce a solution with the resources that they do have. 
Check out the curriculum links for the episodes below: 
Science 
Strand- Energy and Forces. Strand Unit: Forces 
Strand- Environmental awareness and care. Strand Unit: Environmental awareness 
Strand- Materials. Strand Unit: Properties and characteristics of materials 
Geography
Strand: Natural environments. Strand Unit: Weather, climate & atmosphere 
Strand: Environmental awareness and care. Strand Unit: Environmental awareness 
Mathematics 
Strand: Shape and space. Strand Units: 3-D shapes;  2-D shapes; Lines and Angles 
Visual Arts 
Strand: Drawing. Strand Unit: Making drawings 
Strand: Construction. Strand Units: Making constructions; Looking and responding