Recent research from Leave No Trace Ireland and Outdoor Classroom Day has shown that the great outdoors are not being enjoyed as much by children these days and this is something that they want to change.
It showed that almost half (45%) have never climbed a tree, 48% have never gone walking in a forest with friends, almost one in three (62%) have never pitched a tent, more than two thirds (69%) have never toasted marshmallows over a fire, almost three quarters (74%) have never sat around a camp fire and a staggering 84% have never used a compass.
But, with the Covid-19 pandemic and lockdown there was a surge in people using the outdoors. Often people went to the same well-known places and this caused overcrowding, parking issues and increased littering.
Leave No Trace Ireland's programme is designed to encourage exploration and discovery and help children understand how to minimise their impacts. It equips children with minimum impact skills and knowledge to help conserve Ireland's shared outdoor spaces.
A day trip can have a lasting effect. Have a look at how long it takes some things to decompose. These are items often just dropped and discarded by people.
About Leave No Trace Ireland
Leave No Trace Ireland is an outdoor ethics programme which raises awareness and inspires responsible outdoor recreation through education, research, and partnerships across the whole of Ireland. Leave No Trace helps people understand how their decisions and actions affect the outdoor environment, builds knowledge and skills necessary to address complex environmental issues, as well as ways we can take action to keep our environment healthy and sustainable for the future.
By exposing people to nature and allowing them to learn outside, Leave No Trace fosters sensitivity, appreciation, and respect for the environment. It combats "nature deficit disorder" … and its FUN!
How to get involved?
It's not all bad news, there are a number of quick and easy steps that we can take to help minimise our impacts and still enjoy the outdoors.
Get familiar with the Leave No Trace seven Principles. These principles serve as a benchmark for how responsible recreation can be quick, easy, and fun.
Leave No Trace Ireland teach several modules which provide people with the skills to make informed decisions on their behaviour. Youth programmes include Leave No Trace Champions, Marine Explorers, and River Explorers.
You can undertake one of our adult programmes, these include the awareness, trainer, and advance trainer courses.
Visit their website to discover a trove of useful resources to learn about responsible recreation
Volunteering with Leave No Trace is always a fantastic option, we are constantly working with community groups on the stewardship of our recreational areas.
Joining Leave No Trace Ireland as a member is a great way to get involved and have your say, it also provides you with a network of opportunities to work with other groups or communities.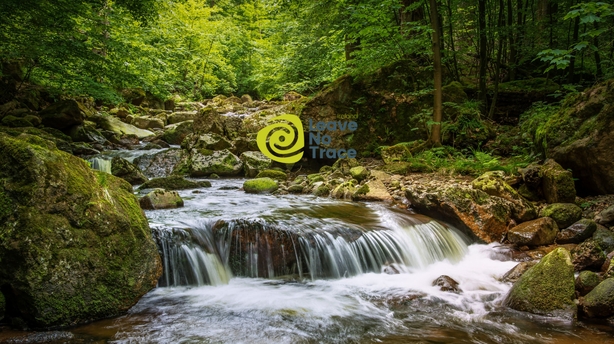 Champions Programme
The Leave No Trace Ireland Champions programme is about encouraging young people to discover, learn and connect with nature. The goal is to ensure that our natural world is left in capable hands for generations to come through education from an early age. This is a fun and interactive outdoor ethics programme. The workshops are designed for 1st – 6th class.
Champions learn by engaging the children in activities to immerse them in the natural environments and help them to establish sensory connections with it. As a result of the champions program, children should have the skills and knowledge to recognise opportunities in their own behaviours where they can make a small change to have a big difference.
Primary School Resources
All of the primary school resources can be accessed through the website HERE.
These resources provide teachers with a range of activities and tips that will help inspire their students to recreate responsibly in the outdoors and to encourage them to get outdoors