Culture Night 2020 is on Friday 18 September and we are here to help the kids and families of Ireland pick some really cool things you can do online and offline this year.
Like so many other events Culture Night has moved a lot of events to the virtual world. So, let's start with some online highlights for kids.
The Model in Sligo will host a bespoke puppet making workshop led by Marc Mac Lochlainn, founder of the trailblazing children's theatre company Branar Téatar do Pháistí. Children can use materials found at home and will learn foundational skills like how to make your puppet breath, walk and talk. Recommended for children aged six and up. Children under six are welcome to participate, but they may need assistance from a grown-up.
Full details here: Puppet-making workshop
Peat is a play for children. How far down is yesterday? On the edge of a town, in the middle of a bog, half way between a school and a housing estate, Rayy and Jo have come to dig a hole.Peat is the story of the things they bury, and the things they find. With lightness and humour, this play for children asks big questions about life, death, time and history.
A conversation between two 11-year olds who find themselves standing on top of everything that has ever happened.
It is a once-off opportunity to view the full performance of Peat by Kate Heffernan from the comfort of your own home. Peat is commissioned by The Ark and is directed by Tim Crouch. For ages 8+.No booking is required but have a look at HERE for more information.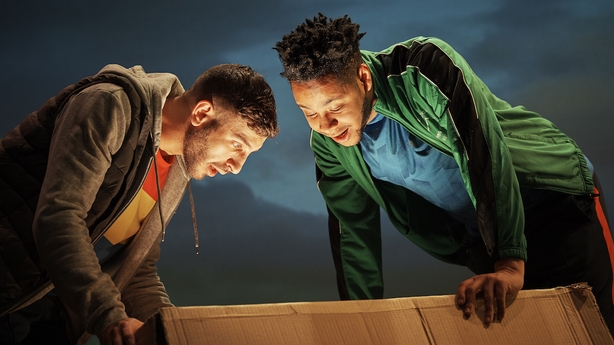 Haulbowline Theatre Group PUPPET SHOW with music and stories, for kids from age three upwards. There's the original story of a young girl whose new friend prefers singing to talking, the story of a fox and his devious exploits with the creatures of the woodlands, and the Gingerbread Man. This is an independent production performed by members of Haulbowline Theatre Group
Goethe Institute Ireland - Children and Young Adults are invited to contribute their creative messages about the future of the planet to "Earth Speakr", a European work of art.
Earth Speakr has been created by Berlin based Iclandic artist Olafur Eliasson; it consists of a playful app and an interactive multilingual website. To amplify kids' ideas and concerns about the wellbeing of our planet, Olafur Eliasson and his team are working with a growing network across the EU, including museums, schools, and libraries to expand the reach of this collective artwork.Are you ready to listen to the future?
New Voices by Children's Books Ireland features brand new voices in children's books. Tune in to enjoy several short, five minute extracts read by Irish authors and illustrators from their brand new titles.
Sensory Song: Under the Wishing Tree is a musical adventure created especially for children with autism by Ceol Connected.
Learn how to block print using the humble potato with artist Liz Walsh at 29 Bride Street in Dublin 8.
There are also online art workshops at Mount Henry Art Studios to try out, so there are lots of creative things to do from your own home.
From Paris to Dublin, we're inviting audiences to join us for the Live Drawing Project. This video-projected collaborative drawing installation will bring its audience on a digital journey across Ireland and France.By downloading an app and using your phone as a drawing pad, the video-projected drawings will appear on the walls of the National Gallery of Ireland in Dublin and at the Centre Culturel Irlandais in Paris.

Not all events are online so here are some things that you can actually go to see and do on the night bearing in mind Covid-19 restrictions and guidance.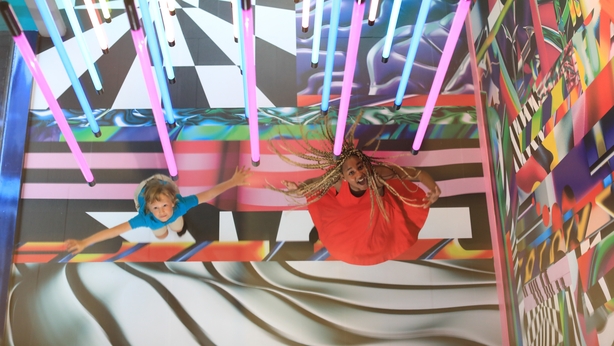 The Icon Factory is a new exhibition by Marianne O'Dwyer and Kevin Bohan celebrating the myth and magic of The Beatles. Take a whimsical, colourful and even slightly skewed look at the Fab Four: the music, the myths and the cultural impact that built up around them over the last fifty years.
Using the Beatles lyrics and ever-changing image as a launchpad, the exhibition will explore the history of the biggest band of all time through a lens inspired by Communist propaganda, UFO psychedelia, stylised folk art and early 1700s Baroque paintings.
Go to the National Leprechaun Museum where museum storytellers will introduce you to some of Dublin city's colourful characters, like the Pig-Faced Woman of Dublin, notorious thief Scald'brother, the ghost of Narcissus Marsh – from their spectral haunts and curious homes.
Find our storytellers as you roam the city by using special maps (available to collect at the museum box office or via social media), or watch these stories unfold on the museum's YouTube channel on the night.You'll never look at the city – and your neighbours – the same way again!
Irish Myths and Legends II: Children's Storytelling and Crafts at King Rory O'Connor Park and Little Mill Museum in Galway is an exciting free event for children.
Join Patricia King-Callaghan and children's festival Tuamóg. Stories include The Fairies, The Leprechauns, Tuatha Dé Danann, Holy Wells, The Shamrock and some favourites such as The Children of Lir, Salmon of Knowledge, An Fianna and Setanta.
Following the storytelling session, children will engage in art and craft inspired by the stories
Build your own fairy house with AbbeyBridge Studio at this miniature fairy house workshop, Maura of AbbeyBridge Studios will teach kids how to make their very own fairy house, which they'll get to take home with them.
Maximum capacity: 8 children.
SING! Theatre Wicklow Arts Office in association with The Whale Theatre are delighted to present "Sing" a family-friendly Drive-In Movie for Culture Night 2020! This year, we've teamed up with Retro Drive-In Movies with support from Greystones Municipal Council and Greystones 2020 to bring you an event which you can enjoy from the comfort and safety of your own car with the whole family!