Fíricí Fónta: Antonio Vivaldi

Rugadh Antonio Vivaldi ins an Veinéis san Iodáil in 1678 agus ar an lá a rugadh é, bhain croith talún mór croitheadh as an gcathair.
D'fhoghlaim Antonio óg conas an veidhlín a sheinm óna athair, veidhleadóir gairmiúil a bhí ina bhearbóir freisin.
Lean Antonio ag staidéar agus ag cleachtadh an veidhlín, fiú i ndiadh dó dul le sagartacht. De réir dealraimh, tugadh 'An Sagart Rua' air de bharr a chuid gruaige loiscneach rua. Tar éis tamaill, áfach, ní raibh sé ábalta an t-aifreann a léamh toisc go raibh droch asma ag cur as dó.
Theagasc sé i ndílleachtlann do chailíní, agus chum sé go leor píosaí ceoil do na scoláirí. Tháinig daoine ó i bhfad agus i gcóngar le héisteacht le scoláirí cumasacha Vivaldi ag seinm na píosaí ceoil galánta a bhí scríofa aige.
Faraor, bhásaigh Vivaldi beo bocht agus níor seinneadh ceol ag a shochraid fiú, ní raibh le cloisteáil ach cloig á mbualadh in Ardeaglais Naomh Stiofán.
Áirítear a shraith de 4 coinséartó don veidhlín, Na Ceithre Shéasúr, (1723) i measc na bpíosaí is clúití da chuid.
Creideann go leor daoine gurb é Vivaldi an cumadóir Iodálach is fearr a bhí ann lena linn. Scríobh sé coinséartónna, ceoldrámaí, ceol eaglaise agus a lán saothar eile. San iomlán, scríobh Antonio os cionn 500 coinséartónna!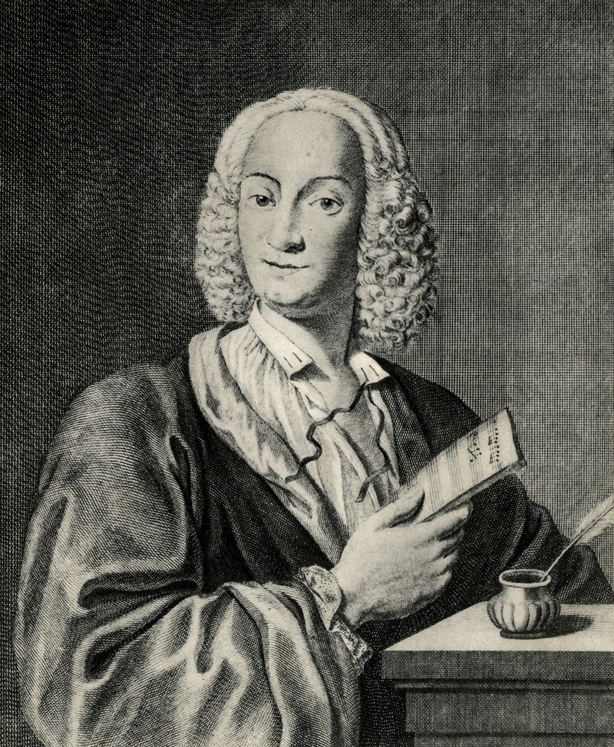 Tráth Na gCeist Cumadóra!
Cén áit ar rugadh Vivaldi?
Cén uirlis ar sheinn sé?
Cén leasainm a bhí air?
Cén fáth go raibh air stopadh ag rá an t-aifreann?
Cén fáth an gceapann tú go raibh Vivaldi bocht nuair a bhásaigh sé?
Cén t-ainm atá ar a shraith cháiliúil coinséartónna veidhlín?
Go garbh, cé mhéad coinséartónna a cheaptar gur scríobh Vivaldi?

Sceitse Séasúrach

I gceacht an lae inniu, sheinn an Múinteoir John ceann de na píosaí galánta ó na Ceithre Shéasúr – an tEarrach. Tarraing pictiúr faoin gcuma atá ar gach séasúr i d'aigne féin, ag amanna éagsúla i rith na bliana.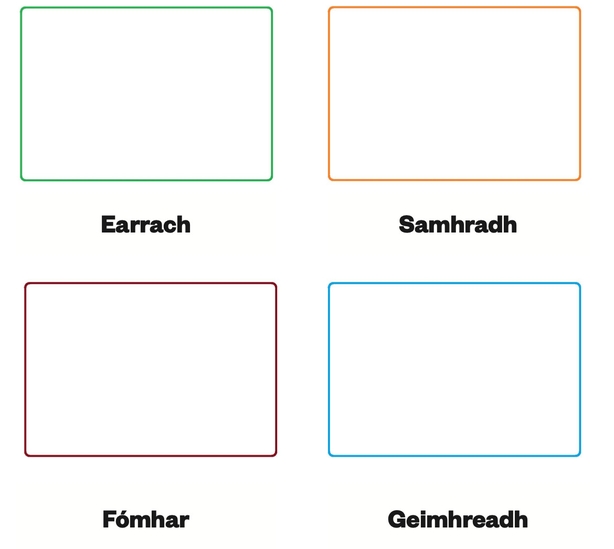 Four Seasons Funnies

How did the tree feel in the spring? Releaved!
What do you call a snowman in summer? A puddle.
What did one autumn leaf say to another? I'm falling for you.
What is the best kind of breakfast cereal to eat in the winter? Frosted Flakes!
Ceoldráma
Scríobh Vivaldi a lán píosaí ceoil, an ceoldráma síscéalach 'Dorilla in Tempe' ina measc. Muna bhfuil ceoldráma feicthe cheana agat, seo ceann bríomhar duit le féachaint air! B'fhéidir nach dtuigfidh tú céard atá á rá/chanadh acu (mura bhfuil Iodáilis líofa agat!) ach tá na focail ar an scáile i mBéarla freisin:


Cuirigí grianghraif chugainn don méid atá déanta agaibh. Iarraigí ar bhur dtuismitheoirí cabhrú leat iad a sheoladh chugainn.
Freagraí Vivaldi
An Veinéis, an Iodáil
Veidhlín
An Sagart Rua
Bhí droch-asma ag cur as dó
[Do thuairim féin]
Na Ceithre Shéasúr
Os cionn 500!