What is accessibility? 

Accessibility is the way in which we as humans can approach, move between, communicate or use things in our everyday lives. Unfortunately, for some people, not everything in their environment or life is accessible. They might not have the right tools, spaces or supports around them to help them. I think we can all agree that this isn't very fair. That is why in Microsoft, we try and make sure that our technology can be used by everyone but that we also develop new and special technologies to make things more accessible. 
Did you know? 650 million people live with a disability. 
That is a lot of people so it is important that we are always thinking about how we can help and using our imaginations to think of what could be possible to help even more. In this episode we are delighted to be joined by David Pollard. David is involved in many projects that aim not to just to help everyone by solving problems they face but also by educating others around him.
David is a real innovator and has used all of the episodes of the past to guide him as he approaches new challenges. We want you to use all of the skills that you have learnt so far like being creative, testing each project, solving problems and never giving up with the latest challenge in this episode too 
Before you begin to watch the episode, please gather the equipment you will need for the maker challenge: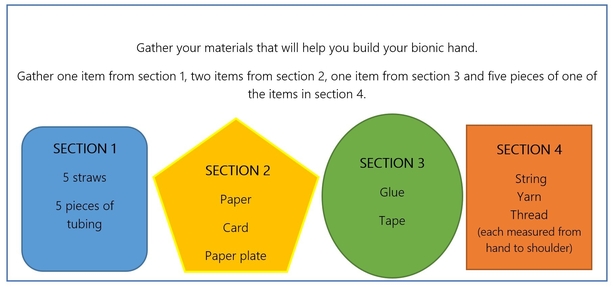 So, if you have your equipment ready, let's hear from David and try out a project that  challenges us to use STEAM to help people and make a positive difference in the world. 
Hopefully, now you can attempt to: 
Plan and construct your very own bionic hand model following the instructions given.
Try some different challenges with the hand and see (a) what things it does very well and (b) what things it struggles to do. When you have those things noted down, think about why that may be. 
Download our activity and planning sheet here to help you with your challenge. Enjoy!