Seamus and some special guests are going to bring you some great story adventures on the Home School Story Hub.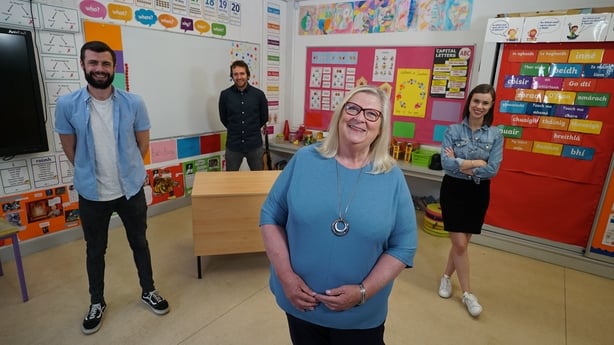 Seamus had some of his favourite authors and books on across the week and gave all you bookworms ideas for some great books to read throughout the summer.
What do you think Seamus' favourite books are? Let's find out.

Guest No5: Marita Conlon Mc-Kenna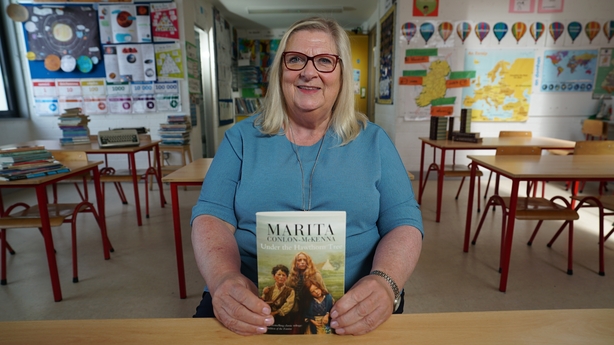 Marita went to Mount Anville Junior School.
Her favourite book was 'Little House in the Big Woods' by American writer Laura Ingalls Wider. It was about her own family who were pioneers and all their adventures and trials.
It was part of a series of 'Little House' books which followed the lives of the Ingalls family. It was turned into a big television series 'The Little House on the Prairie.'
About the author
Marita was always fascinated by the Famine period in Irish history. When she heard a radio report of an unmarked children's grave from the Famine period being found under a hawthorn tree, she decided to write her first book, Under the Hawthorn Tree.
Marita's other children's books include The Blue Horse, Safe Harbour and A Girl Called Blue. Marita has won several awards, including the International Reading Association Award, the Osterreichischer Kinder und Jugendbuchpreis, the Reading Association of Ireland Award and the Bisto Book of the Year Award. She lives in Blackrock, Dublin with her husband and family.
About the Book: Under The Hawthorn Tree
Published in May 1990, Under the Hawthorn Tree is a classic for young readers worldwide. It has been translated into over a dozen languages. It was filmed by Young Irish Film Makers, in association with RTÉ and Channel 4.
Ireland in the 1840s is devastated by famine. When tragedy strikes their family, Eily, Michael and Peggy are left to fend for themselves. Starving and in danger of the dreaded workhouse, they escape. Their one hope is to find the great aunts they have heard about in their mother's stories. With tremendous courage they set out on a journey that will test every reserve of strength, love and loyalty they possess.

Guest No4: Gordon D'Arcy and Paul Howard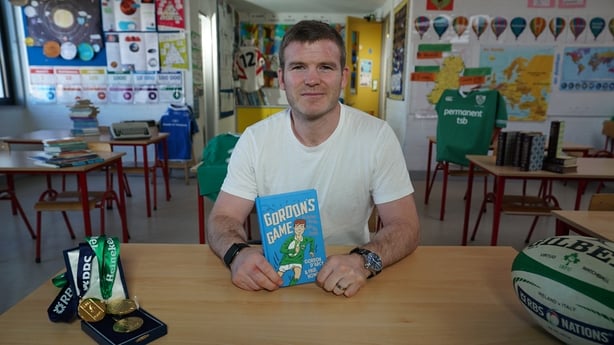 Gordon's favourite book as a kid was Roald Dahl's The BFG and he actually went to three different primary schools, but did his last few years in Kennedy Park Wexford.
About the authors:
Gordon D'Arcy is a former Leinster, Ireland and Lions rugby player. He received his first cap in 1999 and played inside centre for most of his career. He was part of teams that won three European Cups, two Six Nations Championships, and the historic Grand Slam of 2009. He retired from rugby in 2015.
Paul Howard is an author, journalist and comedy writer best known as the creator of the Ross O'Carroll-Kelly series. He has won a record four Irish Book Awards and is a former Irish Sports Journalist of Year and Irish Newspaper Columnist of the Year.
The brilliantly funny sequel to the No.1 bestselling middle-grade title Gordon's Game titled 'Gordon's Game: Blue Thunder' is available from 15th October. It is about one rugby-mad boy's chance to play for one of the best teams in the world, with plenty of mischief and mishaps along the way. Don't miss it.
About the Book: Gordon's Game
Eleven-year-old Gordon lives in Co. Wexford. When he's not wrecking the house or destroying the garden, he helps out picking potatoes and baling hay on the family farm. His life changes forever when he discovers an amazing game he has never seen before — rugby! Soon he's the star player for the Wexford Wanderers and dreams of one day wearing the Ireland jersey. A dream like that means hard work, raw talent and never losing sight of your goals.
But Gordon has a wild streak that often lands him in trouble. Mum and Dad think that if he can just channel his energy, all will be well. Then something utterly mad happens and he gets a chance to live his biggest dream. Can he stay on his game and do everyone proud? Or will trouble follow him... like it usually does?
Gordon's Game 2 will be published this October.

Guest No3: Sarah Webb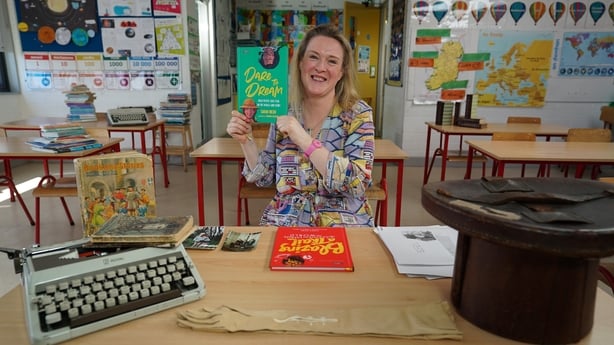 Sarah went to Dalkey National School (and St Andrew's College). One of her favourite picture books as a child (and still a favourite now) was Busy, Busy World by Richard Scarry. Other favourites were (and are) The Secret Garden, Ballet Shoes and Heidi. Plus Enid Blyton!
About the author
Sarah Webb writes for all ages. She is the author of Irish Book Award-winning Blazing a Trail: Irish Women Who Changed the World (with Lauren O'Neill), and Dare to Dream: Irish People Who Took On The World (And Won!) (illustrated by Graham Corcoran). Sarah runs writing clubs and programmes children's events for several Irish book festivals.
She also runs Story Crew which provides writing clubs and creative workshops for children and the young at heart. Sarah has a great love of history and over the years has been inspired by many remarkable women, from her primary school English teacher Miss Cahill, to her history of art lecturer at Trinity College, Dublin, Professor Anne Crookshank. www.sarahwebb.ie
About the Books
Blazing a Trail: Irish Women Who Changed the World
From daring aviator LADY HEATH to savvy gold prospector NELLIE CASHMAN, fearless sea captain GRANUAILE to world-class dancer DAME NINETTE DE VALOIS, scene-stealing actor MAUREEN O'HARA to record-breaking runner SONIA O'SULLIVAN, rebel leader COUNTESS MARKIEVICZ to President MARY ROBINSON, meet the remarkable Irish women who shaped the world we live in.
Discover their achievements, the ways in which they devoted their whole lives to making a difference, and feel the essence of these important trailblazers.
Ready to walk in their footsteps? A world of bravery and adventure awaits you!
Dare to Dream: Irish People Who Took On The World (And Won!)
Amazing stories of extraordinary Irish people from inspirational athlete CORA STAUNTON to world-famous novelist JAMES JOYCE, Antarctic explorer TOM CREAN to renowned jellyfish expert MAUDE DELAP, trade union activist ROSIE HACKETT to the greatest hat-maker in the world, PHILIP TREACY.
These are the stories of Irish people, famous and not-so-famous, who followed their dreams, fearlessly striving to be the very best they could be, to discover and explore, to help those in desperate need, or to test the limits of artistic expression. Meet trailblazers and game-changers from Irish history and today who changed, and are changing, the world. Prepare to be inspired!

Guest No2: Eoin Colfer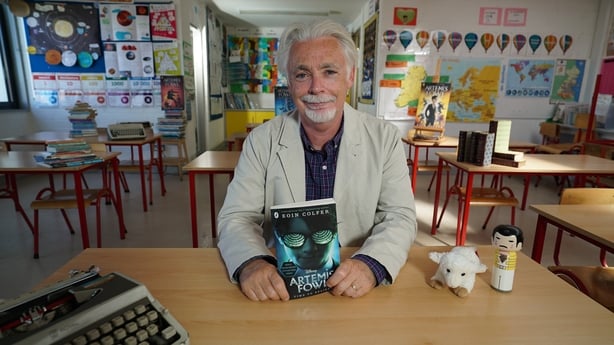 Eoin Colfer went to CBS Wexford Primary School. His favourite book growing up was Huckleberry Finn by Mark Twain, which is why his son is called Finn!
About the Author:
Eoin Colfer is the mega-selling author of the Artemis Fowl series, Half Moon Investigations, The Supernaturalist, Airman, The Legend of . . . books, the WARP series and most recently The Fowl Twins series among many other titles. He worked as a teacher before turning his attention to full-time writing for children. He lives here in Ireland with his wife and two children.
About the book: Artemis Fowl
Rumour has it Artemis Fowl is responsible for every major crime of the new century. Just twelve years old and already he's a criminal genius, plotting to restore his family's fortune with a spot of corruption and kidnapping. Kidnapping a fairy for ransom, to be precise.
Artemis Fowl has discovered a world below ground of armed and dangerous - and extremely high-tech - fairies. But he may have underestimated their powers. They will fight back. Is the boy about to trigger a cross-species war?
Let the misadventure begin.
The Artemis Fowl movie is coming to Disney + on 12th June, directed by Kenneth Branagh and starring Judi Dench, Josh Gad and Lara McDonnell. The Artemis Fowl series has been hugely successful - the first book was shortlisted for numerous awards, and the series has sold nearly 2 million copies in the UK, and 25 million copies worldwide.

Guest No1: Ryan Tubridy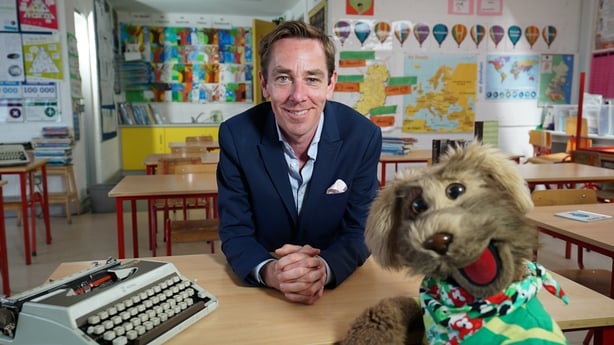 Our first guest on Home School Story Hub is Ryan Tubridy. He tells us all why he loves books so much and how you can use books as a passport to a world of imagination! He explains how he become an author and talks to Seamus about his favourite Mr.Men book.