Congratulations to the 760 (and counting!) schools who have been awarded Green Flags in May 2020. You have all worked so hard on the 7 steps of Green-Schools in your school and the team at Green-Schools have been so impressed by your efforts.
Well done to all the hard-working members of Green-Schools Committees all over the country. Being awarded a Green Flag takes a long time - nearly 2 years of work! It also takes commitment and effort from not just the Green-Schools Committee but the whole school.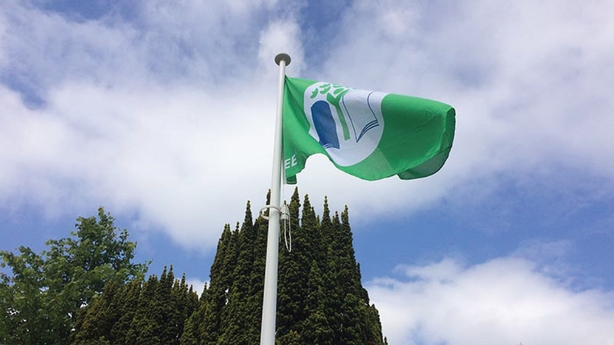 There are schools working on reducing any litter in their school, or reducing the amount of waste they have in their bins. Other schools worked on using less energy in their school, or conserving more water. Some schools were working on increasing biodiversity, while others tried to get more students and teachers walking, cycling, and scooting to school.
Many schools were awarded for their efforts in learning about being Global Citizens and taking action for a fairer world. A number of schools also learned all about the marine environment and what they can do to protect it.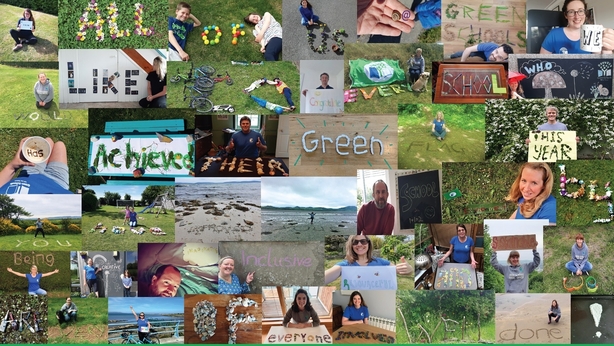 Because you have all worked so hard and sent us lots of information about what you've been doing, we have been able to put that together and add it all up to show what an amazing impact your work has had collectively. We found out that schools in Ireland had:
Diverted 9,500 tonnes from landfill. That's the same weight as 80 blue whales, or 4,500 giraffes!
Saved 29 million units of electricity. That's enough to boil a kettle 290 million times!
Saved 592 million litres of water. That's enough to fill 20 olympic sized swimming pools, or make 2.3 billion cups of tea!
Schools planted 2,799 trees, created 202 vegetable gardens and installed 556 bird feeders. 4,000 students cycled to school, and 300 bike parking spaces were installed, along with over 800 scooter parking spaces!
Knowledge of the Global Goals increased an awful lot and knowledge of the impacts of climate change on our oceans doubled!
So you can see how important the work you are doing in your school is, because when you put it together with all the other schools work it adds up to a lot of pretty fantastic achievements that help keep our planet healthy!
Green-Schools isn't just happening in Ireland, it's happening all over the world! Over 15 million students in countries worldwide are also following the 7 steps and working hard to protect our planet. Isn't that just amazing!
Green-Schools Ireland just loves to tell all the other countries about how fantastic our schools in Ireland are, and some of the creative and inspiring ways they are taking action for our environment.
Make sure to spread the word about this amazing work so you can help others in your communities to do the same.
While you're not at school right now, you can still play your part - check out www.greenschoolsireland.org for our Green-Schools Stay Home project.

Green-Schools wishes to congratulate all Green-Schools students, school staff and families who helped schools in achieving and renewing the Green Flag 2020! Join in on the celebrations virtually from today May 25-29th for a week of #GreenFlag2020 celebrations!



Green-Schools wishes to congratulate all Green-Schools students, school staff and families who helped schools in achieving and renewing the Green Flag 2020! Learn about how your collective hard work contributed to huge savings across waste, energy, water and transport, and the positive impacts which were made towards biodiversity, global citizenship and the marine environment. Well done to ALL involved!



All 35 Green-Schools Officers very much miss not being able to pass you the Green Flag during an awards ceremony this week, however we are DELIGHTED at least be able to celebrate your Green Flag award virtually. Have a look at the message we have for you!