Did you know that Neil Armstrong, the first man on the moon had Irish roots in county Fermanagh?
That St. Brendan of Kerry sailed the seven seas looking for the Garden of Eden? That the first female commercial pilot in Britain, Lady Mary Heath, was Irish? Or that an Irish man, Francis Crozier, was responsible for mapping most of Antarctica?
Throughout history, the Irish have travelled far and wide, completing daring feats of exploration across land, sea, sky and space! In EPIC The Irish Emigration Museum's Explorers Pack you'll discover all about this history and more…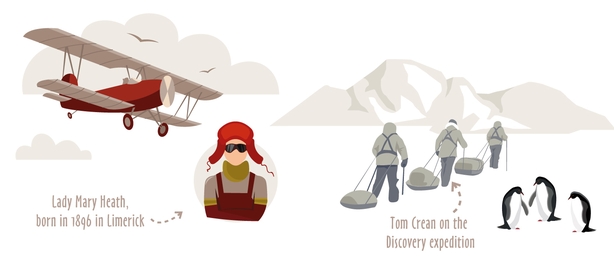 Take a whistle stop tour through the history of exploration - from one of the first known voyagers Hannu in 2750 BC, to present day Irish explorers such as Liz Bonnin and Bear Grylls – before testing your knowledge in a fun series of quizzes and trivia tasks.
Meet Irish explorer Ernest Shackleton, and join him as he journeys across Antarctica in a race to the reach the South Pole; and bring a little of his adventure home with you by learning how to make snow, no matter the weather outside!
Finally, you'll discover what it takes to be the next fearless explorer with our step-by-step guide to conducting your own expedition at home. It's time to draw maps, fill out field notes, and think up new discoveries. Buckle up, your journey awaits!
Download your Explorers pack HERE

Discover even more hi-tech history that's truly inspiring at EPIC The Irish Emigration Museum, located in Dublin's Docklands. Visit www.epicchq.com for more details!