Claonmhéadar

Inniu d'fhoghlaim muid gur píosa trealaimh áisiúil atá i gclaonmhéadar a úsáidtear chun uillinneacha a thomhas nó chun áireamh a dhéanamh ar neas-airdí. Úsáidtear go minic é i bhforaoiseacht, innealtóireacht agus réalteolaíocht. Ceapadh os cionn 1,000 bliain ó shin é agus píosa trealaimh thar a bheith tábhachtach a bhí ann do loingseoirí.
Conas Claonmhéadar Chlíona a dhéanamh
Ag teastáil uait – Cárta nó páipéar (2 phíosa greamaithe le chéile), peann luaidhe, téip, coinlín óil, compás (níl sé riachtanach), uillinntomhas*, snáithe, marla / taos / blue tack. *is féídir leat an teimpléad claonmhéadair atá ag bun na treoracha a phriontáil muna bhfuil uillinntomhas agat, níl le déanamh ach é a ghreamú le píosa cárta agus gearr amach é agus ansin lean na treoracha ó chéim 3 ar aghaidh.
Úsáid compás nó taobh phláta chun an ciumhais chuar a tharraingt agus ansin marcáil 0 céim, 90céim isteach ar an dá cheann den chuar.



Socraigh do uillinntomhas ar an líne idir 0 céim agus 90 céim agus marcáil an uillinn 45 céim air agus tarraing líne uaidh sin go dtí an coirnéal.



Gearr amach an claonmhéadar



Greamaigh an coinlín óil ar bharr an chárta. Gearr an coinlín óil chun go mbeidh sé ar cóimhéid leis an gcárta.


Greamaigh roinnt marla le píosa sreangáin agus croch é ionas go mbeidh an snáithe agus marla crochta go neamhshrianta. Anois is féidir leat do chlaonmhéadar a úsáid.





Cuirigí grianghraif chugainn don méid atá déanta agaibh. Iarraigí ar bhur dtuismitheoirí cabhrú leat iad a sheoladh chugainn.
Conas claonmhéadar a úsáid
Seas os comhair chrainn gur mhaith leat an airde a thomas.

Ag féachaint tríd an gcoinlín óil ag an taobh is faide ón sreangán, athraigh an uillinn ar an gcárta go dtí go mbíonn sé crochta ag 45º.

Anois siúl i dtreo nó ón gcrann go dtí go bhfeiceann tú barr an chrainn tríd an gcoinlín óil. (Tá sé úsáideach cara a bheith i do theannta le súil a choinneáil ar an sreangán duit).

Tomhais an fad idir tú féin agus an bun an chrainn agus sin an neas-airde atá ag an gcrann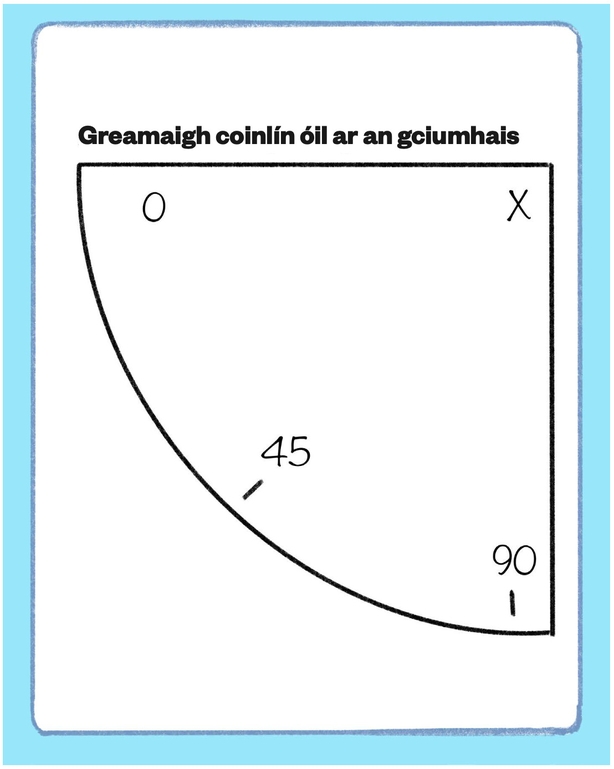 Agus tú amuigh ag tomhas airde na gcrann, seo roinnt nod duit ar conas roinnt de na crainn Éireannacha comónta a aithint trí féachaint ar na duilleoga.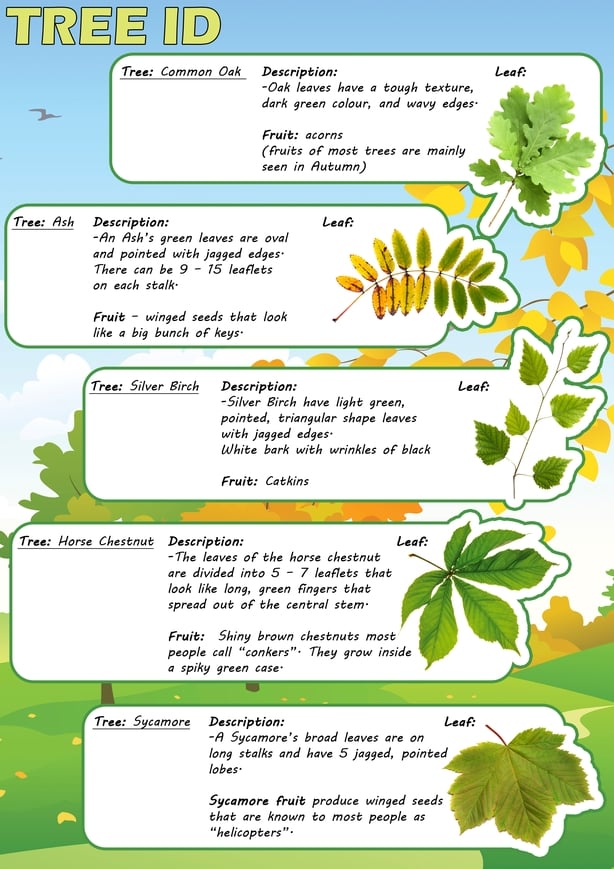 Tree-rific Jokes!

How do trees access the internet?
They log on!
What's a tree's favourite subject in school?
Geometree
What did the tree say to the bully?
Leaf me alone
What type of tree fits in your hand?
A palm tree
What happened to the wooden car with wooden wheels and a wooden engine?
It wooden go.
Why are Christmas trees terrible at sewing?
Because they keep dropping their needles.
Silly Riddles:
What weighs more, a pound of leaves or a pound of logs?
What animals can jump higher than a tree?


Cuirigí grianghraif chugainn don méid atá déanta agaibh. Iarraigí ar bhur dtuismitheoirí cabhrú leat iad a sheoladh chugainn.
Answers: Riddle – 1) They both weigh the same, they're both a pound! 2) All animals can jump higher than a tree; trees can't jump!