Calling all 7-12 year-olds, Fighting Words & Great Lighthouses of Ireland want your stories!
To celebrate Cruinniú na nÓg, Great Lighthouses of Ireland and Fighting Words are inviting 7-12 year-olds to become Young Storykeepers!
All you have to do is create a story inspired by lighthouses!
All our lighthouses brim with terrific tales, legends and lore about lightkeepers, shipwrecks, maritime life and much more. Today they play a vital role along with buoys and other aids to navigation in guiding the safe passage of ships. This is all managed and cared for by the Commissioners of Irish Lights.
Fighting Words offer free workshops to children to explore their creativity and create new stories at locations all over Ireland. Great Lighthouses of Ireland and Fighting Words have now come together and are looking for some imaginative minds to become Young Storykeepers!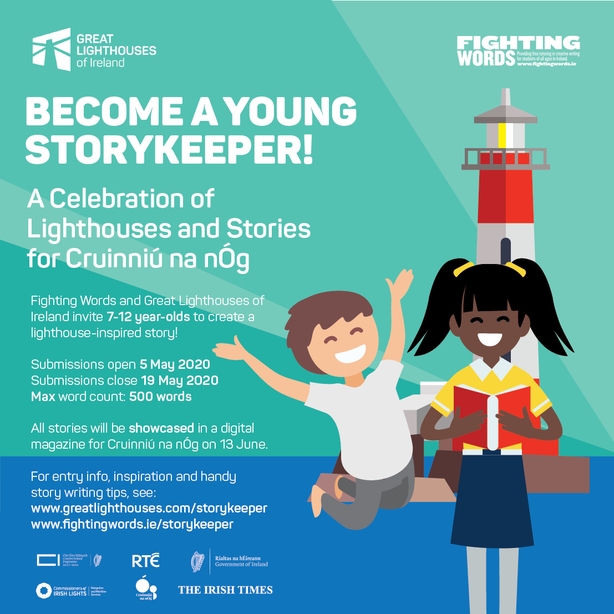 Create a Lighthouse Story
We're asking 7-12 year-olds to create an original story inspired by lighthouses. Your unique story (max length 500 words) can take any form; from short story to poem to play, or even song lyrics, a comic or illustration.
The only requirement is that your story must involve a lighthouse, a buoy or even a helper vessel like the ILV Granuaile.
The lighthouse/buoy/vessel in your story can serve any purpose, it can be a real or fictitious setting or even a character in your tale!
Get Inspired
The Great Lighthouses of Ireland themselves are steeped in exciting chapters of history, from lightkeeping monks at Hook Head, to prehistoric footprints near Valentia Island Lighthouse and even sunken treasure in Fanad Head's waters.
Did you know that before electrification, lightkeepers stayed at their lighthouse station for weeks at a time tending the light? Or that their families often lived at the station with them?
You'll find plenty of inspiration, photos, videos and more in our Stories section and can discover more about each Great Lighthouse of Ireland, in our Lighthouses section.
The story you create however, is entirely up to you, the sky's the limit!
Story Writing Tips
What story will you write? You might write one about the birds and animals that live beside or even inhabit a lighthouse or create a daring sea rescue story. Your lighthouse might be beside the sea or it might be on another planet! Maybe your story is about the light itself – what kind of light is it? Who does it help?
If you're not sure where to start, you'll find lots of helpful tips on writing, story structure and plenty more to fire up those imaginations by clicking here.
Celebrating Every Young Storykeeper's Creativity!
Everyone's stories will be included in a digital magazine that will be launched as part of Cruinniú na nÓg on 13 June. They will also feature on the both Great Lighthouses of Ireland's and Fighting Words' websites.
And you never know – your story may even be selected to be animated and showcased online too!
In addition, every storykeeper (that's you!) will receive a family ticket to any Great Lighthouses of Ireland visitor attraction, to be used when the sites reopen in accordance with Government guidelines.
Check out these captivating lighthouse attractions and start planning a great day out in the future!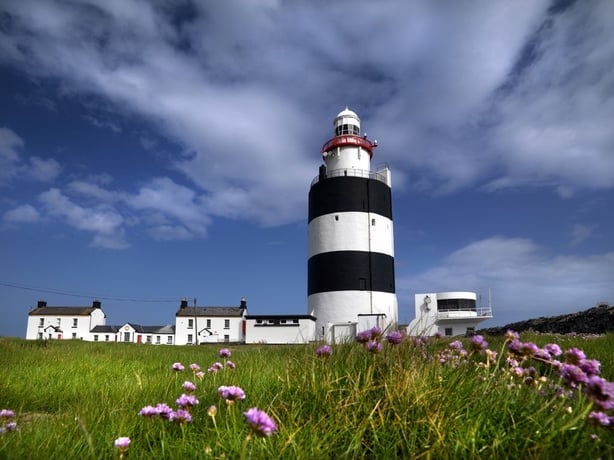 How to Enter

Submissions open on Tuesday, 5 May 2020, at 9am

Submissions close on Tuesday, 19 May 2020 at 5pm

Maximum word count: 500 words

Submissions may be in English or in Irish

Authors must be between the ages of 7 and 12 years.

Send your stories in an editable format (e.g. Microsoft Word). Illustrations and comics should be sent as JPEGs
IMPORTANT: All submissions should be sent from a parent/guardian email address to fiction@fightingwords.ie with STORYKEEPER SUBMISSION in the subject line with the following information included:

Name of author
Age of author
County where you live
Title of story
Word Count (please note maximum of 500 words)
Parent/Guardian name
Parent/Guardian contact telephone number


All submissions will be acknowledged by email and entrants will receive a copy of the terms and conditions.
The Great Lighthouses of Ireland and Fighting Words reserve the right not to publish submissions if details listed above are not included.
Any questions should be sent by email to info@fightingwords.ie with STORYKEEPER QUESTION in the subject line.
See full Terms and Conditions here.
For information on Parental Consent and Privacy Policy, see here.