What is STEAM?

Steam occurs when water boils and turns from a liquid to a gas. However, we will be using the word STEAM during this series to talk about how we can bring together our knowledge of Science, Technology, Engineering, Arts and Mathematics. 
STEAM challenges require us to use lots of different skills. We need to be creators, problem-solvers, team players and always look at how we can improve and learn more. A great example of someone who uses those skills daily is Niamh Stockil.
Niamh features in lesson one below and talks about her role as a software engineer. She also talks about her role on the RTÉ TV show "The Big Life Fix" where she got the opportunity to combine all her skills together to create solutions and ways to help people in their everyday lives. Today, we want you to be like Niamh and create a solution to the STEAM challenge that we have for you. 
Before you begin to watch the episode, please gather the equipment you will need using the below to guide you: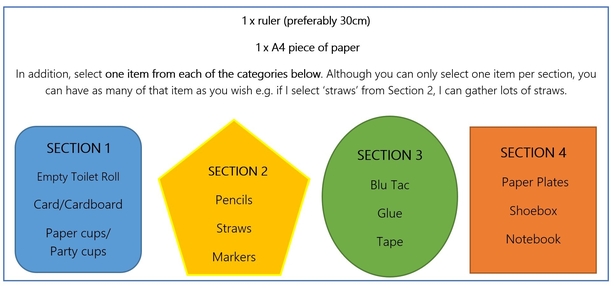 So, if you have your equipment gathered, let's go and learn with the DreamSpace team and their special guest, Niamh Stockil. 
Hopefully you have now learnt some new information about STEAM, engineering and earthquakes. Can you build on what you learnt today by completing the home challenge? The DreamSpace team want you to:
Conduct some research on earthquakes.
 
Construct your very own tower to a height of at least 30cm and make sure it can withstand a shake. 
 
Improve on your tower so that it can withstand stronger shakes each time.
In addition to this can you:
Get creative and add colour and special design features to your tower to make it more unique. 
 
Create a signpost that can stand beside your tower displaying the tower's name and make sure your signpost can also withstand a shake. 
Download the PDF file here to help you with your earthquake research, as well as space to note, sketch and develop out your tower design.