"Look, No Cows!" is a trail for families by author, and Laureate na nÓg, Siobhán Parkinson which visits her favourite artworks from IMMA's Collection in the museum grounds. Siobhán served as Ireland's first ever laureate for children's literature (Laureate na nÓg) from May 2010 to May 2012.
Look, No Cows
Siobhán Parkinson writes for both children and adults. She was Laureate na nÓg in 2010. In "Look, No Cows", Siobhán explores outdoor artworks with three children, Joshua, Nuala, and Olivia. Join the four of them on their journey, discovering sculptures in the gardens and grounds of the Irish Museum of Modern Art (IMMA).
At the beginning, Siobhàn talks about how people express themselves creatively in different ways. "(If) you saw something and you wanted to write down how it made you feel, then you're a writer. And if you saw something and you felt more like making a picture about it, then you're more a visual artist maybe. And if you just wanted to tell someone all about it, then you're maybe a storyteller or perhaps an actor. But pretty well everyone does feel that they want to make something sometime. And that is where art comes from."
Siobhán says that when children think of the word "art", they almost always think of paintings; art that is flat against a wall. However, sculptures are also art; art that you can walk around, art that is out in the middle of the room or in the middle of the garden.
Siobhàn and the children start their visit to IMMA by looking at the sculpture called The Drummer by Barry Flanagan. It is a huge hare standing up on its hind legs which look wibbly-wobbly. The children talk about whether the giant hare is hitting a bodhrán or a tambourine with a stick.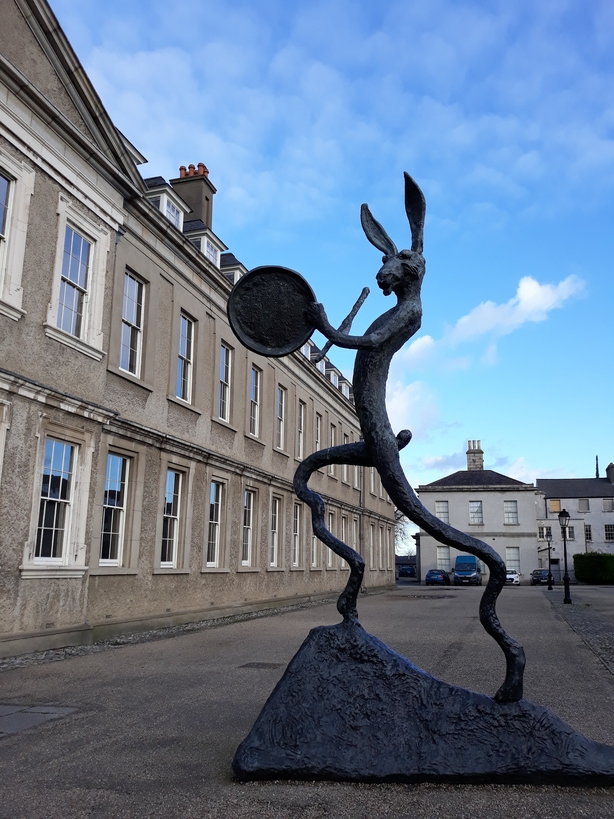 Siobhán says she likes where the sculpture is placed at the entrance to the art museum. It is as if the Drummer is inviting you in. She feels drawn to this creature. He looks like he is moving. He looks like he is leading a parade. It is a lively artwork, full of joy. Depending on the weather and where you are standing, the sculpture creates different silhouettes against the sky.
Next, Siobhán and the children visit a sculpture with a very long title: "8 Limestones cut to a specific size from rough blocks 150 x 50 x 50 cm split into parts and reassembled into their original form." Siobhán says it reminds her of Stonehenge or the Roman Forum. It is like an ancient ruin. But of course it's not a ruin. It's carefully made; the corners are right angles. If you walk through the sculpture, in between the pillars of limestone, you are aware it is a theatrical piece. There are little holes at various intervals on the surface of the pillars and you can enjoy peeping into the holes.
Another sculpture they visit is made of stone too. The artist that made it is Iran do Espirito Santo and the sculpture is called Untitled/ Corrections D. The children think this is a good title. The sculpture is made up of several large rocks. Each rock is smooth and cut like a diamond into sharp angles and planes. Wandering through the large rocks, it is a bit like a maze.
The group visit a statue of a woman holding out a large apple. The children say it reminds them of Adam's wife, Eve. The sculpture's by Edward Delaney. Siobhán says this is one of her favourite sculptures. She likes it because Eve looks really feisty, rather aggressive, sticking out her hand with a football-sized apple. It's really in your face. Siobhán says it makes her smile and she wants to get to know this lady.
Siobhán and the children visit a tall oak sculpture by Michael Warren. She says it's a really amazing, enormous piece, reaching up into the sky, as you crane your neck back to see the top of it. Siobhán says
she doesn't understand the physics of how it stands up because it looks very precarious. Yet it is sturdy and strong and reminds her of shipyards, with the big steel bolts in the wood.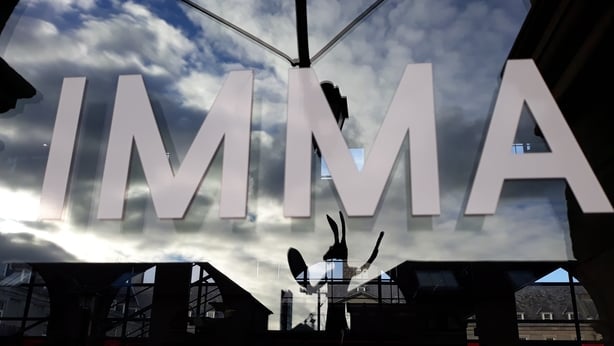 Tony Cragg's untitled bronze sculpture is next on their tour. This is an extraordinary piece, Siobhán says. It looks like nothing else you've seen but it also reminds you of a lot of things: a stack of plates from one side; from another angle it looks like a shell. One of the children says it looks like a flask or something that you put a potion in. It can be interpreted in many ways. It's also hollow – you can talk or shout into it.
The group see Liam Gillick's sculpture which looks like a circular sign on a pole. This is another artwork you have to strain to look up at. What you're looking at are letters and they seem to be random letters when you look at it first. The children can find words but they're strange words that still do not make a lot of sense. It is a kind of anagram. It's a playful piece. Depending on the sun, it can cast shadows and you can see the letters on the ground in silhouette.
The group comes across what looks like a gravestone for Patrick Ireland. There are two years carved into the stone, 1972 and 2008. The children discuss what this means. Is this how long the artist made artworks for? Is the artist's name Ireland or maybe it's supposed to be for Ireland itself? The children see lines carved into the stone and Siobhán explains this is ogham, an old way of writing used in Ireland long ago. The artist Brian O'Doherty buried a mask of his alter ego Patrick Ireland here during a ceremony at IMMA in 2008. Siobhán notes how the children puzzled over this piece of stone and that it really captured their imaginations.
In the arch on the way into the IMMA courtyard, the group find an artwork in the walls around them. It uses words and symbols – water and sand plus sticks and stones. The children think about what the words remind them of – the rhyme "sticks and stones may break my bones." They talk about how you could use sand and water to build a house. Siobhán says maybe the artwork is to do with the building here at IMMA. She says it's very mysterious. The artist who made the work is called Lawrence Wiener.
At the end of their visit to IMMA, Siobhán and the children look out a window over the formal gardens at IMMA. The gardeners have cut the leaves and branches in the gardens into shapes. Siobhán says the hedges and trees almost look like they're not natural objects. They almost look like a painting or a sculpture.
You can also find out more about IMMA's family programmes, and workshops for all ages here or contact Mark Maguire, Assistant Curator: Schools and Family Programmes, IMMA at mark.maguire@imma.ie.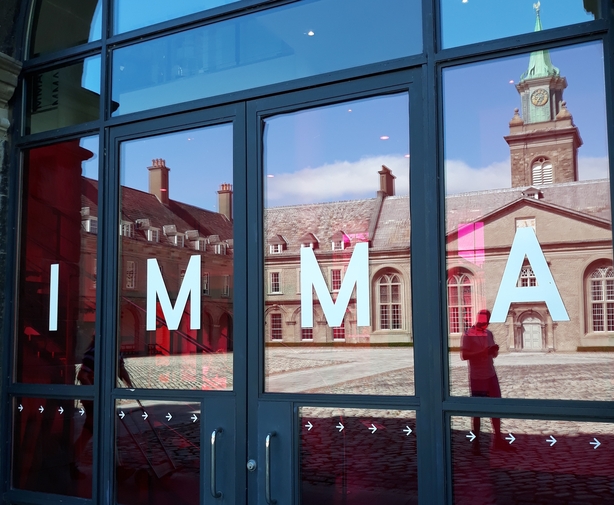 Look, No Cows featured artworks:

Michael Warren
Beneath the 'bow, 1991
Irish oak and corten steel, 12 m high
IMMA Collection, Purchase, 1991

Lawrence Weiner
(...) Water & Sand + Sticks & Stones (...), 1991
Language + the materials referred to, dimensions variable
IMMA Collection, Purchase, 1991

Barry Flannagan
The Drummer, 1996
Bronze edition of five, 483 x 185 x 316 cm
IMMA Collection,
Donated by the artist, 2001

Tony Cragg
Untitled, 1988
Bronze 210 x 210 x 285 cm
IMMA Collection
Loan, Weltkunst Foundation, 1994

Iran do Espirito Santo
Untitled/ Corrections D, 2008
Granite, sizes vary approximately from 50 x 50 x 50 cm to 160 x 140 x 120 cm,
IMMA Collection, Purchase, 2007

Lynda Benglis
North South East West, 2009
Cast bronze fountain and steel
167.6 x 467.4 x 467.4 cm, Edition 1/3
Courtesy of the artist and Chaim and Read, New York
Long term loan, 2009

Brian O'Doherty / Patrick Ireland
Limestone headstone from the performance
The Burial of Patrick Ireland (1972-2008)
IMMA Collection, Donation, 2008

Edward Delaney
Eve with Apple, 1958
Bronze, unique, 95 x 27 x 32 cm,
IMMA Collection,
Gift of Jack and Agnes Toobey, 2009
Restored with the support of the Heritage Council and Goethe Institute

Ulrick Rückriem
8 Limestones cut to a specific size from rough blocks 50 x 50 x 150 cm split into parts and reassembled into their original form, 1988
Limestone, installation,
IMMA Collection, Purchase, 2008

Liam Gillick
Signage for a 35 Floor Social Centre, 2006
Aluminium, foam ex, stainless steel
IMMA Collection: Donation, by the artist, 2007

* * * * *

Credits: Siobhán Parkinson, Laureate na nÓg

With:

Joshua Kun Hogan
Nuala Parkinson Coombs
Olivia Parkinson Coombs
Christine O'Neill, Project Coordinator: Children's Programmes, IMMA
Helen O'Donoghue, Senior Curator and Head of Engagement and Learning, IMMA
Jane O'Hanlon, Education Officer, Poetry Ireland
Mags Walsh, Director, Children's Books Ireland
Nessa O'Mahony, Project Manager, Laureate na nÓg
Music by Çağlar Yildiz
Thanks to Collection Department IMMA and all of the artists.
Produced and Filmed by Peter Salisbury
www.bestboyfilms.com 2012