As part of news2day's 20th birthday we had am a very special interview with President Michael D Higgins.
Students from St Kevin's National School, Littleton, County Tipperary put questions from RTÉ news2day viewers to President Higgins at Áras an Uachtaráin.
You can watch the full interview up top now on RTÉ Kids YouTube!
The President revealed his thoughts on homework and asked him thing: What was your favourite sport when you were in school? When you were nine years old what did you want to be? and When did you decide you wanted to be President?
When asked about homework President Higgins said: "I think myself really that the time at home and the time in the school is an educational experience and it should get finished at the school and people should be able to use their time for other creative things."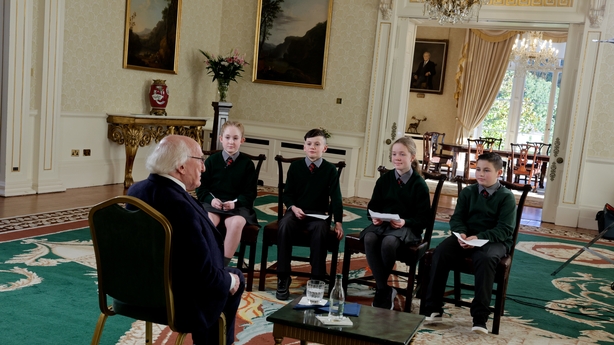 The students also asked the President about his dogs, his official trips abroad, his favourite subject in school, differences between now and when he was a child and his favourite book. The President also spoke to the children about his love of handball and the importance of friendship in their lives.
In a message to the children of Ireland and the viewers of RTÉ news2day, President Michael D. Higgins gave this advice: "To stay curious about everything and I think it's important to make sure you don't miss the joy of sharing information. And I think an important thing is friendship and to make sure that there's no one left without friendship and that people belong.
And we will all do individual things... but I think friendships that you make will in fact always be great memories and that is so important. And also have the courage to stand your own ground and let other children be allowed the space of standing their ground too because none of us are the same. We're all unique but at the same time we have a lot going for us."
President Higgins also encouraged the children of Ireland to speak the Irish language. He encouraged them to speak Irish in a fun way and to feel free to use whatever bits of the language that they have.
Tune in to news2day weekdays at 4.20pm on RTÉ2 and RTÉ Player!
And click here to get lots more content from the show on the news2day website!!