The RTÉjr Book Club is by Juliette Saumande, a children's book writer whose latest title, My Little Album of Ireland (illustrated by Tarsila Krüse and published by The O'Brien Press) is out now. Plus, we have Irish language recommendations are from Jenifer Ní Ghrádaigh, Oifeagach Gaeilge at Children's Books Ireland.
This month, we are coming up to the sad anniversary of the outbreak of conflict in Ukraine, but for any child growing up near a TV or radio, it seems like there's always a war going on somewhere.
Always has been and, perhaps, always will be. If your young ones are struggling with the general atmosphere of anxiety and fear caused in great part by reports of conflict and violence around the world, it might be time to switch off the news—and open a good book.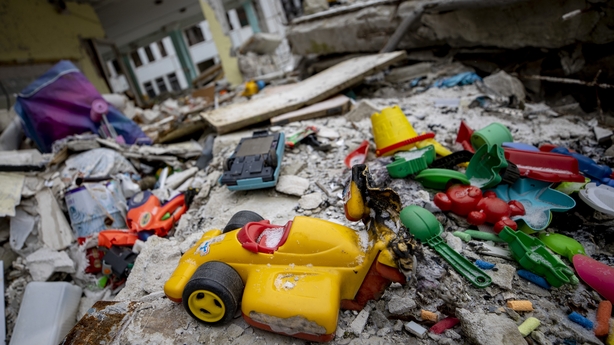 What is war? How does it happen? And how does it end? For very young readers of 3 and up, you can begin exploring these questions and more with Ole Konecke's Anton and the Battle, Tom McLaughlin's Along Came a Different, or Steve Antony's Green Lizards vs Red Rectangles.
Each in their own way, these playful and clever books explore the futility of fighting, escalation and retaliation. All suggest ways for resolving conflicts and living in peace with each other, whether they are your best friend, a bunch of green lizards or any kind of 'different'.
From age 7, take a look at Davide Cali and Serge Bloch's brilliant The Enemy, where a soldier in a trench keeps an eye on 'the enemy' as instructed by his superiors. A timeless tale that also touches on themes of propaganda and fake news, while encouraging dialogue as the only path towards peace.
With readers of 11 and up, try the arresting Squire by Nadia Shammas and Sara Alfageeh, a graphic novel that deconstructs the lies of war and imperialism while delivering a cracking story with endearing characters and stunning artwork. Pax, by Sara Pennypacker and Jon Klassen, is also a fantastic reflection on the consequences of conflict between nations and armies, fathers and sons, humanity and nature.
Don léitheoir Gaeilge, níl roghanna chomh fairsing ann, ach fós féin tá cúpla leabhar ann anois a phléann le ceist na dteifeach ach go háirithe. Cé gur scríobhadh iad mar fhreagra ar an gcogadh sa tSiria, toisc go ndíríonn siad ar thaití an pháiste atá díbeartha, tá siad fós ábhartha agus tábhachtach. Do pháistí aois 5-8, ach oiriúnach freisin do pháistí níos óga, tá aistriúchán ar scéal Azzi le Sarah Garland, Azzi idir dhá stól.
Tá ar an gcailín beag agus a teaghlach imeacht óna dtír féin agus cogadh ar siúl, agus níl sé éasca di féin ná dá muintir agus iad ag foghlaim teanga nua i dtír nua, agus iad ag fanacht freisin ar na páipéir a dhéanfadh dleathach iad. Do pháistí níos sine, aois 8-12 tá Ar strae, ón údar iomráiteach Patricia Forde, a insíonn scéal Nizar, buachaill óg a theith ón tSiria, agus atá anois ag streachailt leis an saol aduain in Éirinn.
Historical distance can also help examine such tough subjects in a safe space. The Little People Big Dreams series offers inspiring biographies for kids aged 5-8, such as the super Audrey Hepburn by María Sanchez Vegara and Amaia Arrazola.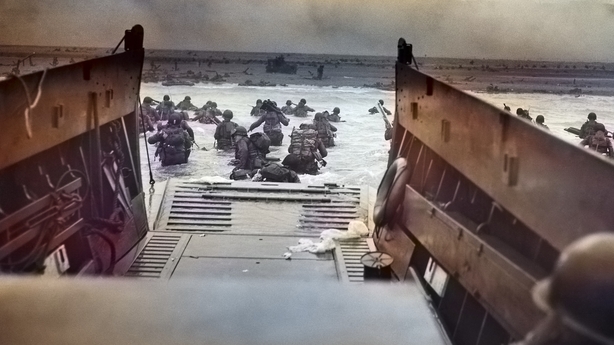 As for historical fiction, older readers will find a lot to think about in Peter in Peril: Courage and Hope in World War 2 (a graphic novel by Helen Bate, 8+), The Garden of Inside-Outside (a picturebook set in 1980s Iran by Chiara Mezzalama) or the action-packed Voyage of the Sparrowhawk (a novel by Natasha Farrant looking at the immediate aftermath of World War One, 10+).

Readers who deal better in facts will find just the right dose of info (without scaremongering or goriness) in books such as Where Will I Live? by former ambassador to the UN Rosemary McCarney (full of striking photographs bound to evoke empathy with victims of war worldwide, 6+), Children In Our World: Global Conflict by Louise Spilsbury and Hanane Kai (6+) or Yeva Skalietska's You Don't Know What War Is: The Diary of a Young Girl from Ukraine (10+).

Information, reflection, distraction: all these strategies can help alleviate ambient anxiety. Here's another one: action. With its celebration of Nobel Peace Prize laureates, the beautiful Peace and Me is at once poetry, history and a call to its readers to figure out what peace means to them and what they can do to make it happen (Ali Winter and Mickael El Fathi, ages 7-10). After all, in Anahita Teymorian's words: 'If we are kinder and if we love each other, then in this beautiful world there's room for everyone' (There's Room for Everyone, age 4+).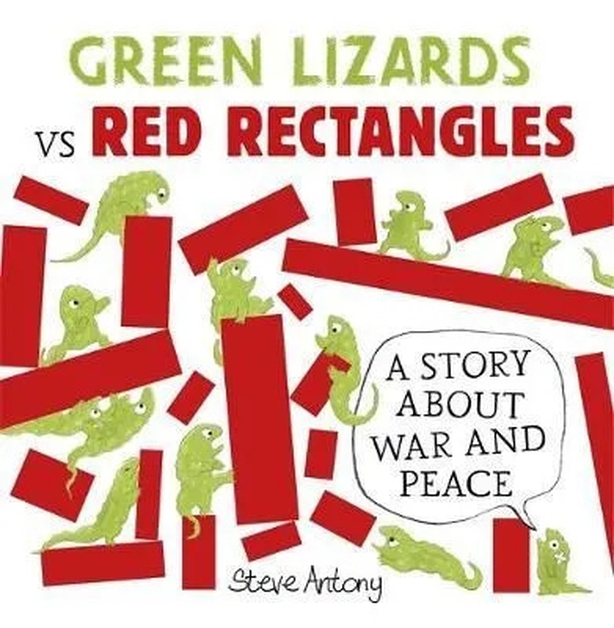 Green Lizards vs Red Rectangles: A Story About War and Peace, by Steve Antony, Hodder Children's Books, 32pp, ISBN 9781444920116
The green lizards and the red rectangles are at war. The lizards are strong and the rectangles are smart; in other words, every battle ends in a stalemate. Any voice questioning the reason for the feud is squished (literally), until… Graphic and striking, with pages swarming with action and very pared-back text, this is such a clever book!
Antony lets the pictures do all the hard work, really giving very young kids a chance to 'read' the book themselves, to figure out what is going on and, maybe, to help find a way out of the dead end of war. Lots of fun and lots of food for thought! (3+)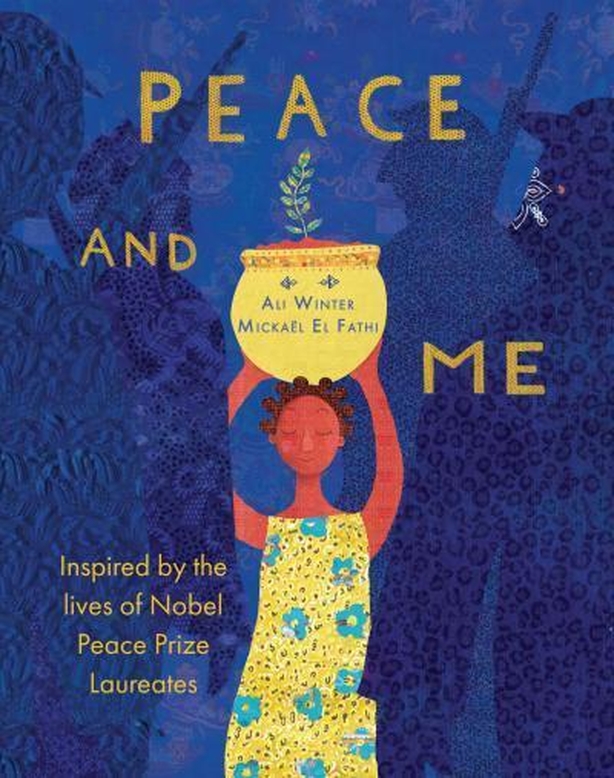 Peace and Me, by Ali Winter and Mickael El Fathi, Lantana Publishing, 32pp, ISBN 9781911373650
This beautiful and timely book introduces children to the inspirational lives of twelve recipients of the Nobel Peace Prize, including Red Cross founder Jean Henry Dunant, Jane Addams, Martin Luther King or Malala Yousafzai. The illustration weaves across and around the text wonderfully in a mixture of collage, dry pastels and computer graphics.
The book is endorsed by Amnesty International 'because it shows how standing up for other people makes the world a better, more peaceful place' and will be a very important addition to home and classroom bookshelves. Ali Winter's text is beautifully accessible. Each laureate's life is summarised in a repeated phrase beginning with 'Peace is'. These statements are listed at the end, followed by the very important question: 'What does peace mean to you?' (Non-fiction, 7+)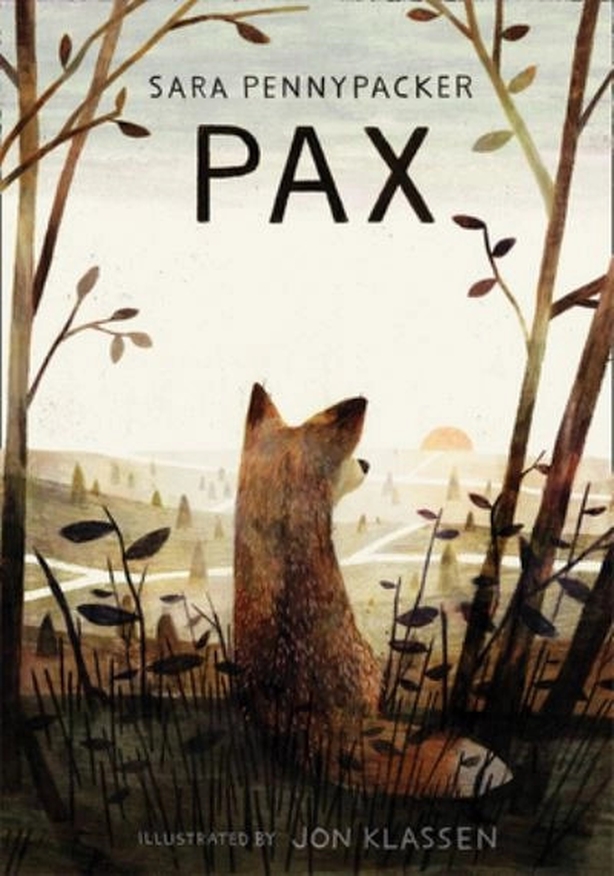 Pax, by Sara Pennypacker and Jon Klassen, HarperCollins, 288pp, ISBN 9780008124090
Peter has raised Pax since he found him as a helpless kid. On the insistence of his father, who is about to depart for the war, Peter must abandon his companion in the wild and move away, leading to an epic journey for both the fox and the boy as they endeavour to be reunited. This beautifully written book doesn't shy away from heavy themes of conflict – between nations and armies, fathers and sons, nature and humanity and, perhaps most importantly, conflict within the self. A beautiful, pitch-perfect, ultimately hopeful book. (Ages 10+)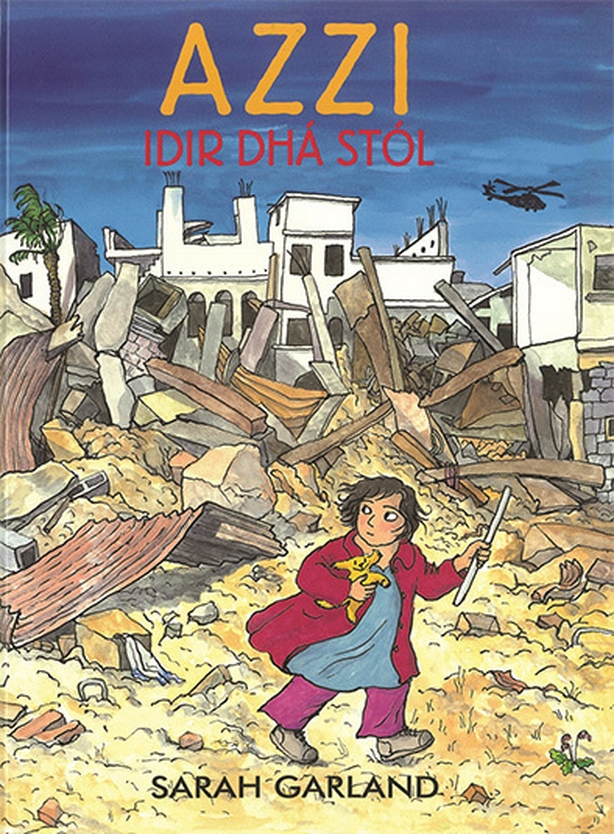 Azzi idir Dhá Stól, le Sarah Garland, aistrithe ag Fidelma Ní Ghallchobhair, An Gúm, 36lch, ISBN 9781857911565
Scéal corraitheach é seo faoi dhídeanaí óg atá ag dul i dtaithí ar shaol nua in áit choimhthíoch agus a ghlacann, de réir a chéile, leis an saol nua seo go gealgháireach. Músclaíonn na pictiúir laistigh mothúcháin láidre, go háirithe na léirithe de thionchar an chogaidh ar mhuintir Azzi. Ceiliúrtar neart agus dúchas an dídeanaí go croíúil agus cuirtear béim speisialta ar ról an phobail i dtacú leis an teaghlach. Scéal an-luachmhar chun eispéiris dídeanaithe óga a phlé le páistí agus comhbhá a chothú. (Aois 5+)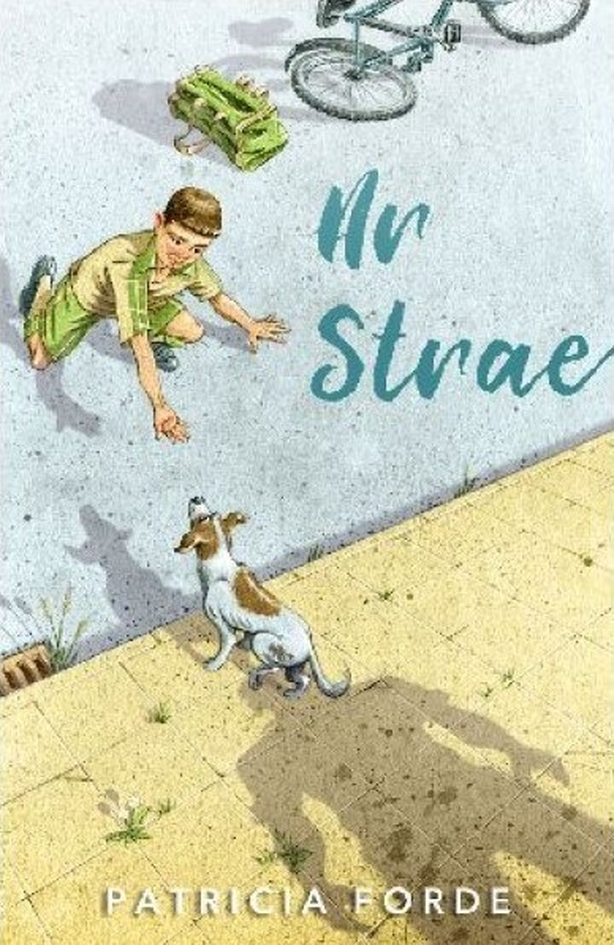 Ar Strae, le Patricia Forde, Futa Fata, 64lch, ISBN 9781910945513
Tagann Nizar go hÉirinn ón tSiria lena mham agus a bheirt deirfiúr, Sada agus Rasha, ar cúpla iad. Tá a mham ag iompar clainne agus ar ndóigh tá teaghlach mór ag Nizar, ach níl a athair leo agus tá Nizar mar fhear an tí anois go dtí go dtagann sé ar ais. Tá siad ina gcónaí in óstán agus tá a lán rialacha ann, dar le Nizar. Tá Nizar ina choimhthíoch sa tír seo ach déanann sé caidreamh uilíoch le madra a dtugann sé Oscar air.
Tá deireadh idéalach ar an scéal seo a dhéanfaidh an-tarraingteach do léitheoirí é. Más rud é go bhfuil tú ag iarraidh léargas ar shaol na dteifeach nach bhfuil ródhomhain ná dorcha, is leabhar iontach é seo. (Aois 8-12)
Click here to look back on more of RTÉjr Book Clubs!