This month's RTÉjr Book Club article is written by Ruth Concannon. Ruth is a Book Doctor and book reviewer. You can follow her reading recommendations on Instagram here.
Hooray! July means Summer holidays! Whether you are planning a trip abroad, exploring Ireland or simply chilling at home, having a good book is the perfect companion during the summertime. Not only are books the best entertainment for long journeys, even if you aren't holidaying faraway, books allow us to travel as far as our imaginations can reach - all from the comfort of our own armchairs!
If you are preparing for a long journey, by car, train or plane, there are lots of reading options to keep you busy. Our littlest readers will adore On the Go by Hector Dexet, an interactive boardbook exploring different ways to travel. For anyone who likes to spend long journeys plotting hair-brained schemes, the zany and touching The Summer I Robbed A Bank by David O'Doherty and Chris Judge is a page-turner for readers aged 9+. But don't worry if your summer plans don't work out, The Extremely Inconvenient Adventures of Bronte Mettlestone by Jaclyn Moriarty is a whirlwind and enchanting story perfect for any peculiar unplanned journeys.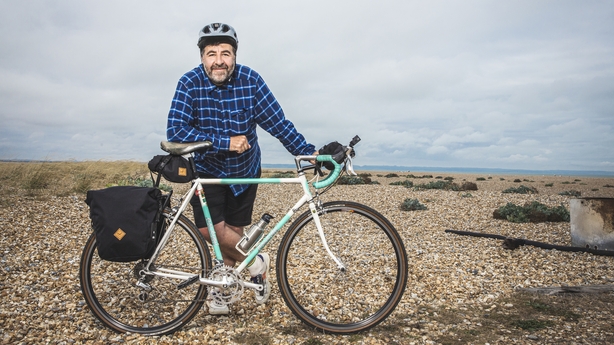 Perhaps you plan on exploring Ireland this summer; there are loads of books highlighting just how special our brilliant country is. Toddlers and little ones will love ABC Ireland! by Aoife Dooley, an alphabet boardbook touring Ireland from A to Z. If you like a combination of story and activities, My Little Album of Ireland by my fellow Book Doctor Juliette Saumande and illustrated by Tarsila Krüse is a fantastic English-Irish workbook for readers aged 5+ capturing a snapshot of some of Ireland's most beloved destinations. Older readers aged 9+ might also enjoy Ireland: The People, The Places, The Stories by Rachel Pierce, a celebration of the rich history, culture and stories of Ireland that also showcases ten talented Irish illustrators.
If you aren't travelling to distant lands, there are loads of exotic locations to escape to and adventures to be had via books. Perhaps being stranded on a desert island surrounded by books sounds ideal to you, The Book Family Robinson by Jonathan Emmett and Sam Caldwell is the perfect picture book escape for readers aged 5+. If you prefer a fast-paced story; The Secret of the Night Train by Sylvia Bishop is a mystery adventuring across Europe filled with thieves, smugglers and undercover detectives. For readers aged 9+ who love adventure and a good laugh, Noah's Gold by Frank Cottrell-Boyce is a hidden treasure with a heart of gold that's sure to give you a giggle.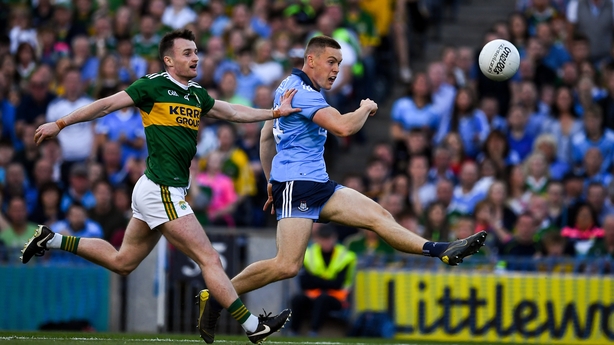 Of course you might simply be hoping to spend your summer holidays enjoying the outdoors and the (hopefully) sunny weather. If you are a sporty reader aged 8+ who loves to be active outside, Twin Power: Throw In! by Emma Larkin is an action-packed GAA story that will encourage you to get out and about with friends. Or maybe summertime means taking it easy with some ice-cream. Readers aged 7+ will love The Shop of Impossible Ice Creams by Shane Hegarty and illustrated by Jeff Crowther - although some of the ice-cream flavours are a bit unusual in this one!
Unfortunately, in Ireland there is always the risk of a rainy day here and there. Young readers who hate the rain might get a giggle from Hello Rain by Kyo Maclear and illustrated by Chris Turnham, a picture book that shows us how to make the best out of a rainy day - even in the summertime.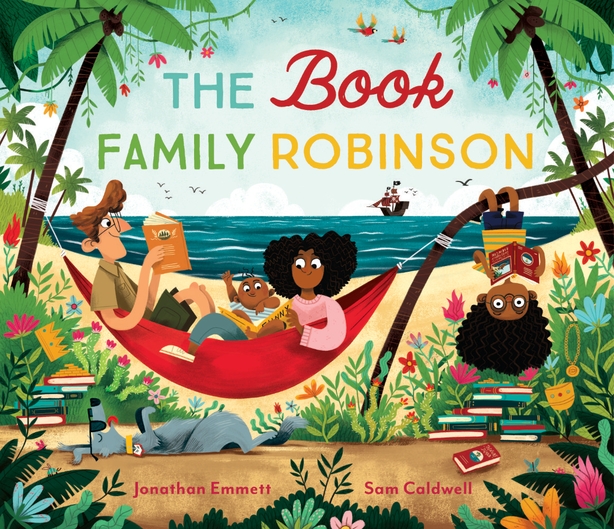 The Book Family Robinson by Jonathan Emmett and illustrated by Sam Caldwell, Templar Books, 32pp ISBN 9781800781313
The Book Family Robinson tells the story of the bookish Robinson family. Their love of literature goes all the way down to Baby Charlie, who rereads his favourite board book constantly. When they decide to go on a sailing holiday, they make sure to pack up their library to bring with them.
Then disaster strikes, and they are shipwrecked on an island. Thanks to some of their favourite texts, they can get by; building a treehouse, finding edible food, lighting a fire and digging a toilet. Their exciting encounter with a group of pirates proves both the necessity and joy of reading at all ages and across all interests.
Perfect for any eagle-eyed readers who love sea and pirates themes. The brightly-coloured illustrations are full of hidden details for extra fun and enjoyment. This is the kind of book where you continually pour over the pages with your little reader to revisit your favourite moments and pick out new ones. It's detailed, smart and funny as well as beautifully illustrated. (Ages 4-7)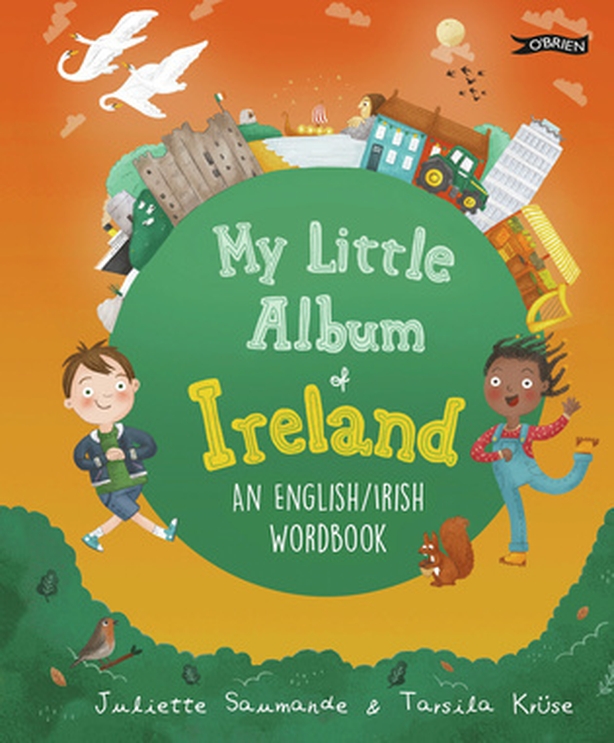 My Little Album of Ireland by Juliette Saumande and illustrated by Tarsila Krüse, The O'Brien Press, 48pp ISBN 9781788492195
This non-fiction picturebook captures life in modern Ireland, giving snapshots of events and places all over the island. The selection of the scenes themselves is a great strength of this charming book; each one is carefully chosen so that we can all relate to them. Whether we've visited the exact place depicted, such as the English Market in Cork, or one similar, the text carefully avoids being too particular or specific so as not to alienate.
Through this familiarity of setting, it evokes the adult reader's own memories of such places, and as such would be an excellent book to read alongside a child – while they hunt for the picture's listed items, the adult reader can tell stories of their own experiences and of places they've visited.
Illustrator Tarsila Krüse populates the scenes well, with small references to the history of each place or its well-known characters interspersed naturally with the animals and items that are hidden for children to find. Additionally, a certain small character appears in every image, providing continuity to the scenes, well-hidden enough to make finding them feel rewarding. (Ages 5-7)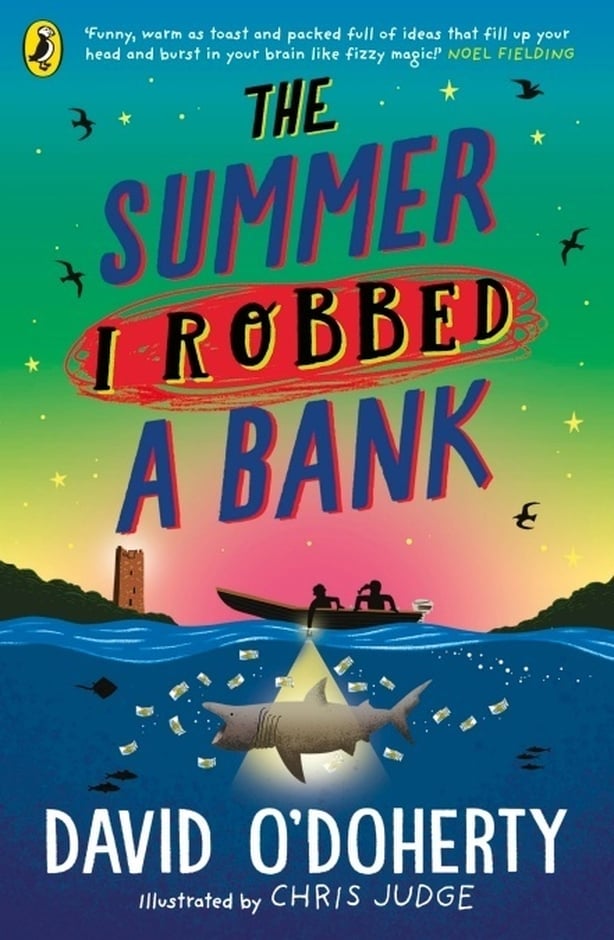 The Summer I Robbed a Bank by David O'Doherty and illustrated by Chris Judge, Puffin, 304pp, ISBN 9780241362235
Over-protective parents, a tendency to 'shutdown' when things get too much and a chronic fear of water make Rex a very unlikely candidate for a summer of gallivanting on an island, camping on the side of a mountain (in torrential rain) and, indeed, robbing a bank. Yet, when his parents separate and he has no choice but to stay with wild, funny, unpredictable Uncle Derm on Achill Island, Rex finds that he is not so ill-suited to the role after all.
O'Doherty's trademark zany humour is sustained throughout this rapid-fire series of bonkers moments that all somehow make sense. The fine line between the conceivably likely and the totally improbable is surfed expertly, making for hilarious episodes and glorious characters. Uncle Derm turns out to also be someone who listens, who understands and who gives Rex space to think and grow. New best friend Kitty is fabulous, not least because O'Doherty is not afraid of giving her some ridiculous traits (her sense of priorities is monstrous). Rex's parents, however, would have benefited from a more nuanced approach than the out-of-the-picture divorced father and the bubble-wrapping mother.
For all its laughs, The Summer I Robbed a Bank also follows an emotional trajectory that culminates in a bittersweet ending with the swiftness and brutality of a bandage that just must be pulled off. Some readers might need support around this. The Summer I Robbed a Bank was shortlisted for the KPMG Children's Books Ireland Awards 2022. (Ages 9-12)
Click here to look back on more of RTÉjr Book Clubs!