Happy New Year to all the young readers out there from everyone at RTÉ Kids and our friends at Children's Books Ireland! Here is the first RTÉjr Book Club of 2022!!
It's written by Juliette Saumande (follow her on Instagram here), a children's book writer and professional bookworm whose latest title, My Little Album of Ireland (illustrated by Tarsila Krüse and published by The O'Brien Press) is out now.
'Our children need to be exposed to a world of voices so that the whole world becomes their home.'
This vision of award-winning author David Almond's is such a comforting, hopeful one. What Almond meant by 'a world of voices' was children's books in translation.
While there is still a long way to go, a good place to start building a 'world home' for our kids is to expose them to books about the rest of the world. This month, we are taking you and your young readers on a whistle-stop tour of the world of humans, as depicted in some of the best books around. Make sure you're sitting comfortably, this is armchair travelling at its best!

Babies and young kids have so much to learn that their world, limited as it is, feels infinite to them. But it takes very little for them to come into contact with other universes: a kid who looks different in playgroup, a word that sounds different in the shop, a treat that tastes different at the cake sale…Books are a great bridge between these worlds, and you will find some great stories about people living far away, especially books centring on food and the magical place of the market.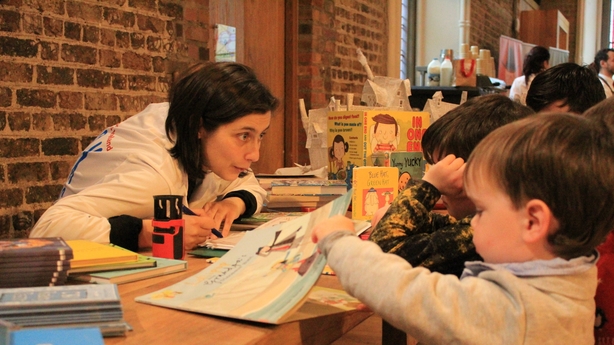 Try To Market! To Market! for a trip to India with Anushka Ravishankar and Emanuele Scanziani; tag along with the glorious Baby Goes to Market (Atinuke and Angela Brooksbank) to sample the joys of a Nigerian market; or tour the world with Stella Blackstone and Christopher Corr's My Granny Went to Market.
More fact-oriented, but equally fascinating and with an added linguistic twist, Good Night, World by Nicola Edwards and Hannah Tolson, is a lovely introduction to bedtime routines around the world and across languages and cultures (2+). And for a look at the different kinds of home people live in, lift all the flaps in A Place Called Home (Kate Baker, illustrated by Rebecca Green, age 4+). What's different? What's the same?
Older readers of ages 5-8 are spoilt for choice when it comes to books featuring kids from around the world. In Welcome to Our World: A Celebration of Children Everywhere, Moira Butterfield and Harriet Lynas show us the myriad differences and similarities of growing up in places such as Indonesia, Greece, Tonga, Wales or the Arctic. Matt LaMothe's This is How We Do It (7+) is another wonderful celebration of global childhood that expertly surfs the fine lines between differences, similarities and exoticism, while A Year in Fleurville (by Felicita Sala), with its focus on food and community, celebrates the world on our doorstep.

For a visual feast, check out The Culture of Clothes: A Celebration of World Dress (Giovanna Alessio and Chaaya Prabhat), and for readers with a curiosity for time as well as space, try How Old Am I? by JR and Julie R. Pugeat, a collection of portraits in words and pictures of humans aged 1 to 100 from all around the world (ages 6-10). Another fun way to discover the world is through atlases and map-based books. Atlas of Oddities by Clive Gifford and Tracy Worrall is an intriguing collection of places, people and traditions that showcase human ingenuity and quirkiness (8+). If you want to explore specific countries through books, head over to the wonderful website Outside In World (Explore the world | Find Books | Book Search (outsideinworld.org.uk)) where you will find hundreds of books from or set in over 40 countries around the world.

As you grow up and your world grows with you, it can be hard to look beyond your own circle and to remember that there is still more out there: more people, more places, more experiences. On the other hand, realising how big the world is can be paralysing. With so many voices, so many problems, it's easy to feel lost or powerless. How to strike the right balance? For anyone who feels crushed between so many rocks and hard places, encourage them to dive head-first into the lives of actual kids and young people from far-flung places or right next door.

Biography collections such as YouthQuake (Tom Adams and Sarah Walsh, 9-12) or Young Heroes (Lula Bridgeport, 9+) show readers that, while they live in a different place and in different circumstances, the world's young people also have a lot in common: they all have dreams and ideas, they all have a voice that must be heard. Those books are a great way to feel connected, hopeful and empowered, to feel that bit more at home in the world.
Where to next, readers?
Good Night, World, by Nicola Edwards and Hannah Tolson, Caterpillar Books, 32pp, ISBN 9781848578043
A book about children's bedtime routines with a twist, Goodnight World takes us from sundown to counting sheep and having sweet dreams under twinkly stars. But at every step of the way, the rhyming text wishes the listener 'good night' in a different language. Mandarin Chinese, Russian, Italian, Hindi and more are featured and accompanied by a simple pronunciation guide. The family structures and home settings are wonderfully diverse so that many children should find themselves in these pages. A brilliant and gentle way to explore languages, cultures and traditions from the comfort of your bedside! (Ages 0–4)
Welcome to Our World: A Celebration of Children Everywhere, by Moira Butterfield and Harriet Lynas, Nosy Crow, 64pp, ISBN 9781788007122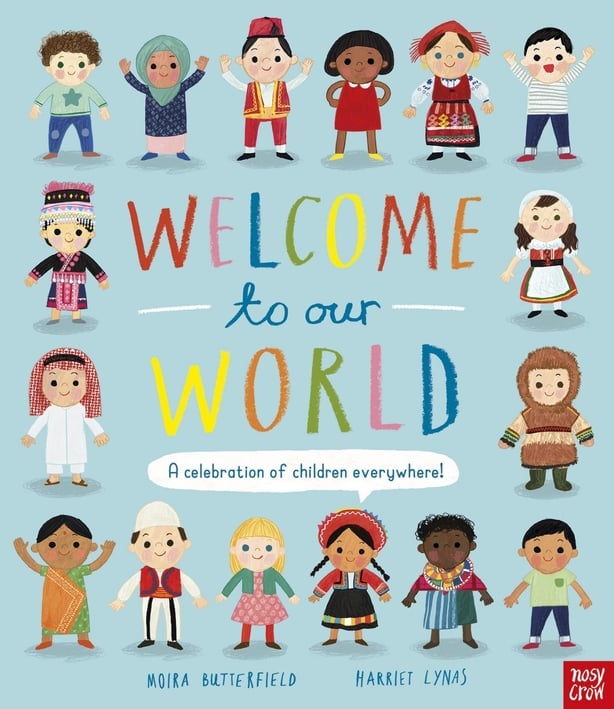 This warm-hearted book celebrates the customs and languages of children around the globe in a friendly, highly illustrated style. It is packed full of interesting facts and phrases. Cats 'meo meo' in Vietnam, but 'nyan nyan' in Japan.
In Catalonia you get a poop log for Christmas; in El Salvador you leave your milk tooth for a rabbit; in Indonesia the equivalent of 'Rock, Paper, Scissors' is called 'Ant, Human, Elephant.' The choice of topics is clever and very kid-centred.
Although children around the world live very differently, they all share a love of family, friends, food and fun. Ultimately, this book teaches respect for other cultures and illustrates how diversity makes the world a better place. (Ages 5–8)
How Old Am I? 1–100 Faces from Around the World, by JR and Julie R. Pugeat, Phaidon, 216pp, ISBN 9781838661588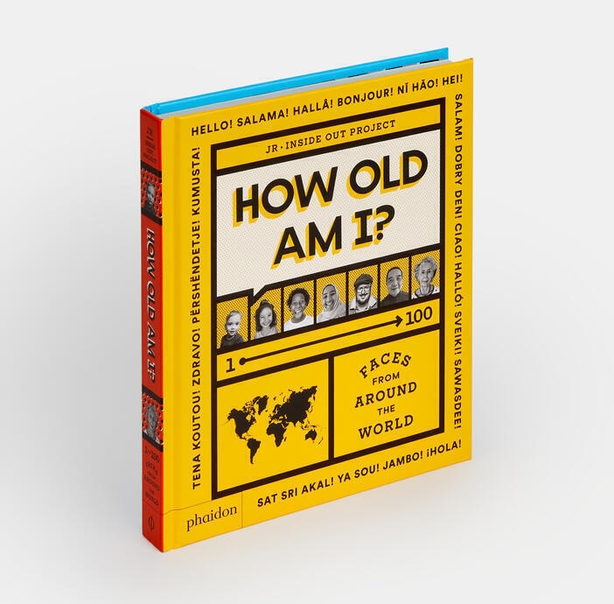 This book visually highlights the ageing process, showcasing portraits of humans from across the world, starting with Gwen in the UK (aged 1) all the way to Beatrice in the USA (aged 100), via Pakistan-born Wasim (49), Mamandine (77) from Gambia and many others. Each portrait is accompanied by a few words from the subject about their likes or dislikes, their history, their dreams for themselves and for humanity. For each, we are also given a map showing where the person lives and where they are originally from (which is not always the same thing), as well as a word for 'hello' in their mother tongue.
This is a brilliant way to open up conversations about age and life experience, as well as language, culture and family, emigration, immigration and travel. The book serves to highlight our differences as well as our similarities. (Ages 6–10)
Youthquake: 50 Children and Young People Who Shook the World, by Tom Adams and Sarah Walsh, Nosy Crow, 112pp, £16.99, ISBN 9781788007634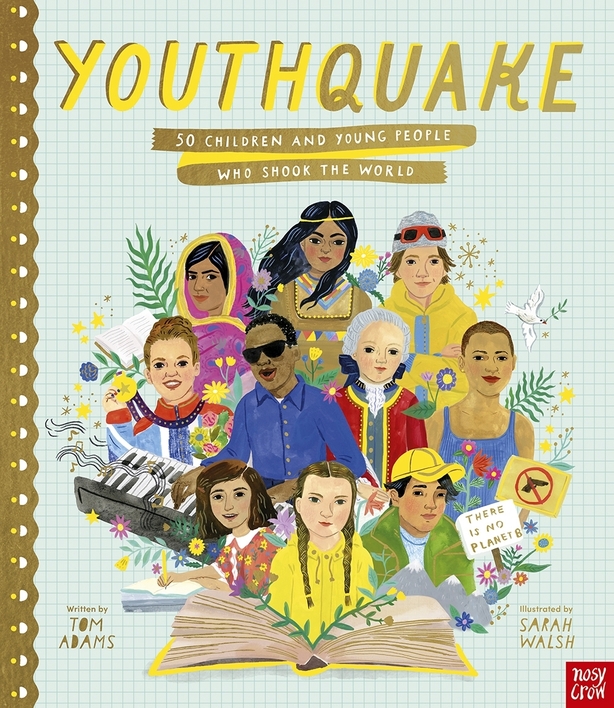 A YouthQuake is defined as a significant cultural, political or social change arising from the actions or influence of young people. This vibrantly illustrated and beautifully designed book turns the spotlight on inspiring, diverse individuals who achieved exactly that.

Here you will meet the likes of American Marley Dias ('Literary activist who wants to celebrate black girls' stories'), Nepalese Temba Tsheri ('The youngest person to reach the top of the world') or Reyhan Jamalova from Azerbaijan ('inventor who discovered a way to turn rain into electricity').
Covering the worlds of science, entertainment, sport, technology, education, politics and society, YouthQuake is the perfect read to explore how young people from across the world are taking action to make it a better place. Tons of inspiration for budding activists, leaders and innovators everywhere. (Ages 9–12)
See more RTÉjr Book Club months here!
And click here to find out more at the Children's Books Ireland website!