Is Sineád Quinlan a Rebel without a clue, or does she have all the answers?! Find out on her RTÉjr Podcast Sinéad Quinlan's Thing Quizzy!
The Cork (in case you didn't know!) comedian has travelled to Primary Schools across the country asking pupils and teachers some brain-busting questions. Will anyone get top marks?
Subscribe here, or wherever you get your podcasts!
From Middleton to Cavan, from Ennis to Stamullen, over 10 weeks we visit 10 different schools to put them to the test. And every episode, the students get to turn the tables on their teacher to see if they can manage some tricky questions!
And, Sinéad wants everyone to join in. Play with your class and at home - guess the answers as we go.
Opportunity knocks for Monksland National School in Carlingford as Thing Quizzy comes to town. Join host Sinead Quinlan and the eccentric Professor Fizzy for 4 rounds of tantalising trivia and quintessential questions.
And, here's a full list of Sinéad's pit-stops
St Patricks Stamullen
Sacred Heart Senior National School Tallaght
Midleton CBS Primary
Ennis Educate Together
Howth Road National School
Scoil Aine Naofa, Meath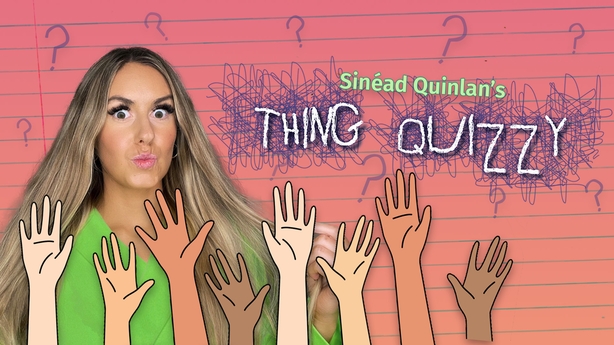 They say never work with children or animals, and yet Sinéad seemed keen to be a part of the show regardless!
"I had a brilliant time making this with a great team! I travelled to schools all over Ireland to find answers to all of life's important questions - You know the really big ones like...What's the best shop in Mullagh? Whose been attacked by a sea lion? What pop stars are named after confectionery?
And what we've ended up with is a quiz that will simultaneously expand and blow your mind - no exaggeration whatsoever."
You can listen live at 7pm on RTÉjr Radio or like and subscribe wherever you get your podcasts. You'll find links to Apple Podcasts and Spotify at the podcast page too so it couldn't be simpler.