This time on Ecolution, we celebrate the efforts made by kids, parents and teachers to start Cycle Buses in their neighbourhoods.
We meet two highlighted by An Taisce Green Schools in their hunt for the most active groups getting children safely cycling in convoy - Gaeilscoil na Fuinseoige in Churchtown and the Knocknacarra Cycle Bus in County Galway.
Listen now up top and subscribe to the podcast here, or wherever you get yours!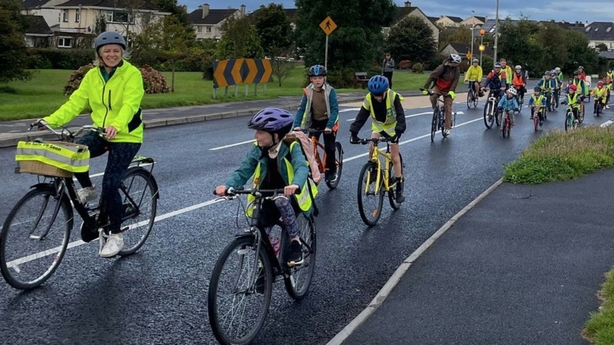 How do you get to school? Chances are, depending on where you live, it's by car. Back in the 80s over half of children at Primary school in Ireland got to school by walking or cycling.
But since then, this has dropped to less than a quarter of the population. And at the same time, those brought to school by car has risen to about 60%
Maybe you live quite far away, or you're based on a busy road and the traffic feels like a scary place to be. Well, over the past few years lots of initiatives have sprung up to change that.
And the An Taisce Green Schools programme has been trying to expand how many people cycle to school too. One of the safest ways to cycle is in a group or as part of a cycle bus. A Cycle Bus is where schools, parents and children work together to plan a route that allows people to cycle in convoy to their school. Safe within the group.
Last year Green Schools ran a competition to find some of the most active and engaged cycle buses across the country, in towns but also in the countryside. And they found some brilliant schools using active travel to get to their places of learning.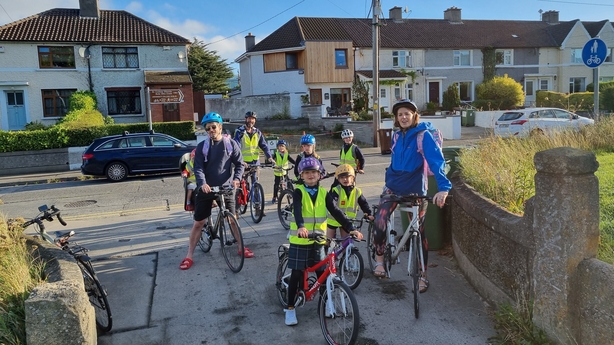 Clare Kelly, one of the parents at Churchtown is passionate about the importance of spreading cycle buses across the country.
"The cycle bus is a daily climate action AND something the kids love doing that gives them confidence on the road, as well as fresh air, exercise, fun, and friendship on their way to school. Ultimately, the goal is that children within reasonable distances of their school should be able to travel there independently. They can't do that at the moment because of the way we've constructed our towns and cities – to be completely car-centric. That's what needs to change – we need to rethink things so that they are more fair and equal – so everyone, regardless of age or ability, can move about independently and safely."
Often weather can feel like a factor but Alan Curran, of the original team in Knocknacarra, says the consistency of the Cycle Bus really helps overcome this.
"It's easy not to do it because of all the obstacles that you're going to face, but you know you need a group of stubborn individuals who say they're going to do it, hail, rain or shine. You throw on the wet gear, you throw on the wellies and you go out ."
So why not take part? Greenschools have a Cycle Bus Network in a map on their website. Have a look and see if there's one near you.
All you need to know about the Cycle Bus Network is here!
Plus, the #AndSheCycles Ambassador Programme is now recruiting for this academic year. The deadline is fast approaching but if your school hasn't been involved in it before, this could be you!
Find out more on the official website!
And, if you or your school want to set one up there are tons of resources there or at the website for the Galway Cycle Bus.
And if you get one going, why not let Ecolution know? Just e-mail junior@rte.ie
If you or your class would like to be part of Ecolution, we'd love to hear from you.
Email junior@rte.ie
We'd really appreciate it if you could like, follow and review Ecolution wherever you stream it. It really helps get the word out.
Subscribe here, or wherever you get your podcasts!
And, did you know that we have lots more RTÉjr Podcasts for young people of all ages?
Click here to discover them now!