In this episode of What's for Dinner? we're in Dublin where a pair of Fr-Irish children share their mum's recipe for Galette.
These savoury crêpe from Brittany in France are gluten-free, nutty in flavour and a lot of fun to make. You can practice flipping them, folding them into squares and filling them with whatever you like.
Listen now up top and subscribe here or wherever you get your podcasts!
If you've had crêpe before, chances are they were sweet and filled with fruit or chocolate. Galette are savoury crêpe, from Brittany in France and made from buckwheat flour, which makes them gluten free. They are really simple to make, but packed with flavour.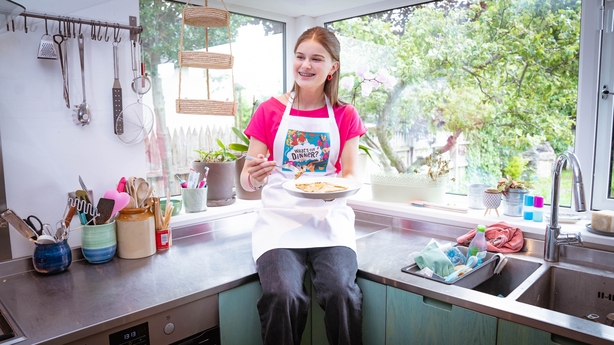 Ella (9) and Eve (5) love galette. Their mum Marina, worked with a crêpier from Brittany and got the real-deal, traditional recipe. It has just five ingredients and can be whisked up in no time.
There are jobs for all ages from measuring ingredients, to cracking eggs and even when it comes to cooking - once there's an adult on hand - everyone can have a go at flipping or sprinkling fillings on top.
Here is what you need and how to cook it up! And remember, always have an adult around to help and keep an eye on things!!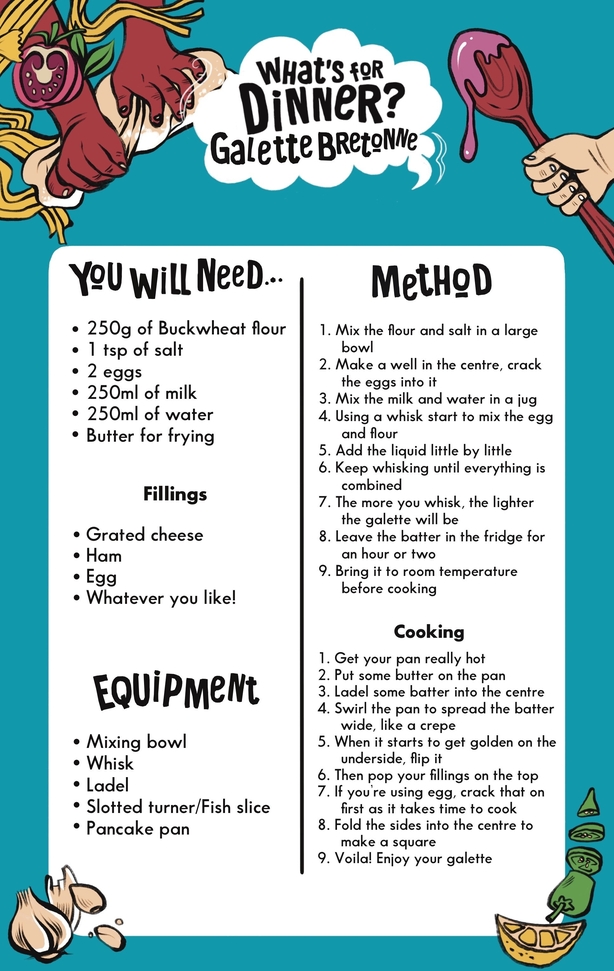 Marina explains how to make the classic 'galette complète' with ham, cheese and egg, served in a square-fold. The great thing is though, you can put anything you like into these, some of our favourites include; creamy mushrooms, spinach, chicken or tofu.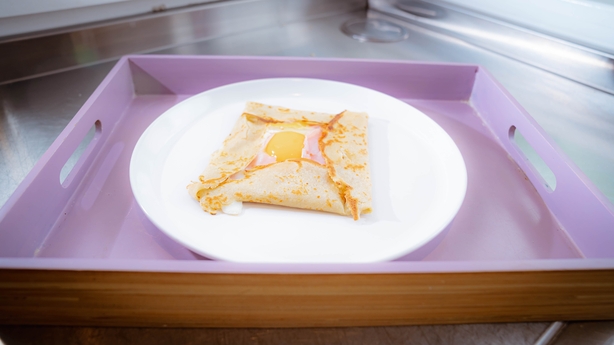 About the show
Get creative in the kitchen with this podcast from RTÉjr, produced by Jan Ní Fhlanagáin, featuring lots of tasty, easy and quick meals that are perfect for dinner.
Chefs and home cooks make recipes from all over the world including veggie, vegan and gluten-free options. From tortillas to saltfish fritters, curries to crepes, What's For Dinner? has something for everyone!
Subscribe to What's For Dinner? here!
And visit rte.ie/jrpodcasts to see our full menu of podcasts!!