Patricia Forde is the 7th Laureate na nÓg, Ireland's Children's Literature Laureate.
She is an author herself. Patricia writes for all ages in Irish and in English. She has published over 20 titles, including her award-winning debut novel, The Wordsmith. Her latest book, The Girl Who Fell to Earth, will be published by Little Island Books in June 2023.
Here she tells us more about herself...
I am delighted and honoured to be the 7th Laureate na nÓg. I grew up inGalway, surrounded by stories. Our house was three hundred years old and opened on to Market Street in the heart of Galway City.
Here was a place that had seen Gráinne Mhaol, the famous pirate strut around the place planning rebellions. At the end of the street, was The Collegiate Church of St Nicholas where Christopher Columbus visited on one of his attempts to find the New World. Even in the city there was talk of fairies and one old lady who lived on the street used to adorn each house with flowers every first of May to protect us from their wrath.
As an imaginative child, I loved hearing all these fantastic stories and soon found the local library where I could borrow books every week. I had five sisters and we all had library tickets so there was no shortage of things to read. I loved Enid Blyton and soon moved on to fantasy. One of my favourite books was (and is) The Hobbit by Tolkien. I still reread it now!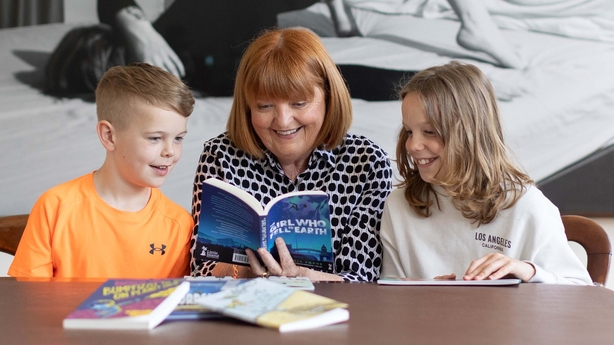 Reading was my pathway to writing and as Laureate na nÓg, I want to encourage all children to be creative. My theme for the next three years is Samhlaigh, Samhlaigh! Making It Up As We Go Along. When I'm writing I love building new worlds and would love to share that experience with children. To that end, I plan to take a bus full of madly imaginative children's writers and illustrators along the Wild Atlantic Way. We will create stories and poems i nGaeilge agus i mBéarla and make wonderful maps and drawings as we go.
We will stop at schools and libraries meeting children, being inspired by them, learning from them and celebrating the great canon of Irish children's literature and illustration.
We are so lucky to live in a country with such a wonderful legacy of stories and books. I believe that all of us are inherently creative, but creativity is a muscle and like any muscle gets stronger with use. If we can create a culture of reading amongst children we are far closer to having a generation who write. We need to make sure that all children have access to books regardless of their backgrounds. That is why libraries are so important and should be at the heart of everything we do.
I sincerely believe that children who read have an easier passage through life. They do better in our education system but they are also more empathetic and understanding of the people they meet along the way.
Tá súil agam go mbuailfidh mé le gasúir ar fud na tíre, agus mé mar Laureate na nÓg, agus go mbeidh muid ag roinnt scéalta agus samhlaíocht amach anseo.
And don't forget that every month we have a new RTÉjr Book Club with thanks to our friends at Children's Books Ireland.