Anansi's Web is RTÉjr Radio's storytelling series where each episode weaves an authentic traditional Irish tale together with international folklore on the same theme.
Press play up top to listen now or catch it on the RTÉjr Radio podcast feed! The first show airs at 7pm on RTÉjr Radio this evening too!!
Brigit McCone, who wrote the series, tells us more.
Join Darragh, a nine-year-old boy who believes his phone is connecting him to the world as no traditional tale ever could from the dark days before the internet. Can his mother, Cliodhna, and the multicultural cast of storytellers that she conjures from every corner of the globe, convince Darragh that our imaginations connected us long before the phone?
In Ghana and around West Africa, they tell a tale of the trickster spider Anansi and how he won all the stories of the world from the sky god. To prove his worth, Anansi had to demonstrate that the power of his imagination was greater than the cunning of the snake, the strength of the leopard, a multitude of hornets or a magical sprite.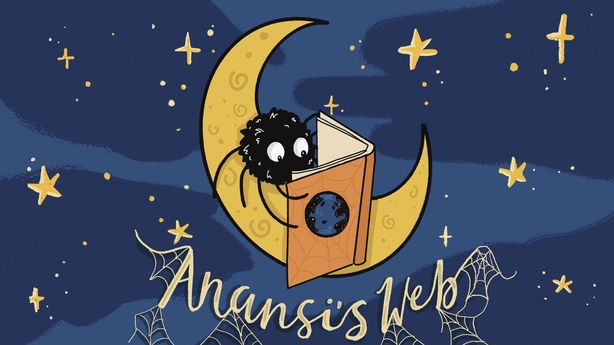 Today, we are connected to the world, not by a spider web or web of imagination, but by the internet's worldwide web. Where once we gathered as a family to spin tales in the evenings, today we often sit apart and buried in our own phones or computers. "Anansi's Web" asks the question, does today's world-wide web bring us together like the web of storytelling once did? Is there still space in the modern world to spin a good yarn?
Join Darragh and Cliodhna as they find surprising parallels between an ancient Indian teaching tale of a monkey and a crocodile, and an old Irish legend of the aughisky water-horse. The Irish seal-wife shares a mystery with a Japanese crane-wife, the Rainbow Crow of Native American legend brings fire while the Irish crow goddess Badb brings prophecy and rebirth, the transformations of Ireland's Étaín and the Amazon rainforest's Chimidyue into giant butterflies both mark rites of passage and, when the threads of Anansi's web have been connected to every corner of the world, it is time to tell the tale of how Anansi himself won the world's stories, and the Irish got their own legends from a salmon older than Noah's flood.
Each international tale is brought to life by a lively cast of professional actors and storytellers: Shruti Shandilya, Maki Mutai, Rachel Charny, Marcio Wille and Patrick Martins, whose stories blend with the Irish storytelling of actress Nicole Rourke, and reactions from our vibrant child actor, Alex Kelly.
I was inspired to write the series by my own love of storytelling and of Ireland's traditional heritage of myths and legends, which I sometimes feel are being lost or undervalued as the world globalizes. So I teamed up with my long-time producer Heather MacLeod and director Hugh Hick to make a series that would celebrate both our traditional culture and our global connections, with internally-flavoured music from composer Justin McCann.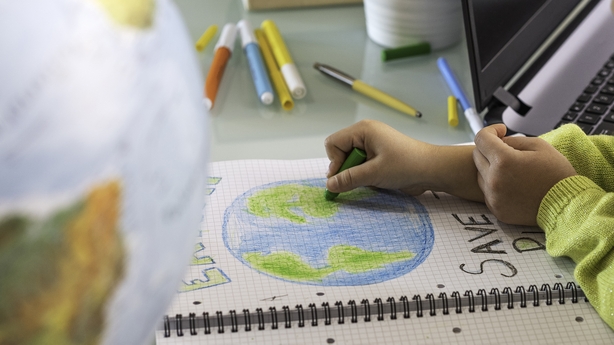 Globalization gives us a fantastic opportunity to learn about the whole world, yet too often seems to be disconnecting us from our heritage instead. For children or families who feel that Ireland's traditional tales are irrelevant to today's world, I hope that connecting Ireland's folklore with traditional stories from around the world will showcase their universal resonance and timeless appeal, while also introducing children to the riches of other cultures.
If Anansi's Web brings families together for a moment of magic, as these stories have been doing for thousands of years, it will have served its purpose.
Anansi's Web – Cast and Crew
Writer – Brigit McCone
Director/Editor - Hugh Hick
Producer - Heather MacLeod
Composer - Justin McCann
Recorded by Ciaran Dunne at RTÉ Studios
Cast
Cliodhna (Mother) - Nicole Rourke
Darragh - Alex Kelly
Storytellers - Rachel Charny, Patrick Martins, Maki Mutai, Shruti Shandilya and Marcio Will
Click here to subscribe to the RTÉjr Radio Podcast Feed or wherever you get yours!