It's time for Part 2 of Ecolution at the BT Young Scientist and Technology Exhibition. As we said in Episode 1, the RDS was full to bursting with climate solutions and investigations into the problems currently facing our world.
Press play up top and subscribe to the podcast here!
One thing that seemed to crop up again and again was agriculture and the ways in which we produce food. Huge changes are needed in the area so as Ireland can hit the carbon reductions required of us by 2030, and make more space for nature too.
So, this episode will focus mainly on that; the food we eat, the practices we have now, and how the young people at the exhibition thought we might change things for the better.
We found projects on our attitudes to eating insects, potentially the sustainable protein source of the future. The carbon impact of trawling and how it measures up to other food sources. Apps that let each of us change our practices in how we move through the world day to day. And how veganism is often shunned as a change we could each make today, despite the positive impact it could have.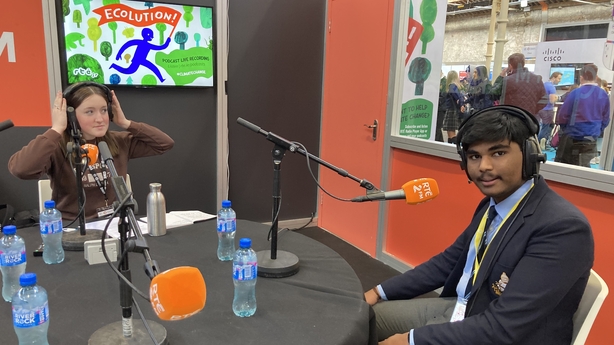 Evie sat down in studio with a number of students who's projects took a step towards making farming more sustainable for the future.
Sachin Mahesh from Castleknock College has developed Project Preserve, a technological solution that can be used by individual farmers on a day to day basis, even using AI to predict emissions the following day based on the data it collects. And offering a chance to change that path.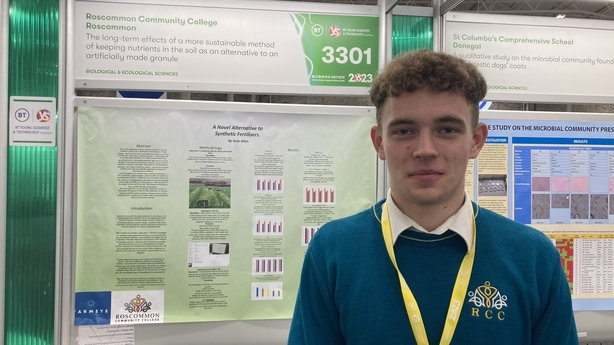 And then, two projects that were led by students who have a vested interest in agriculture, living and working on farms with their families.
Seán Allen of Roscommon Community College has developed an alternative fertilizer based around by-products of milk production, which offers an organic to synthetic products that won't pollute, but also, as its made on site, could offer huge savings for farmers.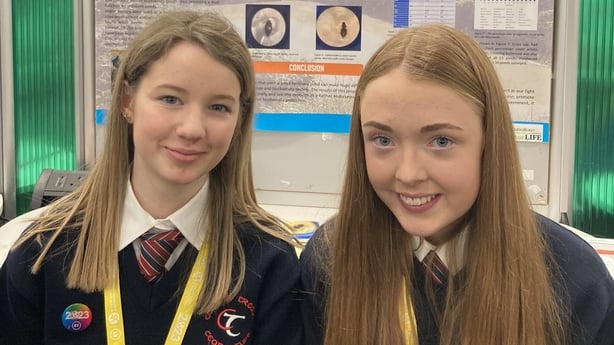 Eve O'Driscoll and Susannah Guerin from Coláiste Treasa, Kanturk discuss the impact that introducing a farm pond on Susannah's family farm had on biodiversity and farm run off.
And all three took part in a frank discussion of our attitudes to farming, what needs to be done to improve that conversation and the supports they feel could set us on a better track.
Changing our practices is hard; whether that be because of the cost, our habits or lack of access to the technology that might help us. And this is as true on a farm as it is an office or anywhere else. There's a long way to go to reach the targets required of agriculture and other industries here in Ireland by 2030.
It won't be plain sailing, but it seems that these students planning for the future have some incredibly bright ideas that, if implemented, could offer some hope up ahead.
Ecolution will take a break while Evie prepares for her Junior Cert and the Ecolution team gather stories for the next season.
If you, your school or community have a project you think we should hear about email junior@rte.ie. And if you're a young person who'd like to have their say on environmental matters you could become a member of our brain trust get in touch too.
Ecolution is Produced and Written by Nicky Coghlan with Edit Assistance from Aoife O'Neill. It is presented by Evie Kenny.
Listen and subscribe to the Ecolution podcast HERE or wherever you get yours!
Click here to read all the articles from Ecolution.