Are you having a laugh?! Well, starting today on RTÉjr Radio we are actually!! The Gigantic Joke is here to make you belly laugh your way into the weekend.
Tune in to RTÉjr Radio every Friday at 11.45am and 4.45pm to join in the fun. And, just press play up top to listen to the 1st Episode now!
Subscribe to the RTÉjr Podcast feed to never miss a show!
Here's the story
Follow Tommy Tickle as he searches high and low for the best jokes in the world. Travelling in the magical Chuckle Truck and with the help of the giddy Junior Jokers and the wise and witty Granny Giggle, Tommy is on the hunt for hilarity and Hijinx!
There's going to be cowboys, movie stars, farmers, puffins and plenty of other friends to meet along the way, but watch out for the greedy Chester the Jester, who wants to stop Tommy's joking once and for all.
The Gigantic Joke is a children's audio comedy adventure created by Daniel Gillick. Featuring Daniel Gillick as Tommy Tickle, Bjorn Strange as Chester the Jester, Sarah Gillick as Tara Tickle and Caroline O'Shea as Granny Giggle.
Rosa Marshall Coghlan and Donagh O'Shea star as the terrific Junior Jokers.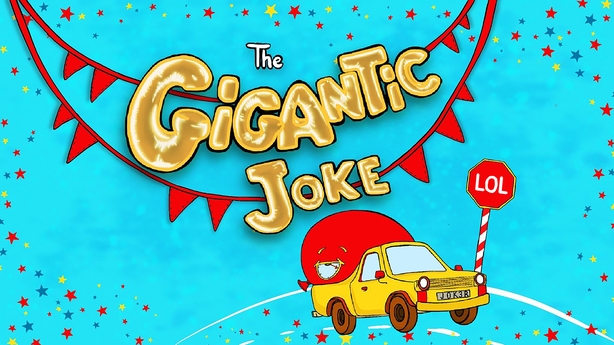 All of the actors were very well behaved during production and even enjoyed contributing jokes of their own. James Culleton mastered the show and Daniel Gillick did all the boring bits like editing and paperwork.
But also some fun bits like original music and telling the actors what to do. Sarah Gillick created the fabulous artwork and Nicky Coghlan gave guidance and aid throughout the production process.
Listen live during Happy Days or catch up weekly via the RTÉjr Podcast. It's available wherever you get your podcasts from.