Histrionix, the new comedy show on RTEjr Radio, is a mix of real history and made-up nonsense and you can tune in now! The first episdoe can be played out up top here!!
Recorded in front of a live audience, the show features a young historian presenting a true tale from history which adult improvisers illustrate through comedic recreations of what happened.
Tune in at 7pm and subscribe to the podcast here or wherever you get yours!
Each week sees a different young historian talking about a different area of history that they've chosen, researched and scripted. Over the series Charlie Donovan, June Casey, Róisín Casey, Enya O'Connor, Faoláin Ó Murchú Toner and Moya Mac Erlaine discuss such wide ranging subjects as Tutankhamun, basketball, the women code breakers and giraffes.
Each one highlights the areas of the stories that they find most interesting to bring new angles to familiar subjects.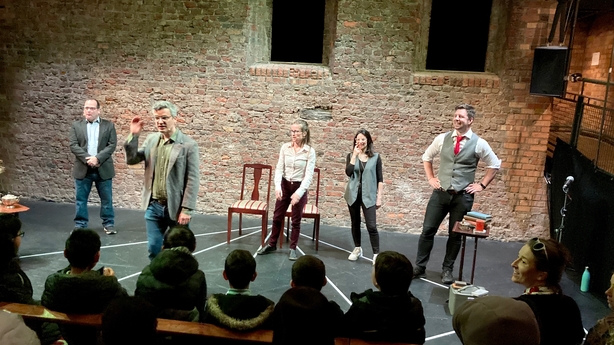 The adult improvisers only find out the subjects of the episode when the young historian announces it live in front of the audience, so they have no chance to prepare. Everything they do is entirely made up on the spot. They don't know where things are going – either with the real history or their own nonsense.
Luckily Kelly Shatter, Sean Flaherty, Luke Benson, Aoife Moore, Pearl O'Rourke and Mark Cantan have been making up stories together for years, performing up and down the country and continent. They've been training for years to make total fools of themselves.
While the young historians are talking about real and important things from history the adults, in their imaginings end up covering such topics as bird ambulances, big-toothed scooter people, Christopher Columbus' pasta boat and how many people peed themselves during Jim Larkin's speeches.
"I love finding out new things and I love taking them to very silly places," said the show's creator Mark Cantan. "Making mistakes is our favourite thing. Mistakes take us to wonderful new places that none of us could have got to on our own. It's great fun and when we're having fun that's when the show is at its funniest."
The chaos kicks off on Tuesday 22nd of November on RTEjr Radio and podcast.