The Climate and Nature Summit is a grassroots initiative hosted and coordinated by The Irish Schools Sustainability Network. It runs from 7-11 November and this episode of Ecolution tells you what it's all about and how you can take part.
Listen here now and subscribe to the podcast here!
The Summit is coinciding with the next UN Climate Change Conference, COP27, taking place in Egypt. As world leaders come together, the Climate and Nature Summit is an opportunity for Primary and Post Primary to engage in climate and nature conversations.
For Primary Schools, there are two video lessons per day that are integrated around the theme of Irish Native Woodlands. We have a host of incredible speakers including Collie Ennis, Education for Sustainability, Fighting Words, Green-Schools, Nessa Darcy, SEAI and Pickerpals.
"I welcome the fact that so many teachers participated last year during COP26 and I hope even more will be participating this year" said Mary Robinson Chair of The Elders. Mrs Robinson will be launching the summit this year with a welcome speech.
Primary School teachers - click here to find out more!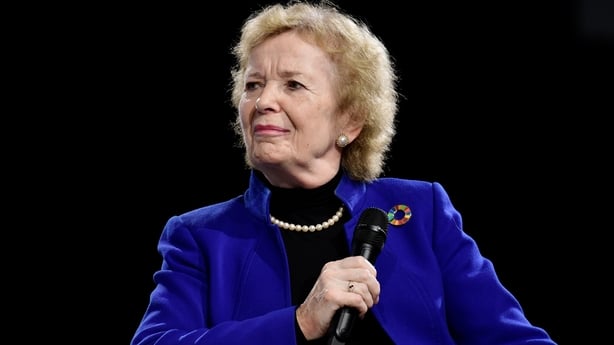 Post Primary schools also have a fantastic schedule of engaging, thought provoking sessions that will help teachers and students to get up to speed on climate and nature.
These topics include Climate Comedy with Colm O' Regan, climate psychology with Dr Eoin Galavan, Irish rainforests with Eoghan Daltun, greenwashing with GAP Ireland, and more. Experts including Ali Sheridan, Farming for Nature, and The Climate Alarm Clock help students and teachers to better their understanding of what we need to do to create a liveable future.
Post Primary School teachers - click here to find out more!
Dr Patrick Kirwan, Founder of the The Irish Schools Sustainability Network says: "Over 3000 teachers engaged in last year's climate and nature summit. This fantastic engagement was due to our partnerships. We are excited about all of the climate and nature conversations that will take place during COP27. We want to thank our coordinating partners GAP Ireland, Education Support Centres Ireland, Education for Sustainability, and ECO-UNESCO and of course all of our contributors. We are also honoured that Mrs Robinson, An Taoiseach Micheal Martin, and Minister Simon Harris are supporting the summit"
Register to take part here now!
Ecolution is Produced and Written by Nicky Coghlan with Edit Assistance from Aoife O'Neill. It is presented by Evie Kenny.
Listen and subscribe to the Ecolution podcast HERE or wherever you get yours!
Click here to read all the articles from Ecolution Series 2.
If you know a young person who has an interesting story to tell, a project they're working on that relates to nature or the environment, or one who'd like to be part of our Brain Trust why not email junior@rte.ie.