The haunting of RTÉ Boo-nior continues! This week, a ghost of DJ For A Day's past returns, with some horror-themed hits. Over to you DJ Freya-Rose!
Tune in to RTÉjr Radio Saturdays at 4pm and listen back here!
Here our star introduces herself...
Hello everyone its Freya-Rose and I am so excited to be back on the airwaves today. Thank goodness its Halloween!
I have got some fang-tastic tunes and jokes selected for Halloween so I'll be creepin' it real on the DJ decks this Saturday and Sunday afternoon at 4.
I love this time of year! I can't wait to dress up and go trick or treating with my friends and cousins.
We were so lucky this year at school. I'd imagine like all of you, our classroom was decorated in Halloween decorations. it looked amazing, and our teacher allowed us to dress up and have a treat at lunch time.
It was so wonderful to see all my friends dressed up. My friend Michael dressed up as Ironman and Colm dressed up as Harry Potter. Muireann dressed up as a skeleton cat and Dylan dressed up as Luigi from Super Mario Bros. Tom dressed up as Creeper from Minecraft. Oisin dressed up as a scary clown and Saoirse dressed up as a cat in a box, which she proudly made herself. It was really cool!
Everyone looked amazing and we all had loads of fun playing Halloween games. I dressed up as Pikachu from Pokemon and my mam painted my face yellow with big red cheeks. I wish we could dress up every day at school.
We had a school disco on Friday. Me and my friends were all dressed up and "boo-geed "away on the dance floor. And on Halloween night I am going trick or treating with my cousins and after we're going to watch a Halloween movie while eating our way through our Halloween loot bags!
Oíche Shamhna Shona Daoibh go léir.
Fangs for stopping by.
Freya-Rose
This Is going to be fiendishly good! What are your favourite Halloween hits? And what will you be dressing up as?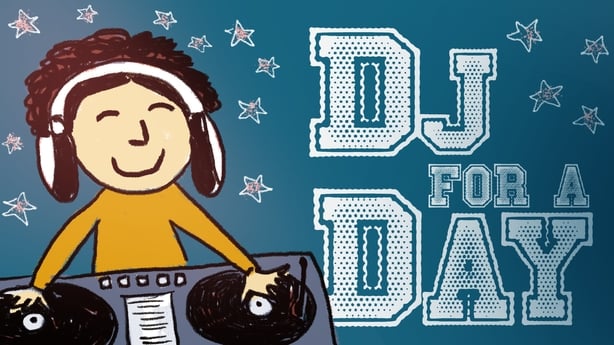 We're on the hunt for more DJ talent. If you're aged from 4-12 and would like to share some of your favourite songs with the nation, get in touch and we'll tell you how you can take part.
Email junior@rte.ie
Click here to listen to RTÉjr Radio live!