RTÉjr Radio have teamed up with the Baboró International Arts Festival for Children 2022 to bring you a special show - The Little Robber Girl.
It's a limited audio drama series for children written and directed by Deirdre Dwyer for BrokenCrow Theatre for Children.
Click here to subscribe to listen now and subscribe to the podcast!
Being bad is always good when it comes to Mattie - a thief and a trickster from a notorious family of sea-faring bandits! Never one to do what she is told, right and wrong are not straightforward for a girl like her. But Mattie is also brave and a loyal daughter and this time it's up to Mattie to come to her family's rescue.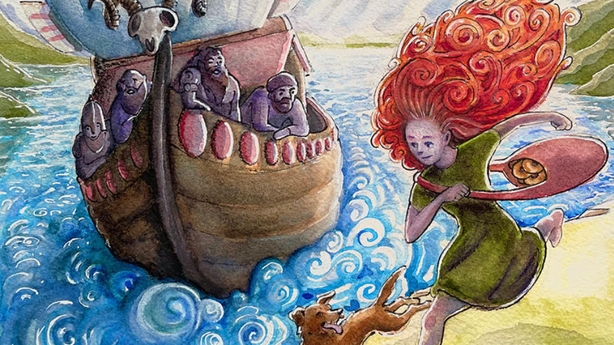 Episode 1 - Meeting Mattie
Join Mattie, her little dog Arthur, and her new friend Finn as they go in search of Mattie's missing Mammy... and return with much more than buried treasure. Let the listening adventure begin!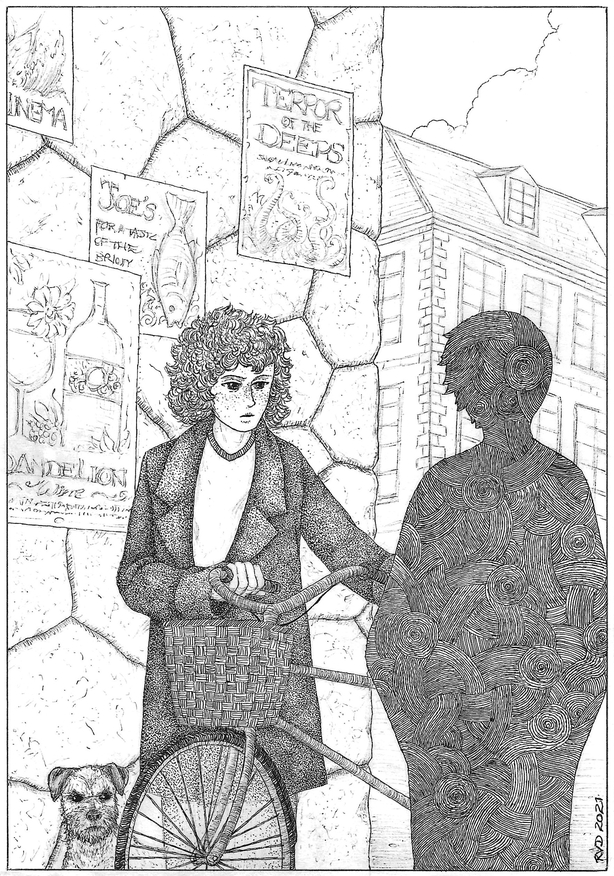 Episode 2 - Finn on the Fisherfork
Not everyone lives like Mattie by the motto, "Don't doubt it, just do it!". Finn, one of the Fisherfolk of Dunhaven, is a much more cautious individual. Without his help Mattie's plans are dashed but something just might stir inside Finn meaning adventure awaits for Mattie, Arthur and her new friend.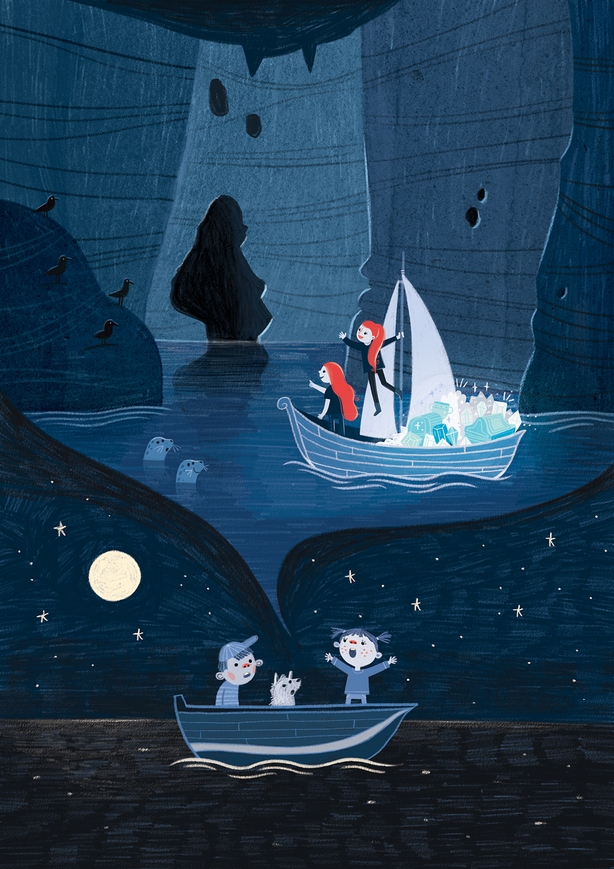 Episode 3 - The Missing Jewels
Far out in Thunder Bay Mattie realises that her favourite bedtime story might just hold the key to where her Mam, might be headed. Now if she can just make Finn understand that going out all the way to Carrig Róin is a good idea she'll be another step closer to her Mam, and some missing jewels.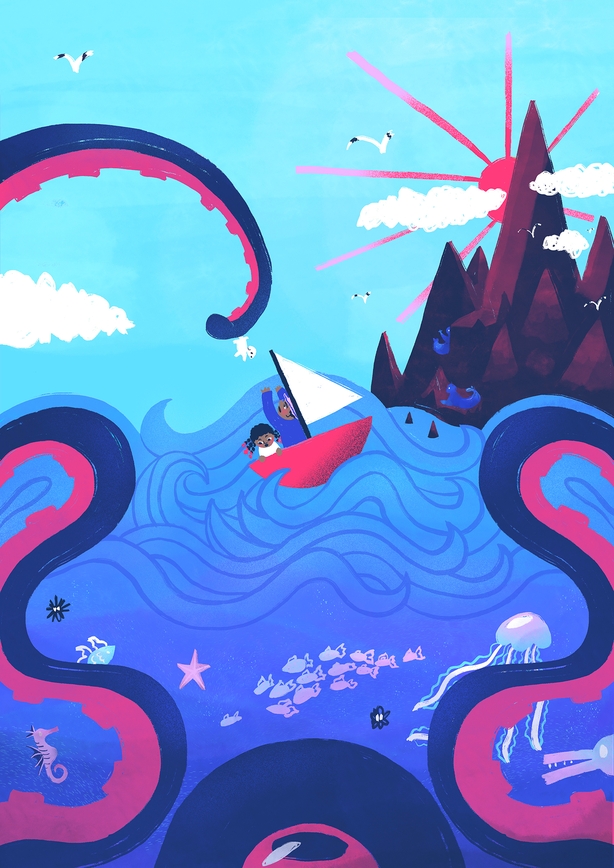 Episode 4 - Sister Stories
Up on the surface Mattie, Arthur and Finn were fighting their way through waves, wind and fast approaching evening, down below them in the deep, a different type of struggle was happening. Mags and Maureen have a lot to talk about but what is that large eight-legged creature doing outside their vessel?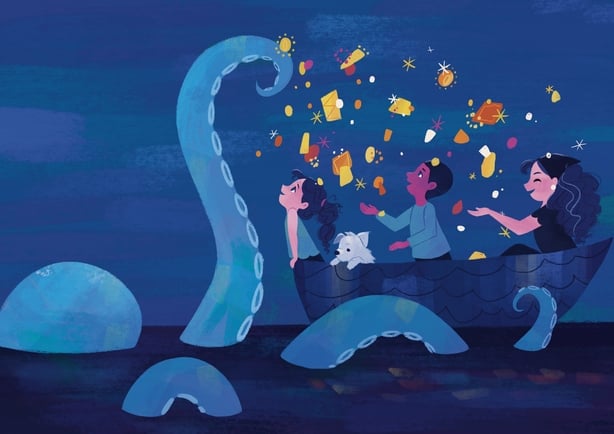 Episode 5 - Danger in the Deep
If Arthur is in trouble, there is nothing Mattie won't do to help him. That's how she gets herself into a sticky situation with a rather large aquatic beast! But with Finn onboard carefully following the plan Mattie's bound to save the day, isn't she?
Created for children 7 years+, The Little Robber Girl features the voices of Jacqui Kelleher, Cillian Jacob, Nicholas Kavanagh, Aideen Wylde, George Hanover, Michael Power and Joe Meagher with original music for the series composed and created by Anthony O'Dwyer.
Each episode features an original illustration. The artists are Danny Foley, Rory Van Dokkum, Roisin Hahessy, Grace Enemaku and Abeeha Tariq.
This project was only possible thanks to the support of Garter Lane Arts Centre, The Arts Council, The Everyman, Waterford City & County Arts Office, Imagine Arts Festival and you the listener. We are delighted to be partnering with Baboró and RTÉJr Radio to share Mattie's story with even more children.
Thanks to: Aislinn Ó hEocha, Jennifer Ahern, Thomas Langan, Annie McMahon and all at Baboró, Nicky Coughlan at Rte, Síle Penkert, Brid McGuire, Sandra Kelly, Mary Claire Gallagher, Derek Corcoran and all at Garter Lane, Sophie Motley, Naomi Daly, Seán Kelly, Sinead Murphy, Valdone Talutyte, Maev O'Shea, Robbie Cotter, Hilda and all at Everyman, Bill Deevy and all at DVF, Conor Nolan, Jean and Louise at Kearney Melia Barker Communications, Martin and Sile Dwyer, Oscar and Jimmy Foran, Kate McCarthy and Molly and Dara Kavanagh.
This project is dedicated to Jimmy Foran and Dara Kavanagh, our two new pals.
Click here to see some of the Baboró 2022 highlights on RTÉ Learn!