If you want something delivered in a jiffy - call the gang at Dizzy Deliveries! The new RTÉjr TV show is the first television series in Ireland to use Lámh Signs.
Click here to watch the show on RTÉ Player!
Press play up top to watch the trailer and find out more here..
Meet Joe, the delivery man with magical powers. Ozzy, the flying robot who works with Joe and helps him make his deliveries and Aisling. She is the boss of the Dizzy Deliveries and she helps the gang with their Lámh signs every day.
Aisling will help everyone at home to learn 3 key Lámh signs in a really fun way and she wants everyone to join in at home too!
Joe and Ozzy will have lots of help making their deliveries from some great kids and special guests like TV Cook Donal Skehan. Sometimes they need to come to the rescue when Joe gets mixed up!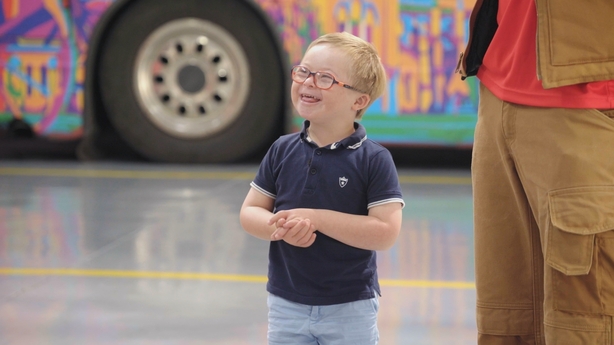 And the gang get to drop off parcels to loads of great places like Dublin Zoo, Howth Cookery School, Blarney Castle, Dunshaughlin Fire Station and Laytown Beach.
The series features children from the Down Syndrome community, Autistic community, wheelchair users and children with rare syndromes who use Lámh to learn to communicate.
The show was produced by Macalla for RTÉjr. They are the people who made Home School Hub, Bright Sparks and lots more of your favourite shows. You know it's going to be great!!
About Lámh
Lámh is a key word signing system used by children and adults with an intellectual disability, who also need support with their communication.
Lámh is quite simple to learn and use and there are nearly 600 signs. Lámh is used across Ireland in homes, schools, and everywhere in the community.
Click here to visit the official Lámh website!