It hasn't happened often on DJ For A Day, but this week we have a star returning to take over again, and this time he's brought back up!
DJ Luke was in the mix over the summer, and he is back with his friend DJ Abbie for more!
Tune in to DJ For A Day this, and every Saturday at 4pm on RTÉjr Radio - listen back here!
Luke and Abbie go to St Thomas NS in Lucan. They met in Junior infants and are the best of friends. They have so much in common with only 7 days apart in age, so they're planning a joined 8th birthday together in December. PARTY!!!
Abbie is the youngest of 3 she has a brother, Zach and a sister, Amy. Luke is the eldest of 3. He has 2 younger brothers Daniel and James.
Abbie was diagnosed with Type 1 diabetes when she was 2 so when Luke got diagnosed with T1 in Senior infants it made them even closer. It is very rare for two in one school let alone two in one class.
They look after each other with the help of their SNA's Trish and Margaret and their teacher Mr Coleman. Despite being very well minded they're known to get up to lots of mischief and have great fun together.
The two pals are great ambassadors for Type 1 Diabetes
They are so upbeat and never give out about T1. They never use diabetes to hold them back, as you'll hear in their show. In fact they're both very competitive with one another and have a shared love of sport and music.
Abbie is a very talented GAA player for Lucan Sarsfields and her favourite animal, without question is the elephant. Luke loves karate in Scoil Aine's Lucan with Anthony O'Neil as his teacher. He loves music and drumming with his dad.
Luke wants to give a big shout-out to Barretstown who have been so good to him and where he'll be staying over the weekend too!
And there's another big shout-out to Nurse Aisling at Children's Health Ireland Crumlin and all of the nurses and doctors there. Aisling is also a Type 1 Diabetic who has been so kind and generous. All while being an inspiration to all the children in her care, showing them that anything is possible.
Let's hope she and everyone at the hospital play the show out loud, this Saturday at 4!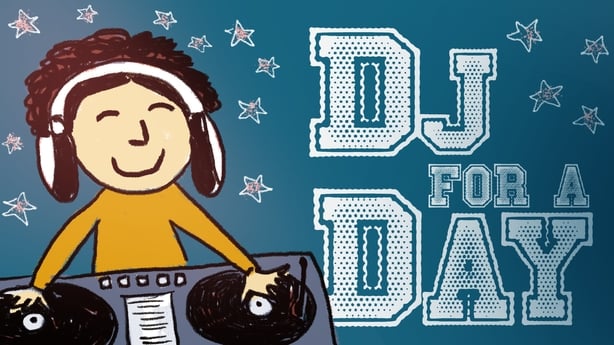 We're on the hunt for more DJ talent. If you're aged from 4-12 and would like to share some of your favourite songs with the nation, get in touch and we'll tell you how you can take part.
Email junior@rte.ie