Is everyone here? Are you ready? It's time to join Nero's Class on RTÉjr Radio. The madcap audio adventure has topped the podcast charts in recent weeks, and you can listen to all the series here!
Subscribe here and listen to Episode 1 up top to get you started!
Here's the story...
In Mrunglody, folklore is reality, magic is in the air, and the school…is a treehouse because their old one was blocking a Fairy Path...obviously!
A soggy Professor Nero awakens on a mysterious beach, with no memory of how he ended up there. Has he been shipwrecked? Thrown overboard by pirates? Kidnapped by cannibals? Or is the truth far more sinister than any of that?
Featuring original music, special guests and an altogether brand new take on Irish folklore and it is great fun for kids and bigger kids from 6-12 years old.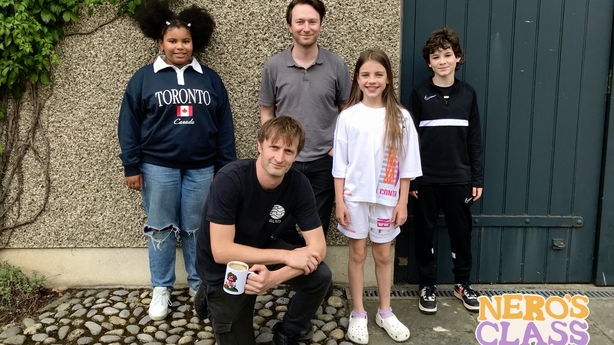 From the mind of writer/musician Bobby Aherne (No Monster Club & D'You Remember Yer Man?) comes 'Nero's Class' - a surreal six-part radio odyssey.
Hugh Cooney stars as Professor Nero - a luckless, fuddy-duddy mainlander who somehow finds himself responsible for the education of three unique children on a tiny remote island.
As if trying to teach the standard curriculum to Rowan (Rian Sheridan), Jacaranda (Elsie Akinduko) and Scoochie Kaboochie (Penny O'Dwyer) wasn't enough of a handful, Nero and his class soon find themselves hosting a string of unexpected guests - including local musician Sylvia Barbados (Bronwyn Murphy-White), eccentric entrepreneur Hairbrush Hank (Alison Spittle) and the leader of the mainland, Teabag Steve (Peter McGann).
And then, there are the school tours…but you will have to stay tuned to get on board!!
Click here to subscribe or wherever you get your podcasts!
Brought to you with the assistance of your television license fee.