Kiva Can Do! follows the adventures of seven-year-old Kiva Kain, her best friend Saul and Angus the dog as they make their own adventures with whatever is to hand.
Tune in to RTÉjr and RTÉ Player weekdays at 8.30am, 12.40pm & 3.30pm!
Catch up on the show any time on RTÉ Player HERE!!
There is nothing Kiva can't make! She teams up with Saul Dunne, her mechanically-minded best friend, and Angus their cardboard puppy companion. When these three get together you could end up anywhere in the world and beyond!!
All our heroes need is a cardboard box, some bits and bobs, and whole lot of imagination to have an amazing adventure. Kids can watch the show and be inspired to see where their journey takes them.
Kiva Can Do! was created to encourage children to engage in imaginative play with STEM-themed stories presented in a fun, engaging and accessible format.
It's Season 3 of the hit show and it has been translated into 26 languages and sold globally to over 140 territories worldwide!!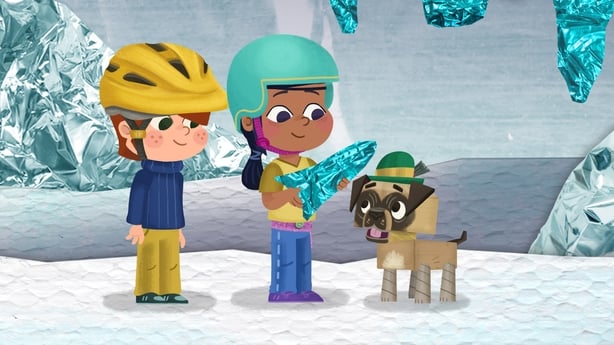 Hear from the grown-ups who made the show...
Andrew Kavanagh, Kavaleer CEO and Show Creator said: "We are absolutely thrilled to be returning to RTEjr this autumn with a new batch of 'Kiva Can Do!' episodes. Since the show launched in 2017, Kiva has gathered fans around the globe and her can-do attitude has inspired and empowered children at home too. The latest season is perhaps the funniest yet, and we can't wait for audiences new and old to join Kiva, Saul and Angus on their latest adventures!"
Season 3 was announced as part of RTE's new season line-up this week and all 13 episodes of the new programme were written by comedy legends Mick O'Hara and Ciaran Morrison (Zig & Zag / Podge & Rodge).
The show stars Nina Wadia (Netflix's 'The Sandman') as Nanni Praveena and newcomers Cecilia Henderson as Kiva and Flynn Gray as Saul.
Suzanne Kelly, Head of Children and Young Peoples Content, RTÉ said: "RTEjr is so excited to welcome back Kiva and her family for a brand-new series of Kiva Can Do.  This beautifully observed, laugh-out-loud, cross-generational series delivers everything our audience adores; oodles of curiosity, sparks of imagination and awesome adventures. We can't wait !!!"
You can watch the show on RTÉjr and RTÉ Player next week.
Just in case you didn't know, RTÉjr is now on Saorview Channel 17!!