In this episode of Mothertongues we take a trip to Galway to meet a brother and sister who'd love to speak more of their parent language, but find that it's one that's increasingly lost for them.
Press play above or subscribe to the podcast here!
Michael and Winnie Ward are from Tuam, County Galway. Michael (14) is the second eldest in the family and is an enthusiastic artist since starting to draw over lockdown.
Winnie is 13 years old and going into 2nd year in September. She is a keen athlete and would love to compete for Ireland one day as a runner.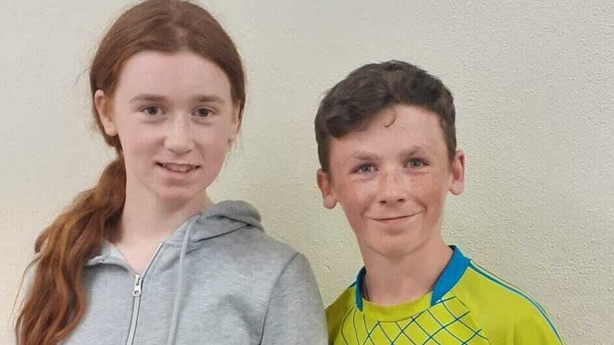 The Irish Traveller community is also sometimes known as Rilantu Mincéirí and Shelta is recognised as their language. It's more widely known as Cant but, as we discovered in our conversation, fewer and fewer people within the Traveller community speak it.
Records of how many still do are very imprecise but back in 1990 it was thought that about 5000 people spoke it across the whole of Ireland.
There are some wonderful words, some of which have made their way into regular Hiberno-English. But many remain unique to Cant.
Talósc - Day
Olomi - Night
Luscán - Fish
Nook - Head
Innic - Innic is similar to the word Yoke. It could mean anything. Similar to 'thing' or 'gizmo'
Wisht – Stop Talking!
Lush – to eat food
During their free time Michael and Winnie attend the STAR project in Tuam. Bridget Marie Ward who works with the project explained that they "work with Traveller children from the age 0 to 21 years old, with their parents, schools and other young people to help break down barriers around education. We also link in with the colleges in Galway and the local organisations."
The pair joined other young Travellers in a project with ATMOS Galway, a collective of artists from culturally diverse backgrounds, who are working with music, film, spoken word and theatre.
For Cruinniú na nÓg 2021 they wrote, recorded and produced a song in both Cant and English called Glimmer (Light).
This proved a real celebration of their language and culture and one that Winnie and Michael would love to see expanded even further possibly into education. "It would be great if they brought it into schools. If they could put it as one of the learning languages."
To hear more from them, about the song and their culture, listen to Mothertongues on RTÉjr Radio, subscribe to the podcast HERE or find it wherever you listen to yours.