Will you pick a book and take up the challenge to read over the holidays? Would you like to be one of the Summer Stars who will keep those paging turning?
You can set yourself a reading goal, but the most important thing is to pick up a book and read. Everyone who participates will receive a certificate of achievement from their local library at the end of the summer.
To help children keep track of their reading, Summer Stars reading cards are available at all libraries or download one now HERE!
During Covid, the Summer Stars programme had to move online but libraries are excited to be able to welcome children in the library to sign up to the programme and browse and borrow books.
Share your own book reviews online at www.summerstars.ie. There's loads of recommended reading lists for all ages and helpful reading tips there too!
Libraries all over the country will be hosting lots of in-person and online storytimes and fun events. Families can follow their local library on social media to see what's happening near them.
A special Summer Stars collection is also available on Borrowbox, the library service that offers free online eBooks and audiobooks to all library members.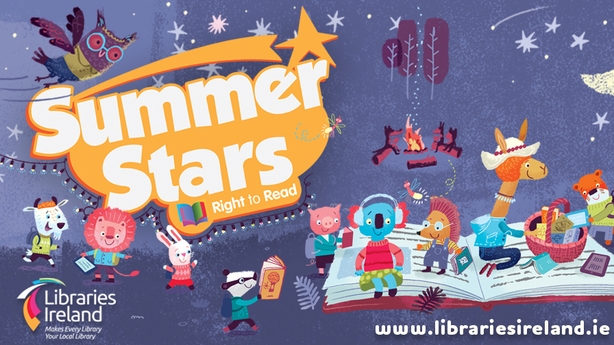 For grown-ups, here's Librarians' top tips for helping kids to find the fun in reading this summer:
Encourage children to choose stories they are likely to really enjoy
Try to keep stories appropriate to your child's reading level; if the story is too hard or too easy, they may lose interest or confidence
Comic books or graphic novels can be a good way to help children to follow the story if they have difficulty reading or are reluctant readers
If they find a word they don't understand, try to avoid telling the child the meaning straightaway; instead ask them instead to guess what the unknown word is likely to be based on the pictures near to it or by looking at the full sentence around it
Give lots of encouragement and praise for even the smallest accomplishment
Focus on the enjoyment and fun of reading. If you show an interest in reading and learning yourself, your child will be more likely to follow your lead and explore as well.