Award-winning actor Ciarán Hinds narrates a new podcast series for RTÉjr Radio - The Neighbourhood.
And, he came along to Mud Island Community Garden to launch it and give a special reading to Ms O'Dowd's 1st Class from St Vincent's Girls School!
Tune in to news2day next Tuesday on RTÉ2 and RTÉ Player to see all the fun!
Ciarán read the tale - Mr Potts Is No Longer Afraid...
Nettie is content in her own company. Too content, perhaps. She likes to draw in the allotments at the back of her house. She befriends old man Potts, a widower, who may or may not be keeping an elephant.
Click here to listen to it and all the stories!
The nine stories are about the kindness and bravery children find in themselves. Belonging is never simply about being like others.
'We've all grown up and moved away,' Ciarán, the narrator, tells us. 'Perhaps you live there now.'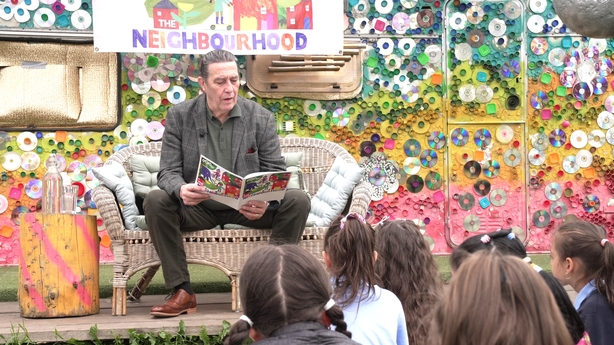 No one knows their neighbourhood better than the animals and children. This neighbourhood is a leafy suburb with redbrick houses and gardens of every sort, but it is also a place without boundaries.
Ask the children featured and they will tell you the neighbourhood is everything. As with any local terrain, it is they who know best the alternative routes and secret shortcuts.
They know the best hiding places, the best launch pads, the most abundant raspberry and apple crops. They know the character of resident cats and dogs, which dogs will give chase and how fast they can run.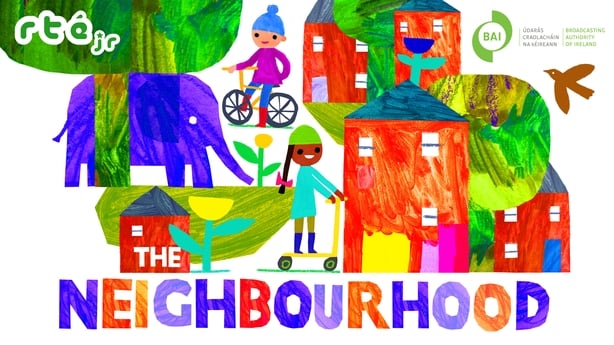 Each story is told from an individual child's perspective. Adults are steady, predictable, a little distracted, but they have not lost their sense of wonder. For their part, the children know life is not straight-forward.
Written by playwright and novelist Philip Davison. This is his first work for children. Produced by radio maker and teacher Brian Kenny.
Listen to all the series now on the RTÉjr podcast feed or subscribe wherever you get yours!
The beautiful logo was created by Anne O'Hara (Find her on Instagram!)