This May, the All Ireland Pollinator plan, along with Biodiversity Ireland, are engaging with farmers and rural communities to celebrate and encourage the biodiversity present within our countryside.
In our fields, our hedgerows and of course, our peatland landscape. And we wanted to look into this interaction in a way that's proved more topical than we'd expected at time of recording.
The bogs contained in our peatlands have been in the headlines more than ever recently. So today, Ecolution visits Clara Bog in County Offaly alongside farmers, scientists and groups working to help change the conversation around Peat.
Listen up top and subscribe to the podcast here!
One hotly contested part of the climate action plan in Ireland is the call for an end to all peat extraction. Since 2019 commercial extraction has all but ceased. But people are still incredibly passionate about the subject, as evidenced by the vocal discussions in the Dail over the past weeks. The argument gets mixed in with one on the cost of living as the price of all fossil fuels continue to skyrocket.
Because, for many farmers and communities in the Midlands, our bogs are seen as a source of fuel; a source of income, and for many, a way of life.
But what do you do when that way of life is at odds with the action we're required to take in combatting the impacts of the climate crisis?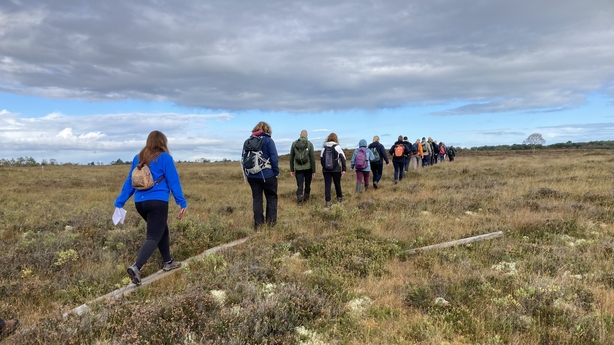 In the 1800s Clara Bog covered over 1000 hectares of land. Today, it makes up 443 hectares, of which, less than a third can be considered active.
Our resident scientist, Dr Shane McGuinness was working with the Community Wetlands Forum and so we were invited to join the Eurosite Natural Climate Buffers Study Tour on the bog last Autumn. A collection of scientists and climatologists from across Europe who wanted to see the work being done to restore and rewet our bogs, with the help and collaboration of local farmers and communities.
In today's episode we meet Jim Ryan, a huge figure in Ireland's natural conservation movement. Peter Lebroquy Cox, a PHD student looking into how it is that the water in our bogs captures carbon. Jonathan, a farmer whose land is partially on Clara Bog. Jack McGauley of "The Living Bog", working to rewet bogs previously drained. Caroline Lalor of Farm Peat, an organisation that collaborates with farmers in their efforts to change how they deal with their peatlands.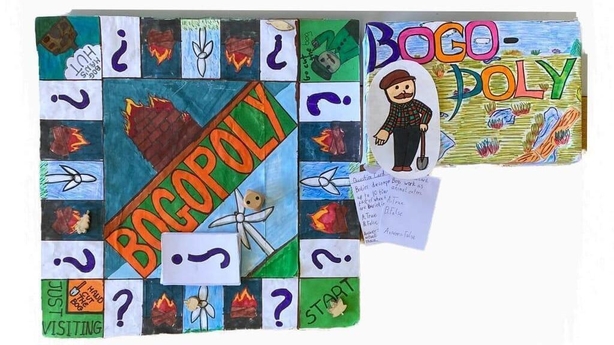 Plus, Paddy Malone of Irish Rural Link talks with us about the "Love your Wellies" Arts competition which engaged schools across the country in coming up with creative ways to talk about our bogs. The flora and fauna that call them home and how we can change the conversation about turf and the peat landscape with the communities that share them.
With huge contributions from our young Brain Trust plus Scoil Bhríde in Lackagh, Brideswell National School, Roscommon and St Evin's in Monasterevin County Kildare.
Subscribe to the podcast HERE or wherever you find your podcasts.
If you know a young person who has an interesting story to tell, a project they're working on that relates to nature or the environment, or one who'd like to be part of our Brain Trust why not email junior@rte.ie.