Some of you have heard it all before...You throw like a girl! You hit like a girl! You run like a girl...
Then come the questions...Why do teenage girls give up sport? Why do they feel excluded from sport? Why do some girls bully other girls for playing sport? What's the big deal if you wear make-up when you play?
In the RTÉ series, Keep It Up, our host Emer O'Neill, forms her own basketball team full of amazing individuals as she jumps right in to try to answer those questions and a whole lot more...
Check out the clip up top where the girls talk about the negative side of social media!
And click here to catch up any time on the Player!!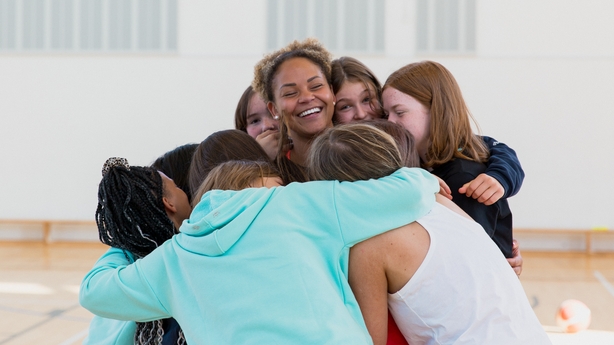 Keep It Up brings together nine teenage girls who have either given up sport or never played. We follow their journeys as individuals and as a team both on and off the court.
This is more than a TV show, this is a movement, and we want you all to be there cheering them on!
Over the six shows the gang are visited by sports stars like rugby player Sene Naoupu, Puskas Award nominee Stephanie Roche, Cork GAA legend Valerie Mulcahy and more.
We look back and chat the 1974 Offaly Ladies Gaelic Football team who played in the first ever LGFA All-Ireland Final. They had to tog out in borrowed boots and jerseys from their brothers!
From the past we move to the present and the future with Nora Stapleton who is Women in Sport Lead with Sport Ireland. Plus, we get into the mind of young women with Sports Psychologist Maire Treasa Ní Cheallaigh. And Bríd Ryan, founder of Queen B Athletics discusses the role of image in the lives of the girls.
Keep It Up is a six-part series on Tuesdays and Thursdays at 5pm from on RTÉ2 and RTÉ Player.
It is produced by Macalla Teo for RTÉ Young People's Department.