It's Seachtain na Gaeilge so, Ireland's Laureate na nÓg Áine Ní Ghlinn, has some great reading recommendations for kids of all ages.
Check out the list below!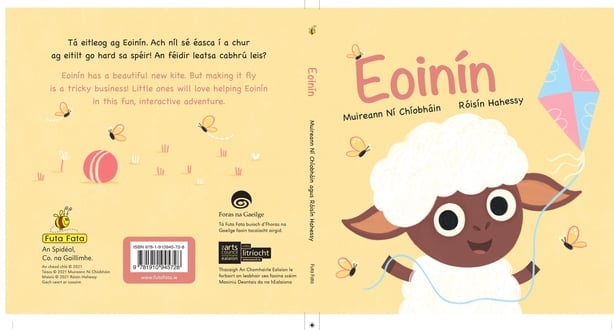 Eoinín (Aois 0–3)
Muireann Ní Chíobháin maisithe ag Róisín Hahessy
Futa Fata
Tá eitleog ag Eoinín Uan. Tá sé deacair an eitleog a chur ag eitilt go hard sa spéir, áfach. An féidir leatsa cabhrú leis? An bhfuil tú ábalta lúbarnaíl? An féidir leat gaoth a chur san eitleog dó? Bainfidh páistí beaga an-spraoi as a bheith ag cabhrú le hEoinín. Cabhróidh léaráidí áille Róisín Hahessy leo freisin agus ar deireadh beidh eitleog Eoinín ag luascadh is ag eitilt sa spéir.

Little Eoinín is struggling to get his kite flying high in the sky. Can you help? Muireann Ní Chíobháin asks young readers to help – can you twist and shake and pull when asked? Can you create a puff of wind? Very young children will have great fun helping Eoinín in tis interactive boardbook. Róisín Hahessy's warm and vibrant illustrations will help too and soon, with everyone working together, Eoinín's kite will be dancing high in the sky.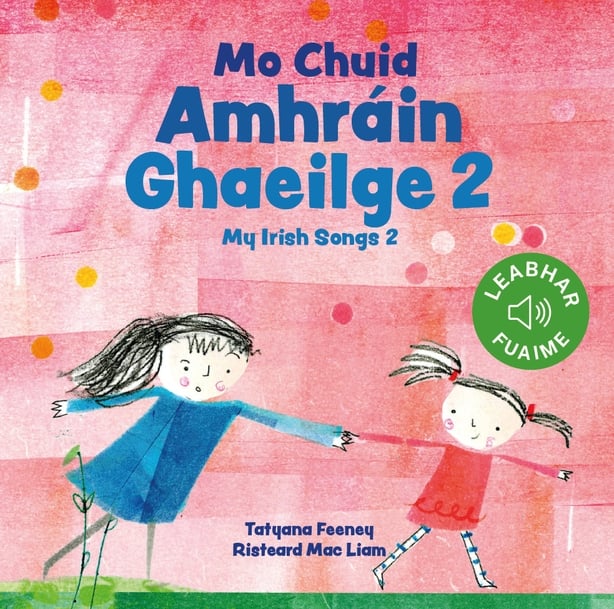 Mo Chuid Amhráin Ghaeilge 2 (Aois 0–3)
Risteard Mac Liam maisithe ag Tatyana Feeney
My Irish Books
Cnuasach eile d'amhráin thraidisiúnta na Gaeilge. Sé amhrán ar fad atá anseo. Aithneoidh tuismitheoirí agus caomhnóirí cuid acu óna laethanta scoile nó óna laethanta i gcoláistí samhraidh sa Ghaeltacht. Bainfidh páistí beaga spraoi as méar a bhrú ar an gcnaipe chun na hamhráin a chloisteáil. Ní fada go mbeidh siad ag canadh leis na hamhránaithe óga. Léaráidí geala áille le Tatyana Feeney.
Another collection of verses from traditional songs with push button voice recordings from this team. Parents and guardians will remember some of these from their schooldays or their days in summer college in the Gaeltacht. Young children will love to press to push the button to hear the voices of young singers. It won't take long! soon everyone will be singing along. Tatyana Feeney's bright and simple illustrations bring this book to life.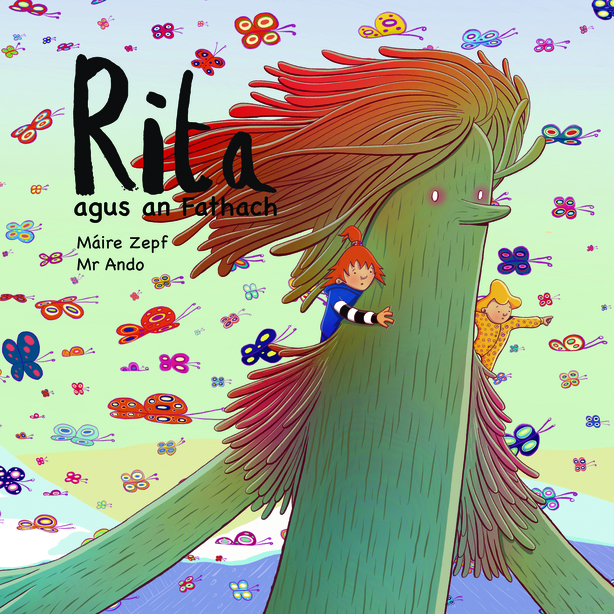 Rita agus an Fathach (Aois 3+)
Máire Zepf maisithe ag Mr Ando
An tSnáthaid Mhór
Bíonn smaointe iontacha ag Rita. Ba mhaith léi fathach ollmhór a bheith aici an uair seo chun an spéir agus an fharraige a ghlanadh, chun deireadh a chur le truailliú na timpeallachta. Ach cad is féidir le fathach amháin a dhéanamh? Beidh cúnamh uaidh, cinnte. Léaráidí gleoite le Mr Ando a léiríonn an dochar atá déanta agus an tábhacht a bhaineann le bheith ag obair le chéile chun aire a thabhairt don domhan.
Rita always has wonderful ideas. This time she wishes for a huge giant to clear the plastic from the sea, to sort out all the pollution problems on the planet. But can one giant do it all alone? Can a giant re-freeze the ice and repair the damage already done? How can everyone help? Mr Ando's bright and beautiful illustrations complement Máire Zepf's text, showing the damage done and the hopeful possibilities for the future if we work together.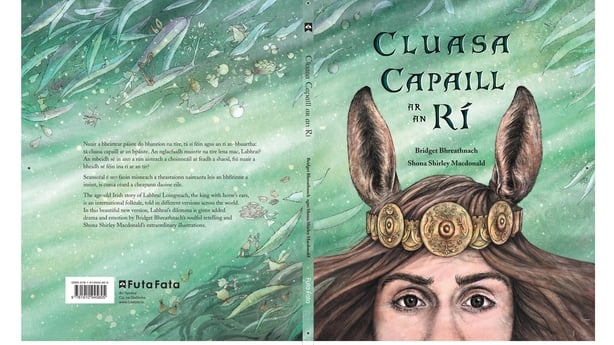 Cluasa Capaill ar an Rí (Aois 5+)
Bridget Bhreathnach maisithe ag Shona Shirley Macdonald
Futa Fata
Tá an rí agus an bhanríon an-bhuartha. Tá cluasa capaill ar a mbáibín óg. Conas is féidir an rún seo a choinneáil? Téann bearbóirí isteach sa chaisleán chun gruaig an phrionsa a bhearradh ach ní fheictear riamh iad ag teacht amach arís. Caithfear an fhírinne a insint ar deireadh. Athinsint álainn ar an seanscéal cáiliúil faoi chluasa capaill a bheith ar Labhraí Loingseach. É maisithe le léaráidí draíochtúla ag Shona Shirley Macdonald.
A new version of the international folktale of Labhraí Loingseach, the king with horse's ears. Barbers enter the castle to cut his hair, discover the secret and nobody ever sees them come back out! How long can the lonely king keep his secret? Will he have the courage to reveal the truth? Shona Shirley Macdonald's spectacular illustrations add to the magic of Bridget Bhreathnach's retelling, giving us a wonderful sense of a mythical otherworld.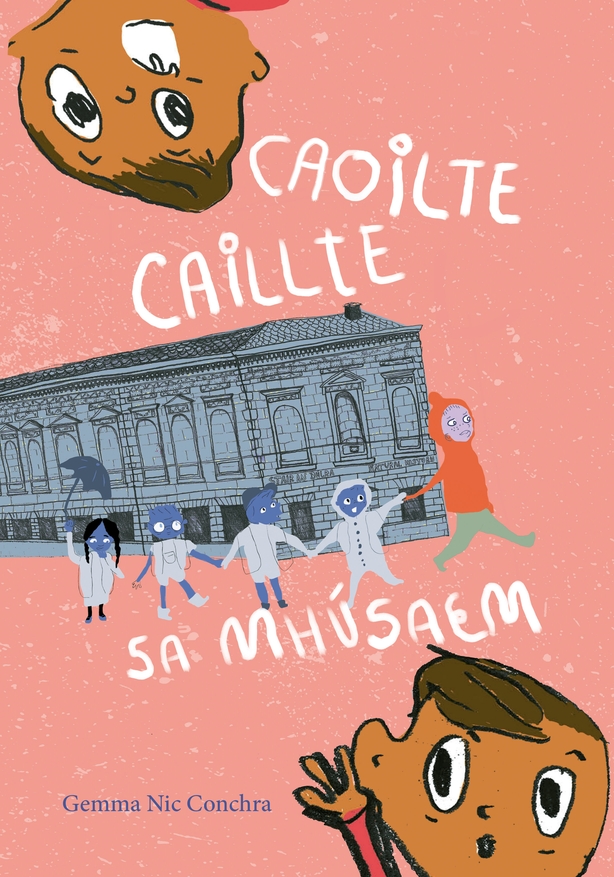 Caoilte Caillte sa Mhúsaem (Aois 5+)
Gemma Nic Conchra
Éabhlóid
Rógaire beag is ea Caoilte. Is breá leis daoine a chur ag gáire. Buachaill beag fiosrach é freisin agus nuair a théann an rang ar thuras scoile go Músaem Stair an Dúlra ní thugann sé aon aird ar an doras a deir Níl cead isteach. Isteach leis agus roinneann sé a lón leis na hainmhithe atá curtha i stóras ó tharla gan aon spéis ag daoine iontu níos mó. Tá spéis ag Caoilte iontu, áfach. Coinneoidh eachtraí Chaoilte agus na léaráidí spraíúla páistí ag gáire.
Caoilte likes to make people laugh and he is not too keen on keeping the rules. When his class goes on a school tour to the Natural History Museum, Caoilte (naturally) ignores the sign that says No Entry. On his forbidden travels behind the scenes, he shares his lunch with the animals that have been put into storage because people have just lost interest in them. Children will enjoy and engage with Caoilte's adventures and the quirky illustrations.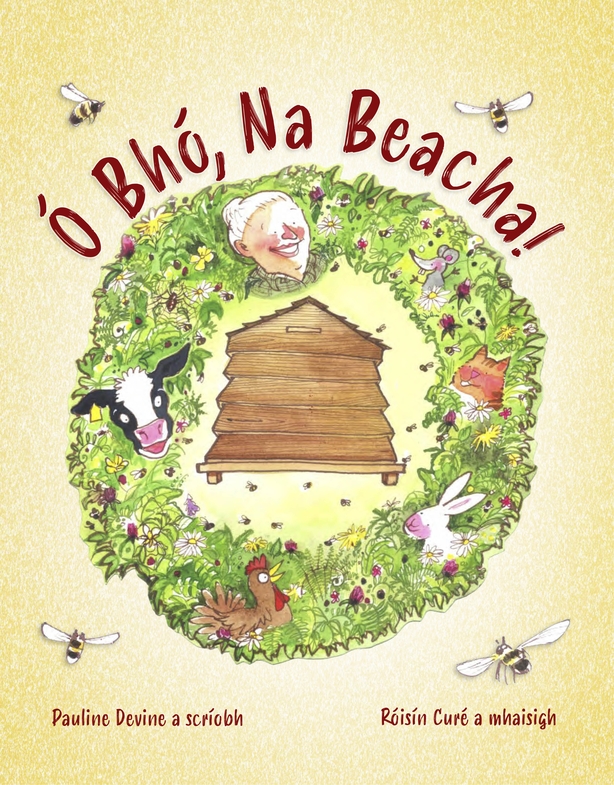 Ó Bhó, na Beacha (Aois 5+)
Pauline Devine maisithe ag Róisín Curé
An Gúm, Foras na Gaeilge
Tá teach na mbeach briste. Tá na beacha crosta agus buartha. Caithfidh siad aire a thabhairt don bhanríon, don chráinbheach. Is aoibhinn le Mamó na beacha agus níl sí ag iarraidh go n-imeoidh siad ón ngairdín. Cabhraíonn Cat, Circín agus ainmhithe eile léi teach sealadach a fháil do na beacha agus an choirceog a dheisiú. Tá go leor ábhar cainte sa scéal agus sna léaráidí geala faoin tábhacht a bhaineann leis na beacha.
The bees are angry as their hive has been broken. They need to protect their queen bee. Granny loves the bees and she doesn't want them to leave the garden. She enlists the help of various animals (cat, rabbit, hen and others). As well as doing some detective work on who broke the hive, they work together to create a temporary home for the bees while repairing the hive. Author and illustrator join forces to illustrate the importance of bees.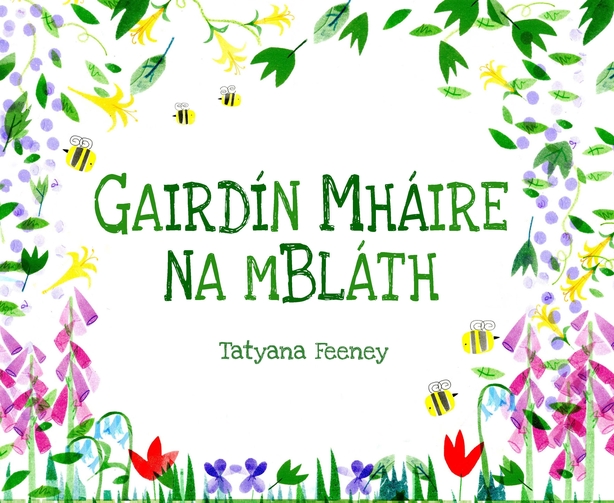 Gairdín Mháire na mBláth (Aois 6+)
Tatyana Feeney
An Gúm, Foras na Gaeilge
Cá mbeimis gan na beacha? Caithfear bláthanna a chur ag fás dóibh. Nuair a fheiceann Máire na mBláth nach bhfuil planda ná bláth le feiceáil i Scoil Naomh Pádraig, tagann sí i gcabhair ar na páistí agus na múinteoirí. Bainfidh páistí sult as na léaráidí áille, foghlaimeoidh siad faoi na bláthanna agus b'fhéidir go dtosódh siad ag cur spéise i mbláthanna a chur ar scoil nó sa bhaile. Tá gach eolas faoi na bláthanna sa leabhar álainn seo.
Máire na mBláth always had the most beautiful garden filled with brightly coloured flowers. When she realises that her local school has nothing growing in the school garden, she decides it's time to help. She teaches the children how to sow and care for the seeds, how and when to plant them out of doors. Beautifully illustrated with an environmental message on both the beauty and the importance of flowers.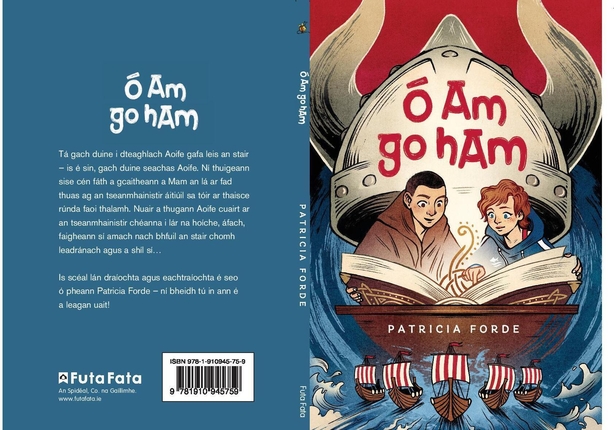 Ó Am go hAm (Aois 8+)
Patricia Forde maisithe ag Lauren O'Neill
Futa Fata
Níl mórán spéise ag Aoife sa stair. Ní thuigeann sí cén fáth a gcaitheann a máthair an oiread sin ama sa tseanmhainistir agus í sa tóir ar thaisce rúnda. Nuair a thugann Aoife cuairt ar an tseanmhainistir i lár na hoíche, áfach, foghlaimíonn sí go leor faoin am atá thart. Scéal eachtraíochta ina bhfuil go leor le foghlaim faoi na manaigh, na Lochlannaigh agus an saol fadó. B'fhéidir nach bhfuil an stair chomh leadránach sin!
Aoife finds history boring. She can't understand why her mother spends so much time treasure hunting in the old monastery. However, when she visits the monastery at midnight and falls off the monastery roof, she suddenly finds herself whooshed back in time to a world of monks, ancient manuscripts and vicious Vikings. Maybe history isn't so boring after all! A thoroughly enjoyable historical adventure.