It's time for another episode of Mothertongues on RTÉjr Radio, and in this show we visit a school in Dublin City and hear how they love drama!
Tune in to RTÉjr Radio at 7.10pm this evening or press play above now!
It's small wonder that St Mary's Primary School, just off Dorset Street in Dublin 1, was recognized with a European Language Label in 2021.
As a school, it relishes the opportunity to try out new initiatives in language teaching, learning and promotion. They have students speaking over 30 languages across the student population and it seems that teachers here have chosen to embrace this diversity, in every way they can.
Mothertongues has worked with them on lots of occasions, but the podcast was lucky enough to visit one morning while they engaged in a drama workshop.
Mark Ball, a a theatre-maker, and the Engagement Director of Super Paua (www.superpaua.org) led them in a two week investigation of language through drama and play. Mark has been collaborating with Mother Tongues since May 2021. He creates theatre and workshops mostly for young people and communities.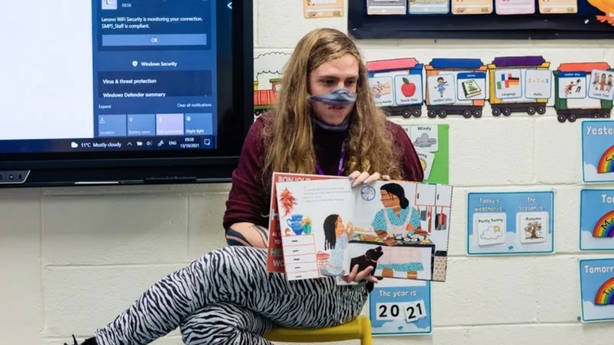 We asked Mark what he'd found in his time with the school.
"I had the pleasure of working with every class twice in St Mary's Primary School on Dorset Street, over a two week period with Mother Tongues' Language Explorers' programme. It was a beautiful experience full of learning and has hugely impacted my work as an artist. I'm grateful to the playful young people and staff at St Mary's, as well as the experienced and passionate team at Mother Tongues.
We explored language through drama and play. In Junior Infants to 1st Class, they helped me learn how to say hello in different languages- ٱلسَّلَامُ عَلَيْكُمْ, Jambo!, 你好, Hola!- and helped a Teddy Bear friend of mine – Rosie Flower, or Freddy Teddy depending who's asking- feel more comfortable about her differences by building a comfortable blanket fort and drawing pictures about what makes them different and great.
From 2nd to 6th class we learnt Polish and about Poland and listened to Krys's Passport to Poland by Alison Martin (a Bilingual English and Polish piece). The following week we shared stories about what parents/family members/family friends who are older than us enjoyed when they were our age.
We acted out stories in Somali of a young person's mam sneaking up and scaring camels, and stories in Polish of a young person's dad stealing cherries from a neighbour's bush. We found out and were surprised that as children, no matter where in the world, they all played similar games and had a passion for soccer.
We spent only one morning in the school but it was clear that this connection with experience and language through drama gave the students an opportunity to celebrate both their differences, but also the things which united them."
For more on the exercises Mark does read more HERE!
Mothertongues will be on RTÉjr Radio at 7.10pm tonight, but you can listen to the podcast, right now!
Click here to listen to all the podcasts!
If your family, or your school would like to share ways in which you make language a part of your day, why not get in touch? Email junior@rte.ie.
Full details on how to take part are HERE!
And you can read ALL the articles from Season 1 HERE!!
Thanks so much to all the families who have taken part so far and to everyone at mothertongues.ie for helping connect the dots. They do amazing work and this is only a small addition to the help they give multilingual families across the country.