Someone Like Me is a radio show and podcast featuring children and young people from Ireland, who have something unique they want to share with the World.
It is an eight-part series on RTÉjr Radio - Press play to listen now or click here to subscribe!
This show will highlight how things that make us different are often superpowers. We'll meet young people who are going to get their own show to share their story.
Kate Brennan Harding is joined every week by a different young person who will meet and interview a grown-up that is a bit like them.
Episode One is hosted by Sophie Doyle, who is 9 and from Bray, County Wicklow. Sophie loves lego, space, and cats. Sophie is autistic and loves sensory rooms and fidget toys.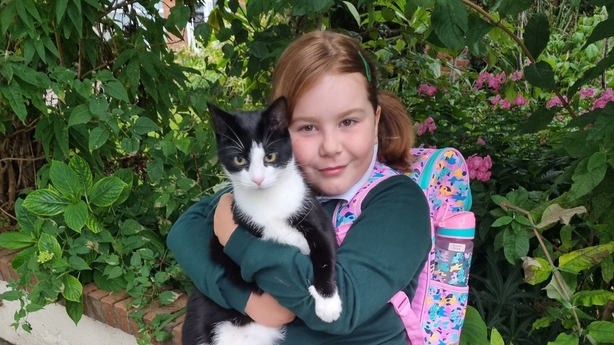 We found a grown-up who is really like Sophie! Caoilinn Handley is an amazing filmmaker, who grew up loving lego, Harry Potter, and her dogs. She always knew she was different and confirmed her autism diagnosis when she was an adult. She wants to make films that feature people with autism so that the world begins to understand that being autistic is an amazing thing.
Would you like to understand autism a bit better?
Caoilinn Handley wrote this to explain what autism is: "Autism is a way of thinking and seeing the world differently. Lots of people are autistic - it's something that is passed on to you from your mum or dad, like red hair or blue eyes! Sometimes being autistic is difficult, because we feel so many things at once, which is scary. It can also be lonely and sad sometimes, because people make fun of us for acting differently - which is really silly, because we just speak a different language like some people speak French and some people speak Spanish!
But autism is also an amazing thing too, because it means that we notice all the little details that others miss - we can always see the beauty in the world around us, and that makes us very happy. Being autistic also makes us super good at our jobs, because we really enjoy learning everything about things we love and can focus on it for hours! We love sharing our world with you, and can't wait to welcome you in"
Things we learned in this episode
Fidget Toys are amazing!
People with autism often like to hold and play with sensory objects, like squishy balls and fidget spinners.
What is a sensory room?
Sophie has a sensory room in her school, it's a place where the lights are low, there are cozy blankets and soft furnishings and all sorts of gorgeous lights and water bubble features. This room helps people with ASD to feel relaxed and safe as sometimes school can be overwhelming.
There's a great book called 'All Cats Are On The Spectrum' by Kathy Hoopman which Caoilinn recommends for anyone of any age as a great way to learn a bit more about what it is like to be autistic.
You can find out more at www.autism.ie.
Click here to listen to all the podcasts now!
The transcript for the show can be downloaded here!
Massive thanks to Erin Darcy Designs from Mother Maker Studios for the original artwork and logos.