Lloyd Coleman is a composer who composed the score for Adam Saves Christmas which you can see from noon Christmas Eve on RTÉjr and RTÉ Player.
He is also Associate Music Director of the Paraorchestra – the world's first ensemble comprised of professional disabled and non-disabled musicians. Hearing and visually impaired himself, Lloyd is a passionate about inclusion and fair representation of disabled talent on and offscreen.
Here he answers some quick questions on his work...
Tell us how you got involved with Adam Saves Christmas?
I was introduced to the guys making the show a few months ago. It's long been a dream of mine to write music for TV and film – and when they told me about Adam King and sent the script for this Christmas special, I just knew I had to write the music for it!
What did you like about the story and the show?
It's great that 'real-life' Adam has voiced his own onscreen character – his enthusiasm and joy is truly infectious and that really shines through in this show.
I also like that Adam's disability is of secondary importance to his personality and talents – it's not the defining feature of who Adam is, just a part of him. We need more positive onscreen representation like this so the millions of young disabled people watching can be proud of who they are too.
Tell us about the Paraorchestra?
Paraorchestra is a unique orchestra, bringing together professional disabled and non-disabled musicians. We're based in Bristol, England, and I've been involved with it since it was started in 2012.
With them I've played at festivals and well-known venues all over the world! Maybe one day they'll play my music for the movies – that would be another dream come true for me!
It was your first score? Is it different to other composing?
This was my first score for TV, yes. I trained at the Royal Academy of Music in London and had lots of experience as a concert composer already. What I like most about writing to picture is the collaboration – working with the directors, producers and others behind the scenes to help tell the story and support what's happening onscreen through music.
Have you always loved music?
Very much so – I started playing the piano aged six and was making up my own tunes and pieces very soon after. My parents have no idea where my obsession with music came from as they weren't musical whatsoever!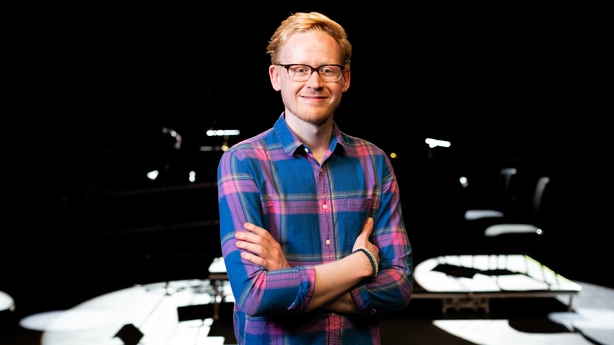 How do you get to be a composer?
For me it's always felt natural to write my own music. I think it's important to know how to play instruments to a high standard too – so you can write music that other musicians and bands will want to play it too.
And, seeing as it's Christmas, what is your favourite Christmas music?
I love a good Christmas singalong – in fact, there's a hint of a very-well known Christmas tune in the score for Adam Saves Christmas (see if you can spot it!) My favourite Christmas carol is O Holy Night.