When Home School Hub: A Christmas Cracker wanted a cool rap tune for the show they knew the place to go - Cork!
The 5th class kids from St Mary's on the Hill NS, Knocknaheeny in Cork City wrote and produced the brilliant 'Santa's Still Coming To Town' with the help of Garry McCarthy AKA GMCBeats and friends.
The song will feature in Home School Hub: A Christmas Cracker on Christmas Day at 5.25pm on RTÉ2, but you can watch the full music video here now.
School Principal Maura Fennessy says: "We are all so very proud of the work done by the children. Garry had been here before to do workshops and everyone loved it. The Kabin Studio is very nearby and when we were asked about doing a Christmas song for RTÉ it was amazing.
We have two 5th classes here and they all worked really hard in their pods creating the music and writing the lyrics. There was lots of help from their families too and it all worked so well. Really well done to them and everyone involved."
The video crew of Sean Parnell and Sean Downey got lots of help from the local community as well Music Generation Cork City, The Kabin Studio and loads more to make this all happen!
And why not give it a go yourselves at home! Here are the lyrics for you to sing along with...
Listen to the story here on the Ryan Tubridy Radio Show
Ryan speaks to Coben Cullen who rapped on the Late Late Toy Show with Ed Sheeran.
Listen here 31 minutes in - Ryan Tubridy Show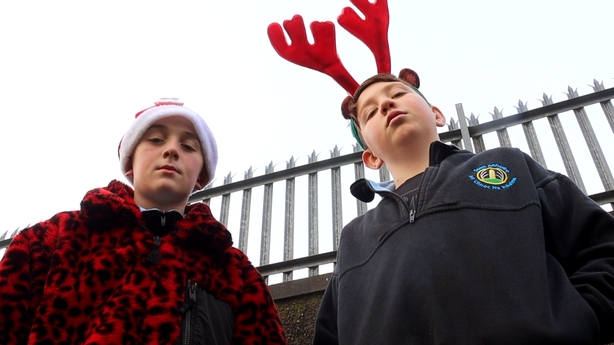 Music Credits:
Performed by the 5th class kids from St Mary's on the Hill NS, Knocknaheeny.
Written by the students at a GMCBeats workshop at the school.
Recorded and produced by Garry McCarthy (GMCBeats)
Video Crew:
Garry McCarthy (GMCBeats) - Project Coordination
Sean Parnell (Cúlabúla Media) - Direction & Animation
Sean Downey (SwanIGuess) - Filming & Editing
Alex Brady - Assistant & Lighting
Cast:
News Reporter / Dancer - Olha Pereginets
Nana - Colette O'Connor
Aunt Samantha - Jennifer Buckley
Dad - Roy O'Regan
Santa - Brendan Fitzgerald
Thanks to:
The staff and students of St Marys on the Hill NS
The Kabin Studio
Music Generation Cork City
The local community
Marion Dowdall
Cara Cullen, Sophie McCarthy & Chloe Murphy
MC Tiny
CJM 2nd Hand Furniture
Angela Newman
John O'Keeffe
And don't forget to tune in to Home School Hub: A Christmas Cracker on Christmas Day...
Keep an eye on RTÉ Kids for more!