Nan Hogan was a revolutionary activist who played a part in both in the War of Independence and Civil War. Now, thanks to her nephews, Hogan's story is being brought back into the light, as Mary McAuliffe explains
As part of the Irish Civil War Memory project, descendants of the men and women who participated in the Civil War were asked to share their memories of their revolutionary ancestors. One interview was conducted with the nephews of Nan Hogan, President of the 2nd Battalion, East Clare Brigade, Cumann na mBan, and Captain of the Cratloe branch of Cumann na mBan, 1918-1923. Like so many of the women of Cumann na mBan, her story was not part of the national narrative. However, memories of these women were often kept alive within their families and their communities. Now, one hundred years later we can understand the contribution and importance of a woman like Nan Hogan.
Annie 'Nan' Hogan was born on 6 May, 1887, to John Hogan and Annie (née Ryan). The Hogans were relatively prosperous farmers, and the Hogan girls were sent away to St Mary's Convent, a boarding school in Bunclody, Co Wexford, to be educated. Nan subsequently went to England to finish her education, at Sedgley Park House, Salford, Teacher Training Centre, where she trained as a teacher. She also studied English at the University of Cambridge and gained a Sessional Certificate in 'Shakespeare, Wordsworth, Coleridge and Tennyson'.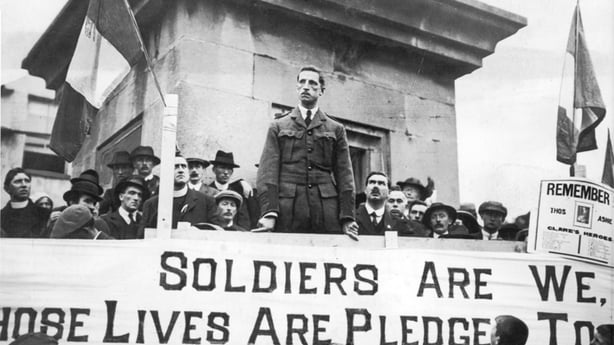 By 1917 she was back in Clare, where revolutionary activism was to occupy much of her life. She campaigned in the 1917 East Clare by-election for the successful Sinn Féin candidate, Eamon de Valera, she participated in the campaign to resist conscription in 1918, and at just over 30, she was able to cast a vote in the 1918 General Election that delivered a county wide Sinn Féin victory.
Woman at war
During the War of Independence her work in Cumann na mBan was vital to the guerrilla war, not just in East Clare, but in Munster. She organised local Cumann na mBan women, transported guns, carried despatches, provided valuable intelligence, aided wounded Volunteers and hosted the HQ of the IRA East Clare Brigade at her home, all the while running the farm after her brother Louis accidentally drowned in August 1919. After the Truce she remained active in Cumann na mBan awaiting the outcome of the negotiations.
We need your consent to load this comcast-player contentWe use comcast-player to manage extra content that can set cookies on your device and collect data about your activity. Please review their details and accept them to load the content.Manage Preferences
Mary McAuliffe on how violence against women during the Civil War was shrouded in silence
At its convention in Dublin on 5 February 1922, with Nan in attendance, Cumann na mBan met to consider the Treaty. The women split, the majority, including Nan, voting to reject it. Her home now became a focal point for Republicans. After the anti-Treaty forces lost the battle for Dublin, holding Limerick city was vital. Fighting broke out there in July, 1922. Nan and two other women rowed across the Shannon and put themselves under the command of Madge Daly at the Republican HQ at New Barracks. After ten days Limerick eventually fell to the National Army. Nan returned home but continued her anti-Treaty work.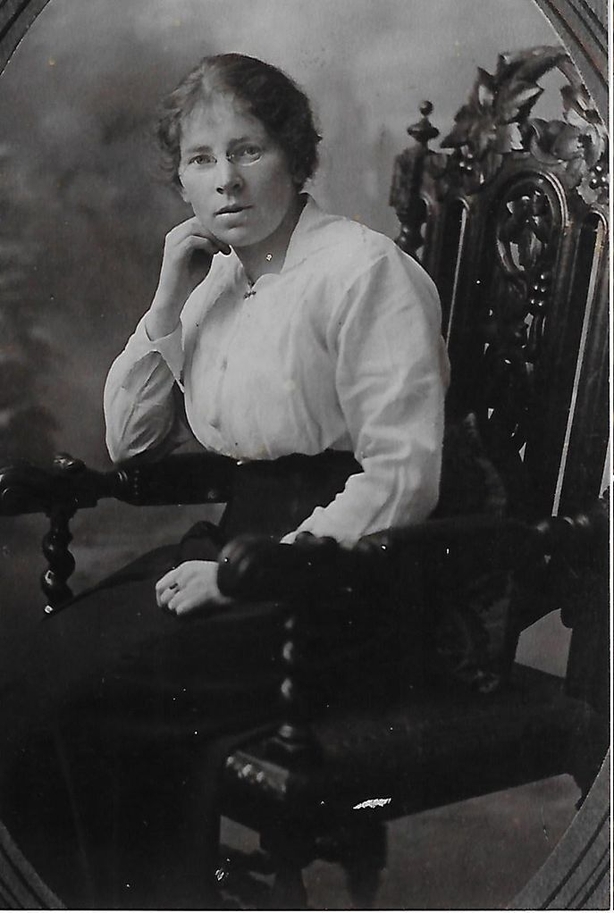 Behind bars
On 11 February, 1923, she, with five Limerick Cumann na mBan women, tried to break imprisoned Republican men out of Limerick Jail. They were caught, arrested, and shipped off to Kilmainham Jail in Dublin. There she met many of the most radical anti-Treaty women, all considered dangerous subversives, militants, and propagandists by the Free State Government. With her was her good friend, Dorothy Macardle, Grace Gifford who was her cellmate, Cis and Jo Power from Tralee, Sheila Humphreys, May Gibney, Mary MacSwiney among many others.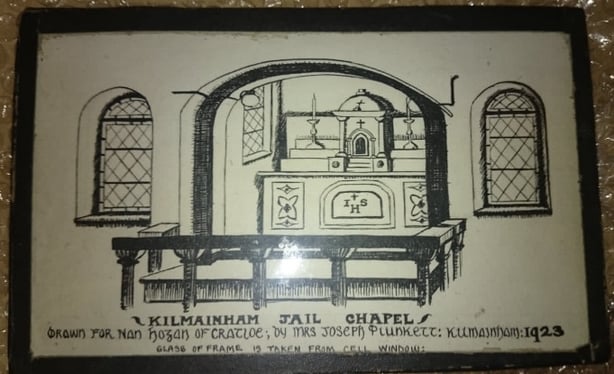 The treatment of women in Kilmainham was rough. Nan was strip searched on arrival and, as she recorded, when the women were moved to the North Dublin Union, they were kicked, beaten, and forcibly removed. However, they made the best of their bad situation, doing arts and crafts, Irish language classes, sharing packages from home. Grace Gifford, an accomplished artist, drew sketches which she gifted to Nan.
As the Civil War dragged on, the response of the Government became more extreme. Attacks on - and deaths of - National Army soldiers led to the withdrawal of all privileges from Republican prisoners. This led to a mass hunger strike beginning 23 March, in which Nan participated. She was on strike for eight days, becoming dangerously ill and was transferred to the prison hospital. She recovered, celebrating Easter 1923 and the anniversary of the Rising in Kilmainham. She was later moved to the North Dublin Union and was finally released on 4 July 1923.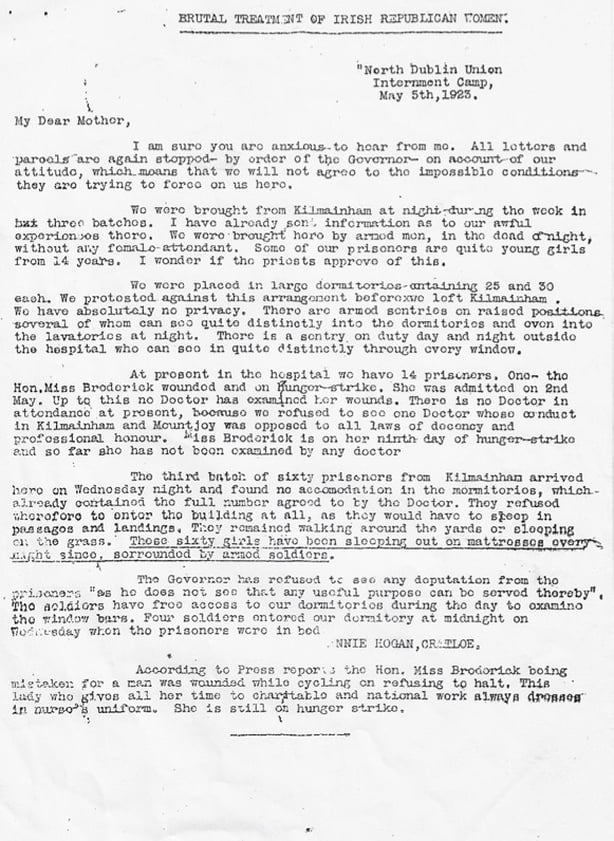 A hero's welcome
At home in Cratloe there was a huge welcome, but Nan was not one to rest on her laurels. When de Valera made a speech in Ennis on 15 August, 1923 Nan was there. National Army men tried to shut down the meeting. She was arrested for trying to obstruct the military and soon found herself back in prison, this time in Mountjoy Jail. She quickly went on hunger strike and was released after a few days. Back in Cratloe she settled into an Ireland she hadn't supported but one with which she now had to live. She kept in touch with her Kilmainham friends and formed a relationship with Tim Foley, whom she would marry on 27 February, 1924 in Cratloe church.
Unfortunately, Nan did not have long to enjoy married life. She died on 29 June, 1924, of complications during a pregnancy.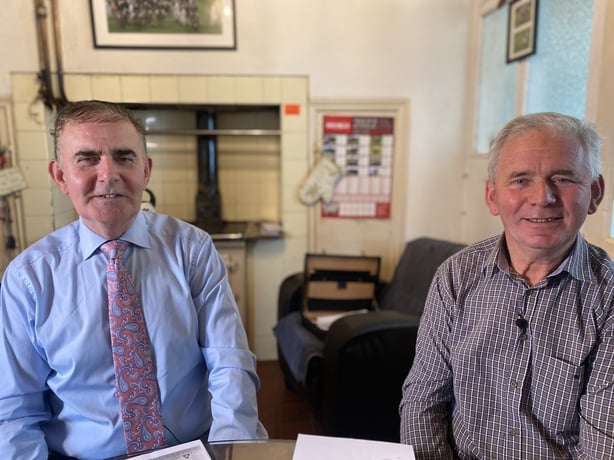 Interestingly, the memory of Nan's death in her family and community is that 'she was sent home to die', as her prison and hunger strike experiences had weakened her. However, her death record indicates severe morning sickness, but perhaps her hunger strikes had also weakened her system.
Nan's funeral was huge. According to the Clare Champion, her funeral cortege was over three miles long, with Cumann na mBan and the IRA in attendance, marching in honour of a valued comrade. Her early death may have contributed to the erasure of such an important revolutionary woman from the histories of the period, although Cumann na mBan were generally marginalised in the National story for a long time. However, her family and community never forgot, and access to extensive material from the Military archives and elsewhere gives us a deeper understanding of their contribution and experiences.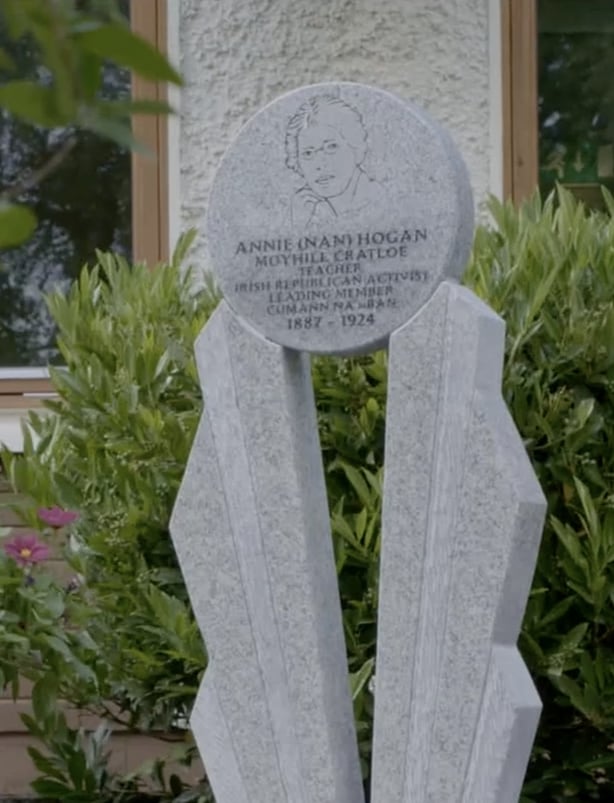 This Decade of Centenaries has seen a renewed interest in these revolutionary women, and in 2022, a memorial to Nan Hogan was unveiled at St. John's National School, Cratloe, Co. Clare. Revolutionary histories cannot now be written without the inclusion of women like Nan Hogan.
The Silent Civil War airs on RTE 1 on 26th April and May 3rd at 9.35pm and is available on the RTE Player after the live broadcast. This production is supported through the Decade of Centenaries Programme 2012-2023 by the Department of Tourism, Culture, Arts, Gaeltacht, Sport and Media.
If you'd like to contribute to the Civil War Memory Project collection, you can do so by contacting: bealoideas@ucd.ie