After the Civil War, thousands of veterans joined the throngs emigrating from Ireland. Where did this 'lost legion' go, and how did they fare? Gavin Foster explains.
Mass emigration was a defining feature of post-Famine Irish society, with roughly five million people leaving between 1850 and 1921. Despite nationalists' expectation that Irish independence would curb this national scourge, in the first decade of the Irish Free State over 220,000 emigrated from the 26 counties for the United States, despite new American immigration restrictions. Another 185,000 relocated to either the British Dominions or Great Britain. As passage to the latter was unregulated, it is less well documented.
Revolutionary veterans – particularly those who opposed the Treaty in the 1922-23 Civil War – were a significant sub-current within this outflow, comprising several thousand Volunteers and ex-prisoners, plus thousands more disillusioned republican supporters. Like most Irish emigrants in this period, this 'lost legion' was largely pushed out by Ireland's weak economy and pulled towards better economic prospects in the U.S. and elsewhere.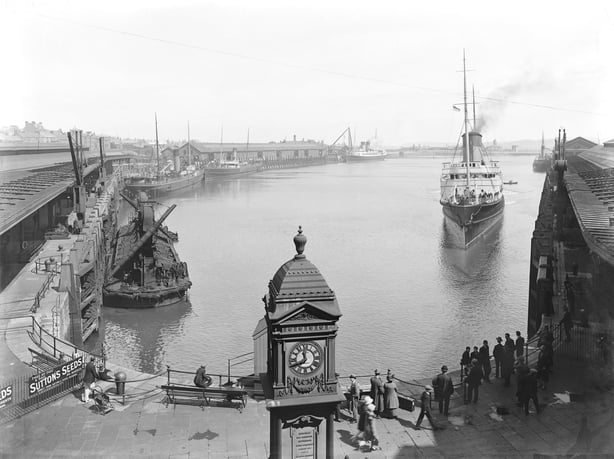 However, republican 'wild geese' also blamed political pressures for driving them out, including police harassment, blacklisting, and the generally inhospitable character of what they saw as the illegitimate Irish Free State. This exodus of members contributed to the disintegration of the post-civil war IRA, reinforcing political and social stability in the early Free State even as it fuelled Fianna Fáil's challenge to the new status quo. It also deserves to be seen as both a significant episode in Ireland's long history of mass emigration and an underappreciated social consequence of the revolution and Civil War.
Economic Distress
Technically, the defeated anti-Treaty IRA's 'General Order No. 22' forbade Volunteers from leaving the country without travel permits from their commanders. Permission to leave was restricted to three purposes: carrying out official work for the movement; recuperation from injuries or to obtain medical care; and short-term educational and vocational opportunities. Members who left without authorisation were denied entry into overseas republican organisations like Clan na Gael and risked losing standing in the movement at home.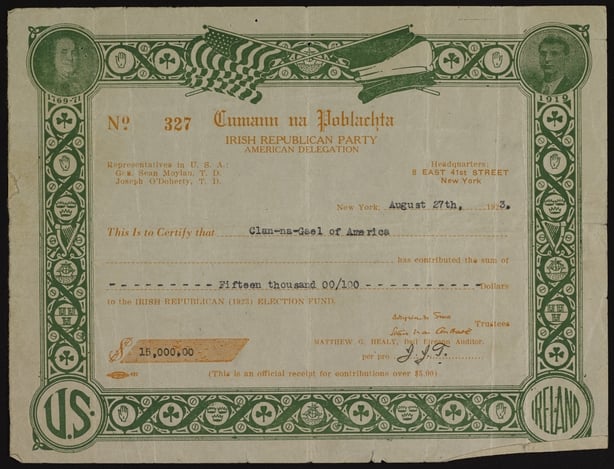 By early 1924, IRA commands with high unemployment petitioned GHQs to allow men to leave due to economic distress, but the IRA's Executive refused, provoking some local officers to resign in protest. Following failed efforts to raise funds and set up local employment schemes, the IRA leadership responded to reports of large numbers of men leaving the country by loosening its policy and extending retrospective permissions.
In 1925, with its ranks further depleted, the IRA replaced its permit system with a 'Foreign Reserve' that allowed for long-term emigration (up to five years) for economic reasons. While hundreds were subsequently enrolled, the scheme ultimately collapsed and most of those who left became permanent exiles.
Geography of the IRA Exodus
Inspection reports, Foreign Reserve applications, pension lists, and other materials generated by the post-Civil War IRA illuminate the geography of the IRA exodus from the Free State. Drawing on the papers of IRA Chiefs of Staff Frank Aiken and Maurice Twomey at UCD, plus captured documents in the Military Archives and other sources, I have collected details on 336 IRA members who left the country between the end of the Civil War and the late 1920s.
This is only a tiny proportion of the total number of Volunteers who emigrated, many of whom did so without IRA permission and thus left behind no paper trail. This sampling is also skewed towards areas where inspection officers were active in documenting departures, as well as larger urban destinations with sizeable numbers of Volunteers arriving and established republican organisations that kept them in touch with the movement back home. But the sample is sufficient to offer a useful picture of critical characteristics of IRA migration at the time.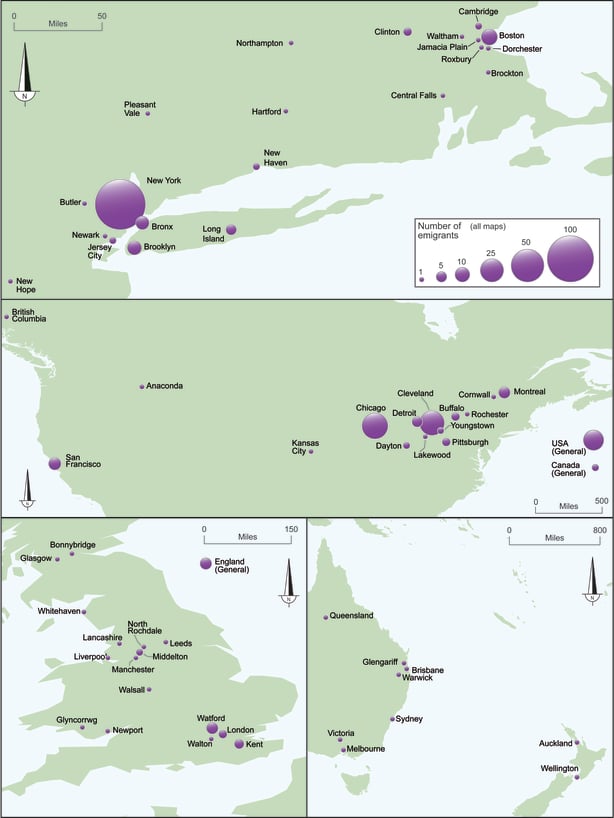 Of the 336 men, the overwhelming majority – 283 or 84.2% – found their way to the U.S., while the remainder – fifty-three, or just below 16% of the total – settled, at least temporarily, in the U.K. or a Commonwealth country (the single exception on my list was a Waterford Volunteer who went to Argentina).
Of the 53 non-U.S. cases, thirty-three went to the U.K. With the exception of two Volunteers in Scotland and two in Wales, émigrés to the U.K. all gave English addresses, primarily in or around London (nine men) or North West England (eight men), with a smaller cluster in Kent in the South East, and no local information for seven others.
After the U.K., the largest non-U.S. destination was Canada with ten men. Montreal, frequently a steppingstone to the U.S., accounted for six of these, with one more next door in Cornwall, Ontario, another in British Columbia, and two of indeterminate location. Only seven of the 336 took the longer passage to Australia, mostly ending up in Queensland and Victoria, while two others chose New Zealand as their new home.
The United States
But, as with post-Famine emigration generally, the vast majority of IRA members who left Ireland after the revolution headed for the U.S. Of the 283 in my sample who are listed as residing in the U.S., further information on state and city is available for 265. The largest single U.S. destination was New York, with 145 men, or roughly 55% of the U.S. group and over 43% of the total sample of 336. Only five of these New York settlers are listed as residing outside of New York City's five boroughs or Long Island.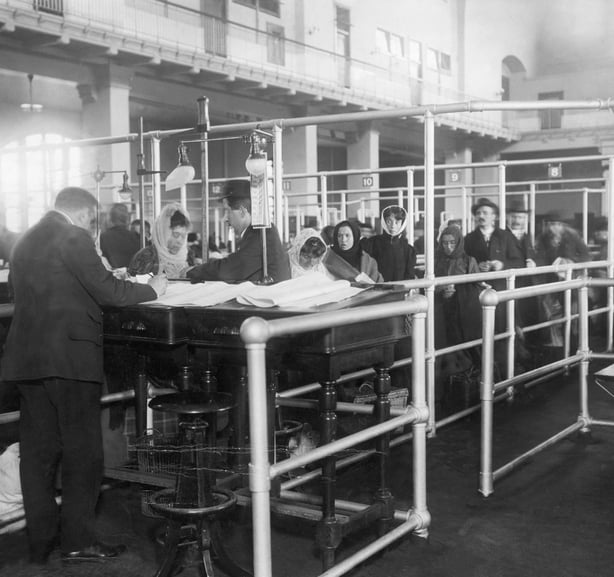 The longstanding centrality of New York City as an Irish emigration destination; the political and social power carved out there by generations of Irish Americans; the employment opportunities and networks available; and the well-established Irish republican organisations ready to absorb and assist new members, all contributed to New York City being the natural destination for many IRA veterans.
The second and third largest cities of settlement were Chicago (31 men) and Cleveland (28). With five more men residing elsewhere in Ohio, the 'Buckeye State' was in fact the second largest destination behind New York state, with Illinois a close third.
Massachusetts became the new home of a significant number of men as well – 23 total, with eighteen of these in or near Boston. Nine men went to Pennsylvania, residing mostly in Pittsburgh and Philadelphia, while elsewhere on the Atlantic coast, New Jersey, Connecticut, Delaware, and Rhode Island attracted a handful of men. Aside from Ohio and Illinois, the Midwest received only five additional settlers, all in Detroit, Michigan.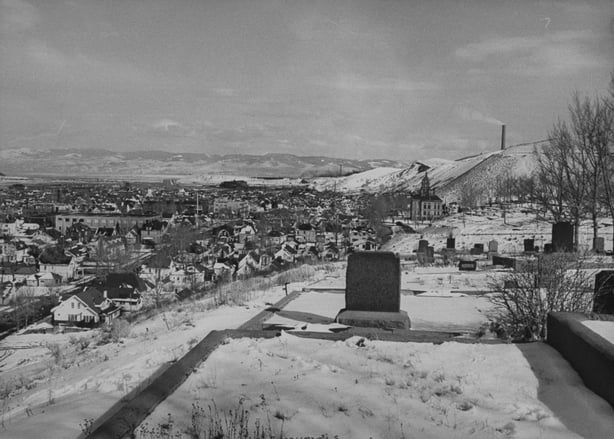 Eight 'wild geese' went as far as California, seven of these to San Francisco, with no details available on the eighth man. One man on the list headed to the company town of Anaconda, Montana, adjacent to Butte, 'the most Irish town in America' thanks to the large number of Irish who came to the area to work in the copper mines.
Origins of the 'lost legion'
Where did these IRA emigrants hail from in Ireland? Starting outside the U.S., of the Volunteers in my sample who ended up in Great Britain, the majority came from Waterford and Wicklow, while a number also came from south Tipperary's Third Brigade area or from Kerry No. 2 (south-east Kerry), including all four of the men in Kent. The rest of the U.K. settlers were from areas under-represented in IRA emigrant rolls, including Dublin, Donegal, Belfast, Boyle in Roscommon, and the Boyne Valley. In Canada, five of the six in Montreal came from Clare and the sixth was a Donegal man. Four of the nine men in Australia and New Zealand were also from Clare.
Patterns of settlement were more pronounced in the U.S. A dozen of the 31 men in Chicago were from the 4th Battalion of the 'Clare Brigade' (sic) with another half-dozen each from South Tipperary and West Mayo. All three men in Connecticut were from Clare, while four of the seven San Franciscans were from Kerry, a county also well-represented, along with South Tipperary, among the Boston contingent.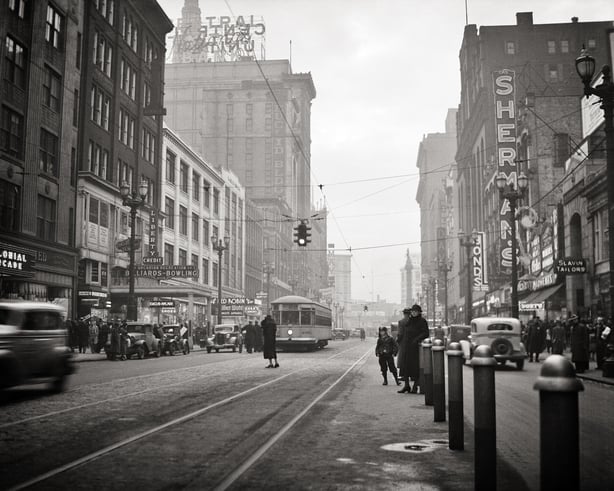 But, outside of New York, the best example by far of local men sticking together is provided by Cleveland where all thirty-three listed hailed from North and West Mayo, including twenty from Achill Island alone, an area of Mayo with a long-established connection to Cleveland. Finally, as the largest recipient of IRA emigrants, New York included men from all parts of Ireland, but it saw particularly heavy representation from Kerry Brigade No. 1 (around Tralee) and No. 2 (in the south-east), the Third Tipperary Brigade area, and North Galway, plus some Mayomen.
In the Third Western Division, Leitrim also stands out as a small county that sent a disproportionate number of men to the 'Big Apple'. Thus, reflecting broader late nineteenth-century Irish emigration patterns, the majority of IRA emigrants hailed from the historically poorer and more congested parts of Connacht and South West Munster.
While this brief discussion can only offer an impressionistic picture of the flight patterns of the IRA's 'wild geese', it underscores how emigration or 'exile' along well-trod diasporic paths was the fate of many republican fighters and activists following the Irish Revolution.
This article is part of the Civil War project coordinated by UCC and based on The Atlas of the Irish Revolution edited by John Crowley, Donal Ó Drisceoil and Mike Murphy and John Borgonovo. Its contents do not represent or reflect the views of RTÉ.