When they established the First Dáil, the T.D.s also established an alternative administration in Ireland - including their own legal system. How did they do it?
The Dáil Courts, also known as the Sinn Féin Courts or Republican Courts, were seen as one of the most successful elements of Dáil's attempts at alternative administration of the country. First suggested by Arthur Griffith in 1906 as an application of Sinn Fein's principle of peaceful resistance, the republicans began to set up arbitration courts to settle land disputes as early as 1917.
In 1919, the Dáil decreed that the Ministry for Home Affairs be empowered to establish criminal courts. These would be in addition to the arbitration courts already in operation. The establishment of the Dáil courts coincided with the decline of the RIC as an effective police force as a result of the IRA campaign of intimidation and assault.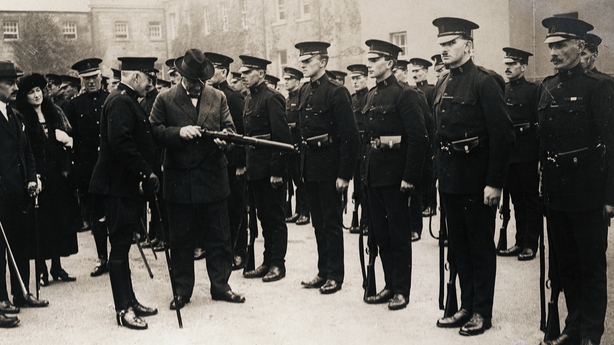 At the end of 1919 the RIC closed many of the small rural barracks and became increasingly unable to prosecute crimes or enforce judgements. By early 1920 the Dáil Courts were beginning to function in the greater part of the country.
Verdicts were enforced by the newly-established republican police – established to release the IRA from ordinary police work for the more important task of getting rid of the enemy. They played an important role in maintaining law and order and made the Dáil a reality in the minds of many Irish people.
At length Dublin Castle responded by banning the Dáil Courts. Many of them became inactive, while some, as in other instances of Dáil activity, resorted to undercover proceedings. For Irish nationalists, the administration of the country was going underground.
This article is based on The Atlas of the Irish Revolution edited by John Crowley, Donal Ó Drisceoil, Mike Murphy and John Borgonovo, and its contents do not represent or reflect the views of RTÉ