After Soloheadbeg, ambushes became a crucial weapon in the IRA's fight against British authorities.
Ambushes of Crown Forces were not the only military tactic adopted by the IRA in the War of Independence. But they accounted for a significant proportion of Crown force casualties, and later assumed a prominent position in the popular memory of the War of Independence.
The initial purpose of IRA ambushes was to secure weapons and ammunition.?IRA units at the battalion and brigade level usually armed themselves, resulting in a significant variance between different units. Ammunition was precious, and republicans tried to not waste it. Even with restricted supplies, the IRA used the ambush tactic to great effect against police and British army units deployed throughout the country.?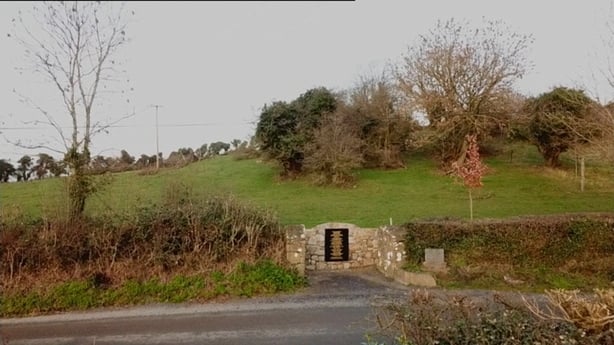 The January 1919 ambush at Soloheadbeg, Co?Tipperary?was notable for the death of two Royal Irish Constabulary (RIC) constables, but other attacks had already taken place during 1918. Early raids on RIC barracks failed owing to disorganised?and/or poorly-armed Irish Volunteers groups.
One such attack proved fatal?for?two Irish Volunteers?during an attempted raid on the RIC barracks at? Gortatlea, Co Kerry in? April 1918. Three months later, two policemen travelling back to their barracks were attacked?on a country road?by a group of Volunteers near ?Coolea?in the Mid-Cork Gaeltacht, leaving one with gun wounds and shock that forced his resignation from the force.?Yet Soloheadbeg seemed to have inspired similar aggressive IRA units to secure arms from isolated and vulnerable police constables.
Night time attacks
During 1919, units beyond South Tipperary attempted similar tactics by mounting attacks on patrolling policemen from hidden roadside positions, though offensive attacks only received official sanction from the IRA General Headquarters (GHQ) in January 1920.
In the first months of that year, a number of nocturnal attacks on rural RIC barracks occurred in counties Cork, Tipperary, and Limerick, which prompted the British government to evacuate hundreds of vulnerable posts. From the summer of 1920, the RIC began to?centralise?its strength?in towns and cities, with many rural districts stripped of a police presence. By the end of 1920, 530 abandoned RIC posts had been burned by the IRA.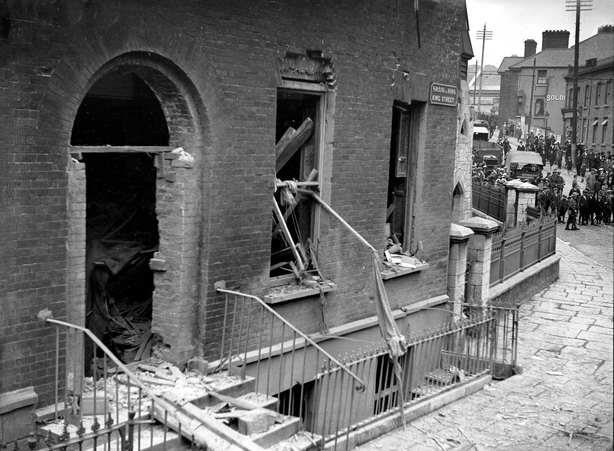 ?This allowed republican fugitives the freedom to move more freely around a countryside now?covered by fewer police. But?it also?gave IRA ambush parties clearer direction as to police and military road traffic between various posts and headquarters.
Volunteers from local IRA companies engaged in digging trenches across roads and knocking down trees to block roads, causing lengthy delays for Crown Forces travelling?in lorries or cars.
Trenching and road blocking was also used at many ambush sites, to force the Crown forces to halt and thereby make them easy targets for IRA gunmen positioned in adjoining fields or on hills overlooking the road, and also to prevent the surprise of the ambush party by Crown forces arriving from an unexpected direction.?
We need your consent to load this rte-player contentWe use rte-player to manage extra content that can set cookies on your device and collect data about your activity. Please review their details and accept them to load the content.Manage Preferences
The December 1919 ambush at Ashtown was an attempt to assassinate Lord Lieutenant of Ireland Sir John French. In this 1978 interview, participant Vinny Byrne recalls the dramatic event.

The IRA typically planned ambushes so as to give themselves the maximum advantage in terms of the ground and timing of their attack. Once engaged, surprised police and/or soldiers were compelled to jump from their vehicles and try to engage a concealed and well-positioned enemy.
Deadly arsenals
IRA ambush parties were armed with whatever rifles could be accumulated, along with shotguns. Pistols were generally only used to supplement rifles and shotguns. Only a few IRA units possessed machine-guns, while functioning landmines were only slightly less rare.
Weapons were usually transported to the ambush site from local arms dumps or safe houses, often by members of Cumann na mBan or unarmed members of the IRA. Attack positions were usually dependent on the distance from which a weapons could fire accurately.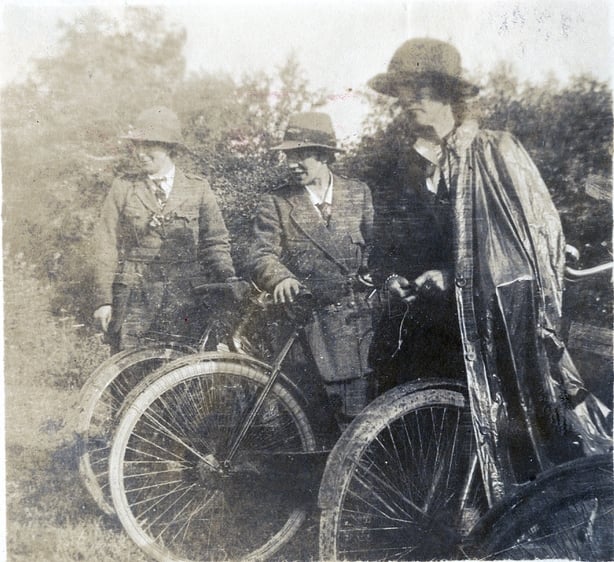 IRA participants were generally instructed to conserve their ammunition because of?its scarcity. Unarmed local IRA Volunteers acted as scouts, usually signalling with flags, hats, or arm gestures the approach of the enemy. This gave the IRA sufficient notice of their intended targets, or time enough to escape across?country?with warnings of?military or police?reinforcements on the way.?
The arrival of the Black and Tans
By mid-1920 the government was recruiting English, Scottish, and Welsh ex-soldiers into the RIC as temporary constables, known popularly as the Black and Tans, and began forming the Auxiliary Division of the RIC, comprised of former military officers.
Trained and experienced in the use of weapons (although not all had seen active service in the trenches during World War I) they were often more formidable opponents in fire fights.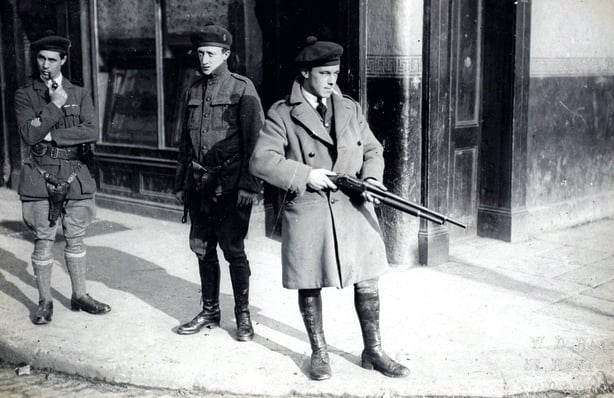 The British Army also began sending detachments into smaller towns and setting up billets in local businesses or homes.? They could now provide greater support to police patrols, whose movements had been threatened in areas largely controlled by the IRA.?
The growing number of IRA attacks and a strengthened Crown Forces presence often led to local communities suffering the consequences of ambushes in their neighbourhoods. In September 1920, for example, the IRA Mid-Clare Brigade's 4th Battalion killed six RIC members in an ambush at?Rineen.
The police took revenge by setting fires in nearby towns of?Ennistymon, Lahinch and?Miltown?Malbay, and killing?five civilians and one IRA Volunteer. Similar reprisals in places like Balbriggan, Tralee, and Cork city garnered national and international attention.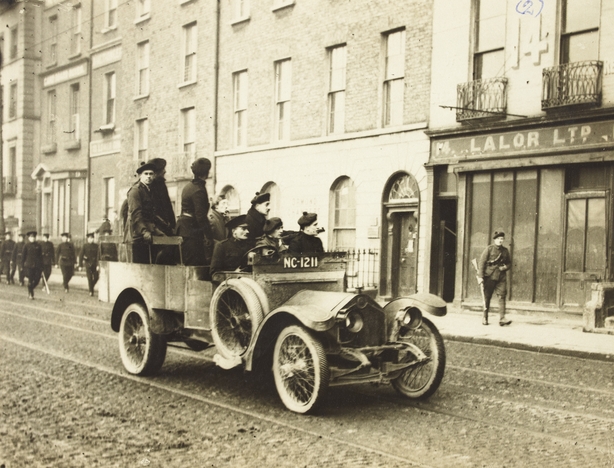 Rebel brigades
On paper the IRA was centrally controlled by its General Headquarters (GHQ) under Chief of Staff Richard Mulcahy. In reality, the organization was decentralized, with its local brigades often largely self-governing. This contributed to the wide variation in levels of activity, particularly in the mounting of ambushes against Crown Forces.
Levels of local support for, or opposition to the armed struggle or for Irish independence were also factors in the extent of military activity by the IRA.
In the province of Ulster, for example, arguably the first serious attack on Crown Forces did not happen until the December 1920 attack on an RIC barracks at Camlough, Co Armagh and the ambush of British soldiers on their way to the scene from Newry.
Mass arrests and flying columns
From August 1920, mass arrests and internments were initiated by British authorities following the passage of the Restoration of Order in Ireland Act. This forced known IRA and other republican activists on the run to escape arrest.
These fugitives helped staff IRA active service units (ASUs) and Flying Columns which were already being informally organised, usually at IRA Brigade levels. The declaration of martial law in Munster, and in Kilkenny and Wexford, from December 1920 created even more recruits for fulltime IRA units, despite the government's threat of execution for the carrying of arms.
We need your consent to load this rte-player contentWe use rte-player to manage extra content that can set cookies on your device and collect data about your activity. Please review their details and accept them to load the content.Manage Preferences
Veterans of the Kilmichael Ambush discuss their experiences in 1969
This was the context for one of the deadliest episodes of the War of Independence, the Kilmichael Ambush on November 28, 1920. The IRA's Cork Number 3 Brigade Flying Column, under the command of Tom Barry, killed 17 RIC Auxiliaries and lost three of its own men on a remote road between Macroom and Dunmanway, Co Cork.
The county saw more deaths than any other in the War of Independence, characterized by a wave of IRA ambushes carried in 1920 and 1921, as well as heavy violence in Cork city.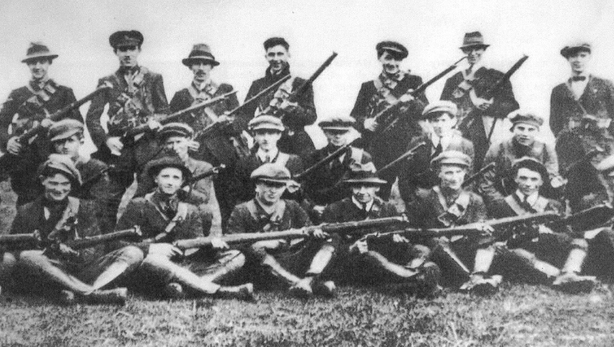 From late 1920, Flying Columns were increasingly set up in individual IRA Battalion areas, as more men were forced to go on the run. The establishment of a new level of the IRA organization, divisions (comprised of a number of brigades) in the spring of 1921 helped prioritize ambushes in those areas.
But often IRA units simply adapted IRA tactics that seemed to work, which meant that by the spring of 1921 ambushes had become common throughout the country.
Around the same time, Crown Forces increasingly carried out large round-up operations to capture IRA gunmen hiding within remote 'safe' areas of the countryside.
The wider deployment of the British Army, and their expanding role in support of police, helped to explain the spike in military personnel killed and wounded from late 1920 up to the Truce on July 11, 1921.
Were ambushes worth it?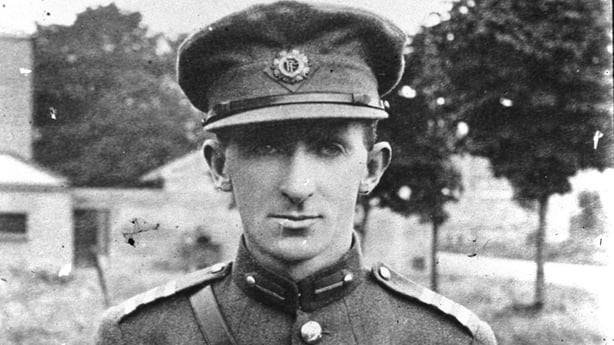 Popular memory usually concentrates on IRA ambush victories, even though these were relatively rare events. Successes were usually down to a mixture of good intelligence on the movements of the Crown forces, the selection of a suitable location for an attack, and often a share of good fortune.
It was very easy for an ambush to miscarry, and many did. Such cases were usually attributed to a mix of poor planning, ineffective leadership, indiscipline by the attacking party, and sometimes bad luck and timing.
In some cases, varying numbers of IRA members were killed or captured, or sometimes both.The death of three IRA members in a failed ambush outside Tramore in January 1921 almost led to mutiny by officers against the leadership of the East Waterford Brigade's commander Paddy Paul.
A GHQ inquiry into the episode established that orders were unclear to some of the ambush parties and a small number of Volunteers had been drinking beforehand.
In contrast, the West Waterford Brigade had carried out a similar but far more successful operation two months earlier at Pilltown Cross, securing all the weapons of Crown Forces ambushed on their way from Youghal, Co Cork to the aid of an RIC Barracks under IRA attack in Ardmore.
For the poorly-armed and self-taught guerrilla fighters of the IRA, victory and defeat in such encounters often rested on the thinnest of margins.